Hello Beautiful!
Hannie Rayson

A funny and personal evening with one of Australia's best-loved playwrights
Tickets
Adult $36
Concession $32
Members $30
26 & under $18
Group 6+ $28ea
Ticket packages
5 -shows $140
3 -shows $90






60 minutes (no interval)
Contains coarse language

Performer / Writer: Hannie Rayson
Director: Matthew Lutton
Originally commissioned and first produced by Malthouse Theatre.

Burrinja Theatre
THUR 23 MAR, 8PM

"Beautifully structured and articulated, not to mention hilarious...Rayson reels you in with her storytelling." – Australian Book Review

"So beautifully written, so funny, so insightful and so obviously written by a warm and appealing human being." – David Williamson

"[Rayson] takes centre stage with a sharp, economical style, skipping vividly between juicy anecdotes, shards of remembered conversation and moments of reverie." – The Australian

"Hannie Rayson is a queen. I don't think I've ever fallen so quickly in love. I can't tell whether she'd be better as a mum or a drinking buddy." – Olivia Satchwell, audience member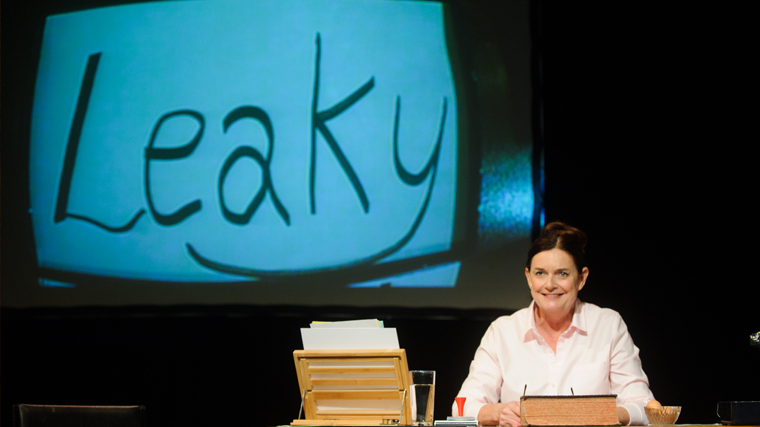 "as nourishing and delicious as homemade soup" – Noni Hazlehurst
Let Hannie Rayson (Hotel Sorrento & Life After George) charm and delight you in this funny and personal evening as she shares her experiences of seeking out extraordinary moments in the everyday, and the city of Melbourne that has always been her home.
Hannie invites you into her big, open-hearted and adventurous life, and makes you feel like you are listening to stories being told by your new best friend. A love letter to Melbourne, told through 43 vignettes, she pays homage to the city now, its history and its curiosities. Along the way she takes us to 1960s suburbia, share-houses in Fitzroy, drama school, the success of Hotel Sorrento and Life After George, adventures in TV and into the big open spaces of rural Australia.
Post show Q&A with with Hannie Rayson and Michael Cathcart
Meet Hannie after the show for a drink in the Skylark Room.

About
Hannie Rayson (Performer / Writer):
Hannie Rayson is the author of fourteen plays. A graduate of Melbourne University and the Victorian College of the Arts, she has an Honorary Doctorate of Letters from La Trobe University. Her plays have been performed throughout Australia and overseas, in English and in translation. The plays include: Mary, Room to Move, Hotel Sorrento, Falling From Grace, Scenes from a Separation (co-written with Andrew Bovell), Competitive Tenderness, Life After George, Inheritance Two Brothers, The Glass Soldier and The Swimming Club. Hannie has been awarded two Australian Writers' Guild Awards, four Helpmann Awards, two NSW Premier's Literary Awards and a Victorian Premier's Literary Award as well as the Age Performing Arts Award and The Sidney Myer Performing Arts Award. Hannie made playwriting history when Life After George was the first play to be nominated for the Miles Franklin Award. In 2006 and again in 2009 she was shortlisted for the Melbourne Prize for Literature, a prize for a Victoria-based writer whose body of published or produced work has made an outstanding contribution to Australian literature and to cultural and intellectual life. Her latest play, Extinction, was written with the support of the Manhattan Theatre Club in partnership with the Alfred P. Sloan foundation.
Matthew Lutton (Director):
Matthew Lutton is a theatre and opera director based in Melbourne. He is currently an associate artist at the Malthouse Theatre, where he has directed Night on Bald Mountain,The Bloody Chamber, Dance of Death, Pompeii, L.A., On the Misconception of Oedipus, Die Winterreise, The Trial and Tartuffe. Matthew has directed for many of Australia's most prominent theatre companies, including Sydney Theatre Company (The Mysteries: Genesis, The DueI) Belvoir Street Theatre (Love Me Tender) Griffin Theatre Company (Don't Say the Words) and Black Swan State Theatre Company (The Lady Aoi). From 2002 to 2012 he was the artistic director of Perth-based theatre company ThinIce, where he created works such as Antigone for the Perth International Arts Festival, Red Shoes for the Artrage Festival and co-produced many of the above projects. Matthew directed the Strauss opera Elektra in 2012 for Opera Australia and West Australian Opera, Wagner's The Flying Dutchman in 2013 for New Zealand Opera and Queensland Opera, and Make No Noise in 2011 for the Bavarian State Opera in Munich.