Slapdash Galaxy
Bunk Puppets


Set your imagination to warp speed and enter this crazy shadow puppet universe, all made up from bits of rubbish
Tickets
All Tickets $18
Group 4 + $15ea
Ticket packages
3 family shows $42






55 mins | no interval | Warnings: Some elements may be scary for children under 5 years of age. Theatrical smoke effects.


Written and Directed by: Jeff Achtem
Performed by: Hamish Fletcher
Burrinja Theatre
THUR 13 APR 11AM
"Bunk Puppets brand of shadow puppetry and storytelling is wonderfully impressive, insanely inventive, madly loveable, and has the power to transform an audience of mostly adults into maniacally giggling children." Edinburgh Festivals Magazine

" the super lo-tech charm of this show is sure to win over absolutely anyone with a pulse." ★★★★★ Broadway Baby

"…sheer entertainment that enthralls kids and adults alike and received a standing ovation that was richly deserved." ★★★★ Robin Strapp, British Theatre Guide

"…one of the most innovative, enjoyable hours to be had." ★★★★ Julie Dawson, TV Bomb Scotland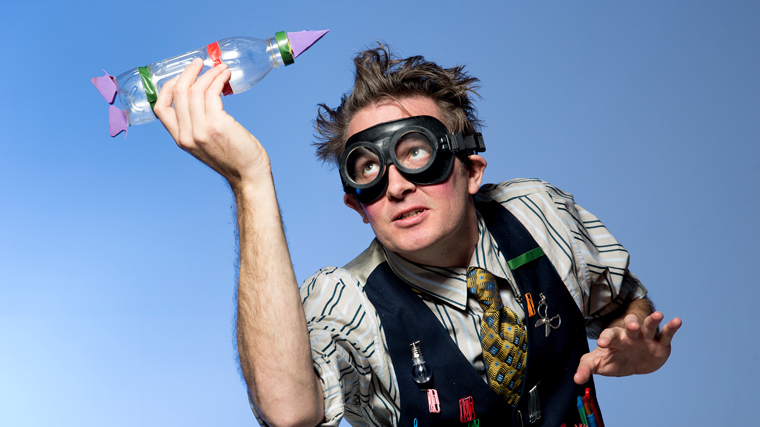 A whole new dimension of puppetry

Forget what you think you know about shadow puppets, buckle-in and tear open your imagination for an epic journey with two brothers as they battle the bad guys, and find strength in each other at warp speed.
Award winning Bunk Puppets return with a new D. I .Y. show after the sell-out riotous success of Swamp Juice – one of the most talked about shows of our 2014 season.
Delve into the tale of two brothers who must flee their barren planet and embark on an epic quest across the galaxy. Using the contents of your cleaning closet, Bunk Puppets' Hamish Fletcher conjures up astonishing lo-fi theatrical wizardry using only old boxes, bubble wrap, drinking straws, tennis balls, ping pong bats and old toys. It's a crazy shadow puppet universe, all made up from bits of rubbish.
About
Bunk Puppets is an award winning shadow puppet theatre company based in Melbourne. Their catalogue includes the acclaimed productions, Slapdash Galaxy, Sticks Stones Broken Bones, Swamp Juice, and Tink Tank. Artistic Director Jeff Achtem draws on his varied background in mime (Omnibus: Montreal), clown (Michel Dallaire: Hangar des Mines, France), mask (Rene Bazinet: Montreal) and puppetry to produce innovative, exciting puppetry productions for audiences all over the world. Bunk Puppets' productions have travelled the globe, with notable visits to Off-Broadway (New York City), Soho Theatre (London West End) and across venues in Spain, Netherlands, Singapore, France, Malaysia, Japan, Hong Kong, Dubai, Abu Dhabi, Kuwait, New Zealand, Australia and South Korea.