Roald Dahl's The Witches

Adapted for the stage by David Wood
Re-imagined by Lucas Jervies

Wicked and wonderful! Think you can outwit a witch and outrun a mouse?
Tickets
All Tickets $18
Group 4 + $15ea
Ticket packages
3 family shows $42




50 mins | no interval | recommended ages 6 and over

THE WITCHES
By Roald Dahl
Adapted for the stage by David Wood
Re-imagined by Lucas Jervies
Director Lucas Jervies
Designer Hugh O'Connor
Dramaturg Chris Summers
Sound Designer Nate Edmondson
Burrinja Theatre
SAT 15 JUL, 11AM & 2PM
"…. a shape-shifting tour-de-force performance in this one-man-show" ★★★★ TimeOut Sydney

"…really funny… I recommend this show to Roald Dahl fans, and anyone over 5 years old. ..Older kids will love it." ★★★★ Bill Blake (aged nine) TimeOut Sydney Theatre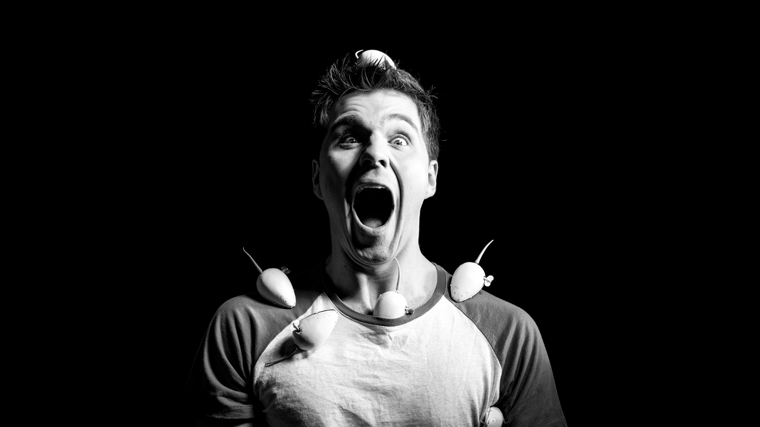 Eyes will bulge and nostrils will flare with delight in this fabulously exciting live theatre imagining of Roald Dahl's brilliant tale The Witches.
Think you can outwit a witch and outrun a mouse? Then grab a seat in the front row for The Witches, bursting onto the stage as a mind-boggling and madcap one-man show.
Brave boys and girls, rat-racers and retirees are in for a wicked and wonderful time. Lucas Jervies directs this bubbling concoction, based on David Wood's adaptation of the Roald Dahl classic, with one actor running amok in a virtuosic physical performance.
When a little boy unwittingly stumbles into the annual meeting of witches, he hears their nasty plan to get rid of all the children in the world – by turning them into mice! It's going to take smarts and sneakiness to stop them and not get squished in the process.