VINCENT, by LissaJane Dance.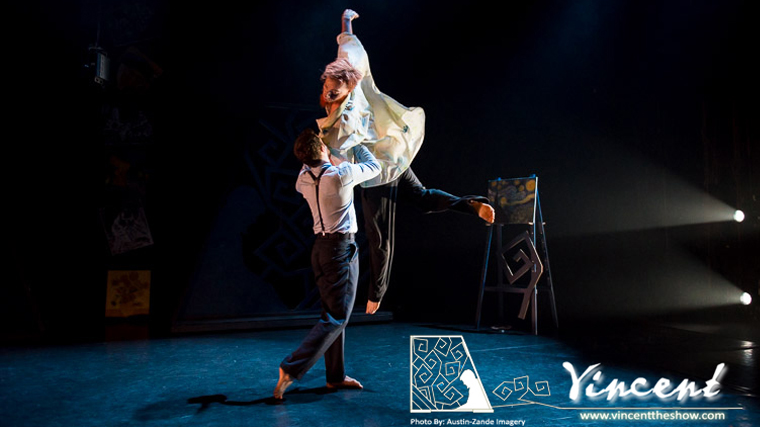 "A moving piece of blended theatrics, dance, story telling and technical brilliance."

"Vincent is a show I hope can touch as many people as the paintings have." - Melissa Lanham, Artistic Director & Choreographer
Be the first to experience this brand new dance/theatre work based on the life and artistic genius of Vincent Van Gogh, staged in captivating choreography and dialogue based story-telling.
Coinciding with the 125th anniversary of his death in 1890 this brand new work, by Lissa Jane, follows the tragic but ultimately triumphant tale of the life, loss and love of one of the world's most famous and inspired visionaries.
This extraordinarily moving work focuses on the love between Vincent and his long suffering brother, Theo, and the mental illness that plagued the man that would become one of the most revered artists in history.
Founded on dialogue taken from the more than 900 letters that Vincent wrote to his brother, discover the heights of his titanic and unappeasable passions, his insatiable artistic brilliance and the depths of his unfortunate sadness.
Burrinja Theatre
Saturday 10 September at 7pm

Adult
$36
Concession
$32
18 &under
$18
Group 6+
$28
Dance/Theatre + FILM Package
$40 Adult
$36 Concession

Artistic Director/Chorographer:
Melissa Lanham (LissaJane Dance)

Lighting Designer:
Travis Macfarlane

Set Designer:
Dan Ampuero

Composer:
Susan Hawkins

Production & Tour Manager:
Gosling Productions: Daniel "Goz" Gosling

Makeup Designer:
Melanie Jeffers

Dancers:
"Vincent":
Andrew Haycroft

"Theo":
Michael Smith

"The Psyche/The Woman":
Chloe Lanham
About LissaJane Dance
LissaJane Dance is a project based dance theatre company founded on the Sunshine Coast Australia. Newly formed in 2013 by choreographer and contemporary dance theatre artist Melissa Lanham who has worked extensively in both the UK and Australia. She has worked on many social inclusion projects and mainstream dance company productions over a career spanning 25 years and now brings dancers and designers to work on professional theatre. The company has recently completed an artist in residence program at Lind Lane Theatre to for the creative development of VINCENT. The work has since garnered interest from the Van Gogh Museum in Amsterdam and the company is currently working on establishing a strong connection wiht Europe.