Burrinja Collection - Aboriginal Art
The McLeod Gift Collection contains around 70 canvas and bark paintings from the Kimberley, Central Desert, South Australia and Top End. These include works by internationally renowned artists such as Rover Thomas Joolama, Emily Kame Kngwarreye, Queenie McKenzie, Jonathan Kuminjara Brown, Derrick Oobagooma, Jack Dale Mengenen, David Mowalpariai, Nawakadj (Bobby) Nganjmirra, Patsy Lulpunda and Lily Karadada.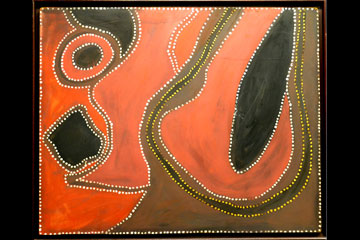 Additionally, the Collection includes a unique collection of over 200 Aboriginal sketches and drawings on paper, many created by Ulitjiri Thompson, Bobby Nganjmirra and other members of the Nganjmirra family.
Neil McLeod knew many of the artists personally and visited them regularly on his numerous trips to the Kimberley and Top End. Often artists came to visit him in Tecoma and painted in his studio. He has organised and curated many exhibitions, including several at the Burrinja Gallery and published books about Bobby Nganjmirra.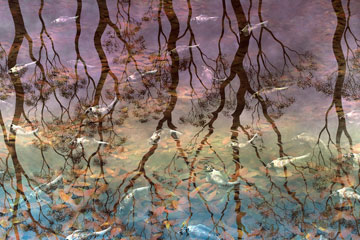 Selected Aboriginal paintings of the McLeod Gift Collection formed the backbone of the Footprint of the Spirits exhibition, which toured to seven galleries in New Zealand in 2002 and interstate in 2004-2010.