Burrinja Collection - Oceanic Art
Neil McLeod has been a keen field collector of Papua New Guinean ceremonial art for many years. As part of the McLeod Gift Collection he donated 200 objects from various locations of islands in the Bismarck Archipelago in the North-East of Papua New Guinea: Tabar Island, New Ireland and the Gazelle Pensinsula of New Britain. These include rare ceremonial Malangan objects such as masks, wands, friezes and other carved objects, including a canoe. A similar canoe exists only in the collection of the South Australian Museum in Adelaide.
Additionally the Collection also contains around one hundred rare Iniet figures made by the secret Tolai society on New Britain's coastal Gazelle Peninsula. These stone carvings date from the post-colonial period, some almost a hundred years old.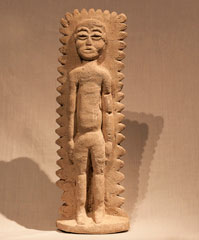 Burrinja manages the McLeod Gift Collection on behalf of its owner, Yarra Ranges Council, actively seeking to present, store and preserve collection items to industry best practice and national museum standards according to its Collection Management Policy.
Selected items of the Collection were presented as part of the exhibition Stories of Song and Dance: Performance and the Burrinja Collection coinciding with the official opening of the Burrinja Theatre in 2011.