The Collection
Burrinja manages a rare public collection of over 600 items of Aboriginal and oceanic art from Papua New Guinea. The collection was donated to the Shire of Yarra Ranges in 2001 by Neil McLeod, a local resident and renowned photographer, book author and field collector.  For more information on Neil McLeod, please visit his website www.neilmcleodfineart.com.
The McLeod Gift Collection includes Aboriginal artworks as well as one of the most significant collections of post-colonial oceanic artefacts from New Ireland and New Britain in Australia. Neil McLeod accumulated these over a lifetime's experiences gained from his deep involvement with Indigenous people from various parts of Australia and Papua New Guinea.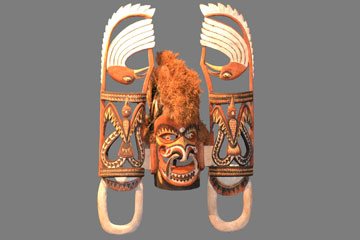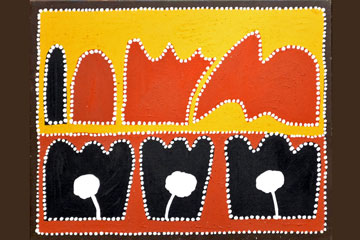 "Many of the works are extremely rare and of invaluable ethnographic significance and constitute a valuable repository of evidence of rapidly disappearing cultures. My wish is for this unique resource to remain in the Shire of Yarra Ranges where it will be an enjoyable asset for local people and visitors to the hills and so that it may educate and foster understanding of the creators of the works." Neil McLeod, 2001
Burrinja manages the McLeod Gift Collection on behalf of its owner, Yarra Ranges Council, actively seeking to present, store and preserve collection items to industry best practice and national museum standards according to its Collection Management Policy
Several exhibitions featuring Collection items have been presented at Burrinja including Stories of Song and Dance, Stories of Ancestors, Underwater, Wet Season - My Grandfather Told Me, New Insights from the Collection, and Aboriginal Art Across Australia.