---
Art - Upcoming exhibitions
Dates
7 November - 14 December

Venue
Cafe Gallery
Amy Middleton: Seekers
Amy Middleton was born in South Africa but spent many nomadic years travelling the world to find her home in Australia. Seekers is a series of illustrations that salute the pursuit of adventure. Amy's lines of pen and ink pay tribute to unfamiliar explorers, fictional maps and unconventional landmarks.
For more info on Amy's work visit
www.amymiddleton.com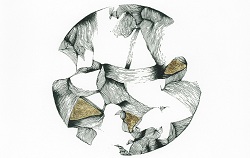 Date
22 November - 15 February 2015

Venue
Burrinja Inner Gallery
Cicada Press: Gamarada

For several years, Tess Alass and Michael Kempson at Cicada Press, within the School of Art at the College of Fine Arts at the University of NSW in Sydney, have worked closely with Aboriginal artists from New South Wales and other parts of the country, building print portfolios and providing the artists with new skills to take into their future practice.

The result of these workshops and residencies is a growing body of print works which reflect the artistic diversity of established and emerging artists in the print medium. The exhibition Gamarada,  meaning 'comrades or friends' in the Gadigal language of the Eora Nation of the Sydney area, presents a selection of recent print productions.

Among the featured artists are Vernon Ah Kee, Reko Rennie, Jason Wing, Gordon Hoockey, Fiona Foley and artists from Papunya.

Curated by Tess Alass, Associate Lecturer, College of Fine Arts (COFA), University of NSW and JD Mittmann, Burrinja.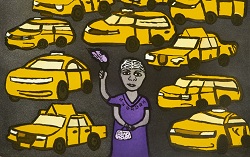 Date
22 November - 15 February 2015

Venue
Burrinja Gallery
Myths and Legends of West Arnhem Land: Nganjmirra Family Drawings

The many rock art sites of Arnhem Land in the Top End of Northern Territory bear testimony to the existence and cultural activities of its Aboriginal inhabitants for tens of thousands of years. Since the arrival of Europeans these have been recorded increasingly on bark, on canvas and in other forms.

The McLeod Gift Collection of Aboriginal and Pacific Art, which Burrinja manages on behalf of its owner, Yarra Ranges Council, includes a rare collection works on paper from Arnhem Land, created by one of the great Australian art dynasties, three generations of the Nganjmirra family. Drawings by Nawakadj Nganjmirra, Alex, Peterson, Ralph, Thompson and Wesley record traditional stories of creation, law and life in Kunwinjku country, the great plateau of West Arnhem Land.

Also showing at Yarra Ranges Regional Museum,
21 February - 22 March 2015.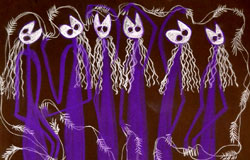 ---
---