---
Art - Upcoming exhibitions
Date
3 October - 26 October

Venue
Jarmbi Downstairs Gallery
Birds: A Group Show

Illustrations and paintings of Australian birds. Group exhibtion with Jeremy Boot (SA), Katherine Cooper (TAS), Jacqui Christians, Janet Flinn, Jessie Journoud-Ryan, Joanne Pearcy and Stephen Powell (all VIC)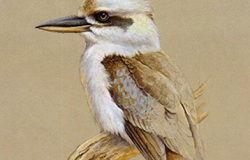 Date
3 October - 26 October

Venue
Jarmbi Upstairs Gallery
The Bequeath of Vera Skipper

Local hills artist, Vera Skipper, has bequeathed oil pastels and paintings from decades of her creative career to the Belgrave Fire Brigade. The paintings will be sold as a means to fund an urgently needed second fire tanker.
Official Opening and Art Sale:
Sunday 5 October at 11am
To be opened by Glenda Wise, artist and tutor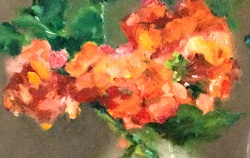 Date
31 October - 30 November

Venue
Jarmbi Downstairs Gallery
The Arties: Our World is Here and it is Art

"Our world is Here ...and it is Art!" is a quote from Craig, one of the Arties group.
Our world can cover the personal to the political, the microcosm to the macrocosm. The cross roads the Arties have had in their life, with all their ups and downs, To what is precious to us in our world environment and what we stand to loose forever , If we don't act now!
Official Opening:
Friday 31 October, 10am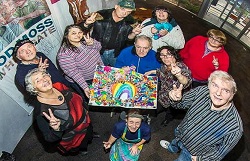 Date
22 November - 15 February 2015

Venue
Burrinja Inner Gallery
Cicada Press: Gamarada

Cicada Press is a research group within the School of Art at the College of Fine Arts (COFA), University of NSW. It functions as an educationally focused custom printing workshop where artists of national reputation are invited to produce a body of work with the support of Cicada Press staff and students.
For the past six years Cicada Press has worked closely with a number of Aboriginal artists from NSW but also other parts of the country building Aboriginal print portfolios and providing them with new skills to take into their future practice.
Recent visiting artists include Vernon Ah Kee, Reko Rennie, Laurel Nannup, Jason Wing who will be featured in the exhibition.
Curated by Tess Alass, Associate Lecturer, School of Art History and Art Education at the College of Fine Arts (COFA), University of NSW.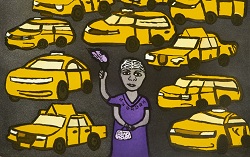 Date
22 November - 15 February 2015

Venue
Burrinja Gallery
Myths and Legends of West Arnhem Land: Nganjmirra Family Drawings

Rare works on paper by members of the Nganjmirra family, including Bobby, Alex, Peterson, Ralph and Wesley tell traditional stories of creation, law and life in Western Arnhem Land.
Selected from the McLeod Gift Collection.

Also showing at Yarra Ranges Regional Museum,
21 February - 22 March 2015.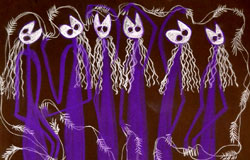 ---