Art - Upcoming exhibitions
Open Studios Exhibition: On the brink – The tensity of change
The Open Studios weekend, featuring 36 local hills studio, is one of the most anticipated events for the region's cultural calendar, attracting art minded visitors and tourists since 2004.
The 2015 program includes new categories of artists that all celebrate the rich and diverse creativity of the hills. Individual artists and Collectives will be joined by Emerging artists and Odd Balls (You have to come along to find out more!). The Dandenong Ranges Open Studios program provides a unique insight into our artists' work environments as well as their art.
For more info on Open Studios visit
www.openstudios.org.au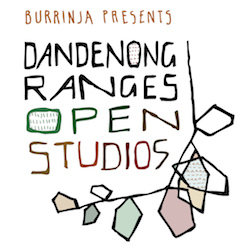 Date
16 May - 28 June

Venue
Burrinja Gallery
A Gesture of Protest – The 1971 Sherbrooke Forest Protest

In February 1971, a group of protesters led by 22-year-old Lin Onus occupied a stretch of land in Sherbrooke Forest on the Belgrave – Monbulk Rd in an attempt to draw attention to land rights and the situation of Aboriginal people.
Based on original documents, photographs and oral history recordings the exhibition places the Sherbrooke Forest Protest of 1971 in the context of the growing land rights movement and commemorates it as a significant part of Koori heritage, Victorian and Australian history, a history that we all Australian share.
A reconstruction of the protest's 'roundhouse' will set the scene for the exhibition. It will present edited versions of the oral history recordings as audio-visual installations and once again become a space for learning, contemplation and discussion.
Curated by J.D.Mittmann, Burrinja. A Touring Exhibition.
Image: Lin Onus at 'roundhouse'. Public Records Office Victoria; Herald & Weekly Times