Studio Artists at Burrinja
Rainbow Soul Creative - Bev Pergl - Studio 2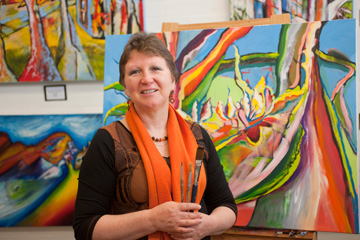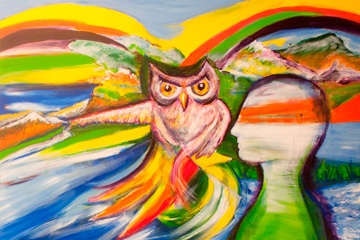 Rainbow Soul Creative is a unique arts business incorporating art, soul healing and essential oils to empower children and adults to access their inner creativity. Bev's paintings are colourful and vibrant with the intention of inspiring others by working through emotional blocks.
Bev offers the following:
~ Adults Soul Art Workshop, for emotional healing at Burrinja. No experience required. Dates TBC
~ Every Child's an Artist Ferntree Gully Community Centre and new class at Burrinja. Dates TBC
~ Art workshops for schools or community groups
~ Essential Oils Playshops
~ Cards of Paintings for sale
This email address is being protected from spambots. You need JavaScript enabled to view it. or 0449 654 343
HG Pottery & Arts Studio - Helena Griffiths Studio 3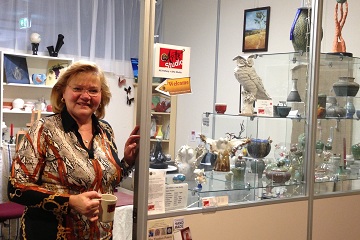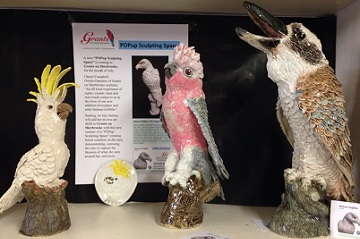 Painting, Pottery, Sculpture
Sculpting in clay, throwing on the wheel and painting, Helena has been creating detailed wildlife commissions, personalised teapots and jewellery including cabochon.
Now in her 4th year in Studio 3 at Burrinja, HG Pottery will be moving but you can see her "POPup Sculpture Space" at Grant's on Sherbrooke, Kallista and will still be selling her art on www.hgpotteryaustralia.com
Feel free to contact Helena on 0414 625 483 or This email address is being protected from spambots. You need JavaScript enabled to view it.
Jessie Journoud-Ryan - Studio 4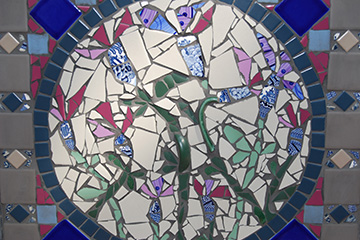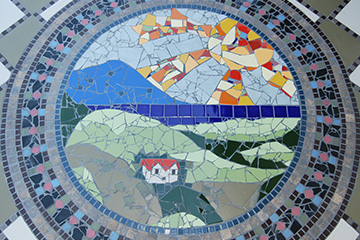 Jessie is a practising local artist (Australian and French) and she works with a vast range of media, from ceramics, printmaking, sculpture and painting through to photography and digital imaging.
Since 2009, Jessie has been a French and Art Teacher and has taught in several secondary schools across Melbourne, as well as in the Faculty of Art and Design at Monash University.
In more recent years, Jessie has returned to her initial ceramics practice via mosaics. She has been experimenting with the medium and has created a series of indoor and outdoor mosaic projects focusing on garden design and organic compositions.
Nicole Rizio - Studio 6
Harmonious Melodies offers the following music programs:
Simply Music Piano is a remarkable, Australian-developed piano and keyboard program that offers a breakthrough in music education. This unique method has children, teens, adults and seniors playing great sounding blues, classical, contemporary and accompaniment piano pieces – from their very first lessons.
Play a story - A break through piano improvisation program for 4 - 5 year olds!
Play-a-Story is a musical journey in which teacher and students travel through a storybook world. It uses the piano as its mode of travel, creating sounds, melodies, harmonies and rhythms to express the story… literally, students create their own musical soundtrack.
Tuition also available for: Piano accordion, flute, violin, clarinet, tenor sax
Group and private lessons available.
For bookings and information please contact Nicole on 0417 844 590 or This email address is being protected from spambots. You need JavaScript enabled to view it.