Date
Friday December 4
Time
Doors open 8pm
Venue
Burrinja Black Box
Admission
$25 (pre sale)
$30 (at the door)

Mick Thomas
Mick Thomas and long time "Weddings, Parties, Anything" & "Roving Commission" band mate, Squeeze Box Wally take their annual Christmas show to the hills for the first time. A staple of Melbourne's music scene for almost 30 years, the Christmas shows began when Mick Thomas fronted Weddings Parties Anything and has evolved into a tradition for Mick's solo outfit featuring a rotating schedule of talented performers, and keeping the party alive with Micks unique mix of folk, roots and country. Get ready to deck the halls.

Check Mick out Mick Thomas performing My Mother's guitar
Book online or via the box office on 9754 8723.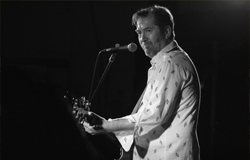 photo credit: Mark Hopper
Date
First Tuesdays of the month
Tues 1 Dec
Time
Dinner from 6pm
Music from 7:30pm
Venue
Café Burrinja
Admission
$15/$12
MPA Members $10
Tickets at the door
Mountain Pickers Association
Victorian audiences and pickers have an opportunity to partake in a regular musical event at Burrinja.
The structure of the evening is a blackboard concert with a paid feature band on the night.
Email This email address is being protected from spambots. You need JavaScript enabled to view it. or call Jim on 97047573 to book a spot on the blackboard concert.
For table bookings call Burrinja Cafe on 9754 4771.
Date
Last Sunday of the month
Time
2pm - 4pm
Venue
Cafe Burrinja
Admission
Free

Sunday Afternoon Cafe Series

The Sunday Afternoon Cafe Series has returned to Cafe Burrinja, every last Sunday of the month enjoy a range of fabulous musicians on the Cafe Burrinja stage.
Upcoming shows

November 29: John Perri and Tracey Roberts
John Perri (drums, vocals & percussion) and Tracey Roberts (keyboard & vocals) have performed together on several occasions over the years and also regularly work with the cream of Melbourne's musicians. Their musicality and funky grooves will impress and inspire with great versions of well known jazz, Latin and pop covers as well as a tasty selection of Tracey's original songs from her many CD releases.
January 31: Jam Tarts Trio
Jam Tarts Trio is a colourful and entertaining female trio singing quirky originals and favourites from the 50's, 60's and 70's!

For Cafe Burrinja bookings contact 9754 4771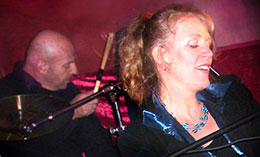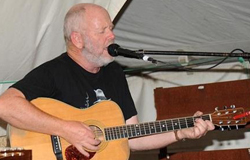 Date
Fri 11 Dec
Time
Dinner from 6pm
Music from 8pm
Venue
Cafe Burrinja
Admission
$20 Full
$15 Concession
Local blues legends Dave Diprose and Doc White have re-launched the popular Blues and Roots at Burrinja.
Friday 11 December - Paul Wookey and Tony J. King
Paul Wookey is a distinctive singer and songwriter who has toured extensively throughout Australia with occasional international forays. His music sits somewhere between folk, blues and country music with Irish, American and Australian flavours.
In 1981 Paul won the prestigious Best New Artist Award at the Tamworth Country Music Festival and has been recognized for the quality of his songs. His "One Way Ticket" album received extensive airplay on Radio National. Glenn A. Baker said the album contained a collection of "powerful and important Australian songs". His latest album "I Wish It Would Rain" was released in 2004.

Tony J. King. Having grown up in the 'Northern Badlands' of South Australia (and now a local), Tony J King creates ramshackle music that has roots in the blues, jazz and folk sounds of the forties and fifties. He is also the 'King' in Lily & The King.
With a few stories, an old guitar, half a drum kit (or old suitcase), Tony J King has had decades of experience in order to perfect, change and shift his unique style of blues 'n' roots.

Bookings and table reservations via Cafe Burrinja on 97544771 or at the door.
Kate Miller-Heidke
"Kate Miller-Heidke is a genius. Her unique mix of operatic singing and pop music is a thing of beauty. Her voice is much more than a supremely versatile instrument – it's a weapon." – The Mercury, Tasmania
Coming to the Hills as part of her Australian tour, experience music from her acclaimed musical The Rabbits, a new cover or two and songs from her most recent record O Vertigo! – hailed by Rolling Stone Magazine as a "career-best album" – as well as earlier material from across her varied career.
Kate is also releasing a
charity Christmas single "I'm Growing A Beard Downstairs For Christmas"
by Kate Miller-Heidke featuring The Beards, with all proceeds going to Bowel Cancer Australia.
Nicholas Chamber Orchestra (NCO)
Chamber Music Recital and world premiere of Peter Tahourdin Clarinet Concerto with Chamber Orchestra
'The best musicians of the NCO will come together to create a beautiful and varied program of chamber music featuring soloists from the orchestra'
– NCO Director Eric Klay
Experience the world premiere of Peter Tahourdin's clarinet concerto performed by the Robert Schubert with the Nicholas Chamber Orchestra, featuring in a pristine program of the finest classical music featuring local soloists from the NCO.
ProgramBach, Brandenburg concerto No 6
(Cora Teuwen & Martin Welch, Viola & Harpsicord)

Serenade for flute and string orchestra by F.S. Kelly
(Mathew Barker, flute)

Cello solo
(Joanna Tidy)

Haydn Symphony 104
(Nicholas Chamber Orchestra)
Interval

Clarinet Concerto with Chamber Orchestra by Peter Tahourdin
(Robert Schubert & Nicholas Chamber Orchestra)
Mozart's Requiem
Nicholas Chamber Orchestra (NCO)
with local choir Singularity
"Making classical music accessible and available to all is something I feel passionate about" – NCO Music Director Eric Klay


This winter unfurl with the classical music sensation of the Dandenong Ranges own Nicholas Chamber Orchestra performing Mozart's breathtaking Requiem.
Program:Songs from Paradise Road
(Singularily, director Cecily Woodberry)
Weber Basoon Concerto
(Julie Holmes solo)
Interval
Mozart Requiem
(Nicholas Chamber Orchestra and Singularity)
90 minutes (plus 20 min interval)
Date
Saturday 12 November 2016

Time
2pm

Venue
Burrinja Theatre
Tickets
Adult $36
Concession $32
Group 6+ $28

My Latin Heart
José Carbó & the Grigoryan Brothers
"The three of us have a great simpatico. Sitting down together in front of an audience to perform these songs that we all love is going to be extremely satisfying." - José Carbó

A celebration of Latin passion and beautiful music

Join us for an afternoon of sumptuous song, stunning strings and tantalising tango, with internationally acclaimed baritone José Carbó and brilliant classical guitarists Slava and Leonard Grigoryan presenting My Latin Heart.

Reaching number one on the Limelight Classical Music Charts in 2013, My Latin Heart was also nominated for Classical Record of the Year at the ARIA Awards.

Running time 90 Minutes (plus 20 minute interval)