Friday 19 December
8.00pm
Burrinja Cafe
$15 (Tickets at the door)

Nick Charles & Phil Manning
Presented by Burrinja Blues and Roots
Two of Australia's Blues greats have combined forces for the final Burrinja Blues and Roots of 2014. It is set to be one very special night and a celebration of the live of the late Alex Legg.

Nick Charles
"Nick Charles is a class act revered by peers and critics as one of the finest pickers and players in the land. Various guitars and mandolins become one with the player as he caresses the great blues classics from the strings. With his great knowledge and a rich repertoire Nick truly is following the tradition of the best of the traveling troubadours. The great picture here tells the story of a dedicated musician. Make sure you catch him playing and get his fabulous music on disc. It is simply fabulous and so is our Maton Artist of The Year 2014. Congratulations Nick Charles." Jamie McKew – Festival Director

Phil Manning
A founder & continuing member of the now legendary CHAIN, Phil Manning has long beenregarded as the foremost blues guitarist produced in this country.
Chain are the only blues band to ever have a number one Black'n'Blue, they also had a number two, Judgment. Toward The Blues, their 1971 album went double gold.
Phil has toured with artists including Muddy Waters, Sonny Terry and Brownie McGee, Albert Collins, Freddie King and dozens of others in the blues and rock genres.

For table bookings call Burrinja Cafe on 9754 5707.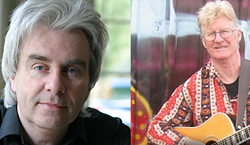 Date
Sunday 21 December
Time
1.30pm - 4.30pm
Venue
Burrinja Café
Admission
FREE ENTRY
Paul Jamieson
English/Jamaican Paul Jamieson has been a part of the Melbourne music scene for some years, more often as part of the successful Jazz Quartet "Sugar Blue".
Having travelled much of Australia Paul has found success in various formats, from Childrens Music (8 albums) through to music producer for feature films.
Paul's music is nearly always a distinct blend of rootsy grooves, jazz and a touch of pop.