Date
First Tuesdays of the month
Tuesday 3 March
Tuesday 7 April
Tuesday 5 May
Time
7.30pm
Venue
Burrinja Café
Admission
$15/$12,
MPA Members $10
Mountain Pickers Association
Victorian audiences and pickers have an opportunity to partake in a regular musical event in the Dandenong Ranges area.
The First Tuesday Club Night is starting again back at Burrinja with Coolgrass as the feature act. Email This email address is being protected from spambots. You need JavaScript enabled to view it. or call Jim on 9704 7573 to book a spot on the blackboard concert.
The structure of the evening is a blackboard concert with a paid feature band on the night. Entry to the evening costs $15.00/$12.00 and members of the Mountain Pickers Association are charged $10.00.
For table bookings call Burrinja Cafe on 9754 4771.
Date
Sunday 13th September
Time
2pm
Venue
Burrinja Theatre
Admission
Adult $25
Concession / Jarmbi $20
Group (4+) $18
Nicholas Chamber Orchestra
The Nicholas Chamber Orchestra brings together the finest classical musicians of the Dandenong Ranges to perform under the baton of Eric Klay.
The NCO Programme for their September Burrinja performance features Mozart's Symphony No. 41 in C major. His Jupiter Symphony, as it became known, was the last symphony Mozart composed (1788), and was also his longest.
Scored for flute, two oboes, two bassoons, two horns, two trumpets, timpani and strings, Mozart's Symphony No. 41 will showcase the strength, talent and versatility of our Dandenong Ranges very own Nicholas Chamber Orchestra.
The program will also include the delightful Brandenburg Concerto no 6 by JS Bach and the Mozart Clarinet Quintet.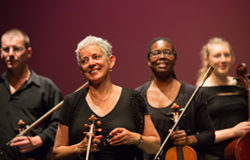 Date
Second Fridays of the Month
Friday April 10
Friday May 15
Friday June 19
Friday July 10
Time
8pm
Venue
Cafe Burrinja
Admission
Adult
Concession

Burrinja Blues and Roots
We're pleased to confirm the return of Burrinja Blues and Root,s presented by Dave Diprose and Doc White. Coming back to Cafe Burrinja on the second Friday of the month with a line up of regular and new fabulous Blues and Roots performers.

April - July Program out soon!