---
Date
Tuesday 4 March
Time
7.30pm
Venue
Burrinja Café
Admission
$15/$12, MPA Members $10
Mountain Pickers Association
Victorian audiences and pickers have an opportunity to partake in a regular musical event in the Dandenong Ranges area. The Mountain Pickers Association is attracting strong audiences to its monthly bluegrass meetings at Burrina Cultural Centre.
This week features Nine Mile Creek

The structure of the evening is a blackboard concert with a paid feature band on the night. Entry to the evening costs $15.00/$12.00 and members of the newly formed Mountain Pickers Association are charged $10.00.
For table bookings call Burrinja Cafe on 9754 5707.
Date
Thursday 13 March
Time
7.00pm
Venue
Burrinja Café
Admission
$5 (Tickets at the door)

Acoustic Brew
Mix it up and play with experienced musicians in a relaxed setting, hosted by Michelle Chandler.
Be there at 8pm to put your name on the blackboard to perform 3 songs (or 15 mins). Bring charts if you can. There is a list of songs the musicians can play from which you can choose if you prefer.
For table bookings call Burrinja Cafe on 9754 5707.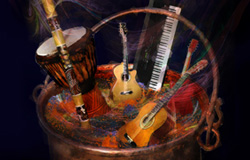 Date
Friday 14 March
Time
Doors 6.30pm Show 8.00pm
Venue
Burrinja Café
Admission
Tickets $15 on the door

Shaun Kirk
2012 was an impressive year for Shaun Kirk, with his album 'Thank You for Giving Me the Blues' climbing to #1 on the Australian Blues/Roots Airplay Charts.
Such is the regard that Shaun has earned, reviewers have since labelled him as"the most exciting blues talent this country has seen in a long time" – (Matthew Frederick, PBS FM),
March is the scheduled release month for Shaun's new album. Burrinja Blues and Roots looks is privileged to be among the first of the launch-dates.
For table bookings call Burrinja Cafe on 9754 5707.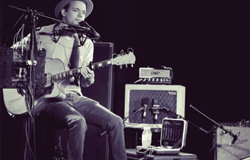 Date
Saturday 15 March
Time
7.30pm
Venue
Burrinja Café
Admission
$15/$12 Tickets at the door

Jazz Notes
Burrinja Café was full for the last appearance of Jazz Notes. So, we're delighted that they'll be returning for a Saturday night.
Enjoy dinner and a drink while Jazz Notes presents a mix of jazz standards, ballads, Latin and contemporary songs.
In the past year, Jazz Notes has played in configurations from duo to sextet, entertaining audiences at regional jazz festivals and jazz bars as well as featuring at a gala dinner for the Australian Sparkling Wine Show and the World's Longest Lunch. 
For table bookings call Burrinja Cafe on 9754 5707.
The Beez
Based in Berlin, The Beez have furnished their house with musical bric-a-brac from around the world – a potpourri of moving, silly, deep and sometimes meaningless popular songs. The four musicians rearrange and craft each song, bending it into to a distinctively Beez style. 
They are at home on any stage and travel light: four voices, two acoustic guitars, an acoustic bass and an accordion and, it has to be said, more than a few costumes… The Beez are renowned as excellent hosts, serving lavish lashings of humour and musicality guaranteed to charm every audience.
Buzzing from Berlin to Illawarra Folk Festival to Tamworth Country Music to Burrinja Café and everywhere in between! 
The beez will be taking over the Burrinja café with their unique charm.

Check out a great clip from their performance on Spicks and Specks in 2009 here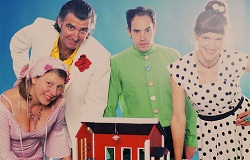 Date
Thursday 20 March
Time
7.00pm
Venue
Burrinja Café
Admission
Gold Coin Donation
Open Mic Night
Each month there is an informal and friendly Open Mic night at the Burrinja Cafe with regular and new performers (especially 1st timers) welcoming all musos, poets, duos and trios.
See others performing to get a feel for the place and maybe perform yourself or simply come along and enjoy a great meal and a few drinks in this friendly and relaxed atmosphere.
For table bookings call Burrinja Cafe on 9754 5707.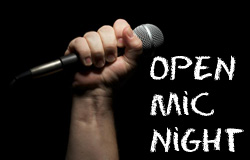 Date
Friday 21 March
Time
Doors 6.30pm
Venue
Burrinja Café
Admission
Tickets $40


Chloe's Carnival
Chloe's Carnival has come about because of a need to raise funds to purchase a Wheelchair Accessible vehicle. Chloe and her Dad Dan have Cerebral Palsy, which is not an inherited condition. It affects them both physically.
The cost of a car with modifications to cater for the families unique needs will be in excess of $60,000. We are hoping to achieve our dream of purchasing a Kia Carnival with modifications but need to raise the funds in order for this to become a reality.
Come along and enjoy a great night out while supporting us in our Fundraising efforts! There will be Finger Food, Live Music, Live and Silent Auction, Door Prizes plus more!
Booking via This email address is being protected from spambots. You need JavaScript enabled to view it. by Thursday 12 March. 
Date
Tuesday 25 March
Time
Doors 6.30pm Show 8.00pm
Venue
Burrinja Café
Admission
Tickets $25/20 on the door

The Good Lovelies
Presented by the Mountain Pickers Association
Funny and upbeat, with just a pinch of sass, this Canadian trio have charmed audiences all over North America, the UK and Australia.  Wielding mandolin, acoustic guitars and banjo, their uplifting three-part harmonies, light-hearted song-writing and irresistibly buoyant dispositions have made them a real festival favourite.  The group received a Canadian Folk Music Award for best "New Emerging Artist" in 2006, and in November 2013 was awarded "Vocal Group of the Year" plus "Ensemble of the Year" for their latest album, "Live at Revolution". With wide smiles and wider appeal, many breezy days lie ahead.
For table bookings call Burrinja Cafe on 9754 5707.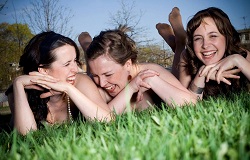 Date
Friday 28 March
Time
8pm
Venue
Burrinja Café
Admission
$15 on the door

The Hollands
Presented by Ranges Concert Lounge
An internationally touring family based in the US via Australia with a knack for engaging audiences and rousing a sing-a long.
They are 21st century nomadic travelers and frolic in the organic folk revival scene.
Jana Holland, from Michigan, plays Mandolin, Banjo and Guitar – her deep minor tones and angelic voice extend solace to all who listen. She sets the mood and embraces your mind with her poetic yet ground level lyrics. Delicate and natural harmonies are added by daughter and gifted vocalist, Graciana Holland (uke and bass). Craig (Taylor acoustic) began his music career playing punk, creating their unique sound that pulls the music into a different direction than traditional folk. Banjo is a force to reckoned with on the Cajon and other percussion instruments. By the end of their performance, audiences will feel like they are part of the band. This is the experience and magic that happens when The Hollands! come to town.
Special Guest: Carolyn Oates
For table bookings call Burrinja Cafe on 9754 5707.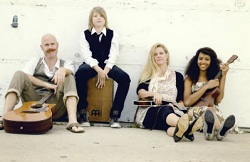 Date
Sunday 30 March
Time
2.00pm
Venue
Burrinja Café
Admission
Free Entry

Safe N' Sound
Community Safety Project CD Launch
This event is the culmination of 12 safety song-writing workshops conducted at Upwey High School, Monbulk Primary School, Lilydale Youth Services Freeza Group and Monbulk Living and Learning Centre by Carolyn Oates Singer-Song Writer and DRMC Project Manager Sue Clisby.
4 Safety songs have been co-written, I from each group, reflecting each group's exploration of community safety. The CD produced will be both a record of this project and a resource for schools and community groups exploring community safety
The Safe n' Sound project is facilitated by Dandenong Ranges Music Council (DRMC) and supported by the Victorian State Government Department of Justice Community Crime Prevention Program.
For table bookings call Burrinja Cafe on 9754 5707.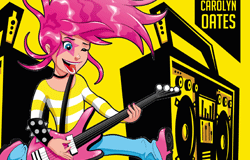 Date
Thursday 3 April
Time
6.30pm
Venue
Burrinja Café
Admission
$50 (Includes meal and reading)

Dining with Spirit
Dine with the spirits in a fun and friendly atmosphere - featuring professional healers, psychics, mediums, tarot readers and other alternative professionals.
Cost: $50 includes a meal, drink of choice and a 15 minute session with your chosen professional. Please book early as places are limited - phone Burrinja Cafe on 9754 5707.
Ken Nicol: Solo Acoustic Tour
Support by Dominic Finley
Ken Nicol hails from Lancashire, England and is an exceptional musician. As a guitarist, he is one of the most skilled and exciting players anywhere today; as a singer, he is capable of evoking a wide range of emotions in his audience; and as a songwriter, he demonstrates these abilities in his clever and well-crafted material. Ken, who is a former member of folk rock legends 'Steeleye Span' (and 'the Albion Band'), is stopping off at Burrinja on the Australian leg of his world tour, where he is set to promote his latest highly acclaimed album, 'Historic Events and Other Subjects'. Ken's material covers the spectrum from blues to rock, effortlessly taking in folk, jazz, ragtime, ballads and more along the way. Ken's career dates back to the early seventies, and he remains a highly regarded guitarist among many of folk rock's pioneers.
The show also features an opening set from Dominic Finley, a British session musician, singer songwriter, and Australian migrant…
Dominic is a former member of the 80's multi-million sellers 'Cutting Crew' known for their number one hit, 'I just died in your arms' – he has released several solo albums, and is an accomplished solo performer.
For table bookings call Burrinja Cafe on 9754 5707.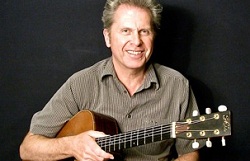 Streisand & Diamond: The Way We Were
The Way We Were celebrates the life and times of two struggling artists from Brooklyn who became two of the worlds most loved performers, Barbra Streisand and Neil Diamond!
Hear how the lives of these two superstars become intertwined over the years through the most curious of circumstances. Little did they know that when they sang in the school choir together they were both set to achieve world-wide acclaim, and would join forces again twenty years later to sing 'You don't bring me flowers' –one of the most famous duets of all time.
The Way We Were features everything from poignant Streisand classics such as Don't rain on my Parade and Evergreen, to Diamond's Hot August Night rockers such as Cherry Cherry and Crunchy Granola Suite, performed by two critically acclaimed international artists, Gabrielle Parbo and Dominic Finley supported by their sensational backing group –The Diamantes.
For table bookings call Burrinja Cafe on 9754 5707.
Tapestry
Feel the earth move with this ground breaking unique 5 piece band featuring Gabrielle Parbo performing the songs of Carole King; Joni Mitchell; Ricki Lee Jones; and Carly Simon: The songs that captured the essence of an explosive and important era of change, So where were you?
The Tapestry Band lived and loved it and now delight in bringing you the songs and stories to sweep you back to the psychedelic 70s. A show not to miss.
For table bookings call Burrinja Cafe on 9754 5707.
FReeza Push Start Band Competition
The FReeZA Push Start Battle of the Bands competition showcases young musicians from across Victoria, giving them the opportunity to perform, gain local exposure, and win their way to a spot on the Push Over festival line up. Regional heats are being held at five Yarra Ranges venues from June to August, with the winners going on to compete in Regional Finals.
Last year's winner Alkali Fly stunned the audience with his inspirational quasi acoustic music and has gone onto feature in Triple J's Unearthed. Entries are open to hard-core, indie, folk, punk, metal, hip hop and funk etc... Solo, groups and bands welcome.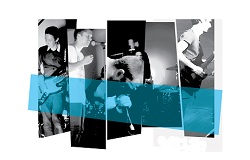 ---