Creative Movement and Drama Classes
Classes are facilitated by Dee Whittington who has many years experience with children and youth of all ages in the areas of creative movement, drama and music, with fabulous outcomes for the participants.
Play Up at Burrinja (Ages 5-6 years)
The emphasis for this age group is on creative play and improvisation. Classes are designed to stimulate the imagination of young children, through participation in various drama, music and movement activities.
When: Wednesday 4-5pm.
Act Up at Burrinja (Ages 7-9 years)
These fun filled classes are designed to encourage children to become confident in presenting their own ideas and to work together in a group. This is achieved through movement, poetry, songs, scripts and theatre games; providing safe, supported performance opportunities.
When: Wednesday 5-6pm.
Troupe (Grade 4 – 5 or Ages 10 – 11/12 years)
These classes are designed to encourage children to become confident in presenting their own ideas and to work together in a group. This is achieved through movement, poetry, songs, scripts and theatre games; providing safe, supported performance opportunities.
When: Wednesdays 6-7pm
When: Term 1 runs from February 4 through to March 25 (8 Weeks)
Cost: $104 for term 1
Advance Troupe (By invitation only)
This class is for students showing the commitment to work within certain guidelines enabling them to extend their drama experience and skills. It will be a class requiring focus and dedication and within these guidelines each student should have a fully rounded drama experience, still full of creativity and enjoyment but supported by focused behaviour and extended by more advanced scripts, monologues & movement.
When: Wednesdays 7-8.30pm
Cost: $160
Rainbows and Sparkles
This popular program returns to Burrinja!
An art group for preschoolers with an emphasis on parent/carer participation.
Children and adults have fun exploring creative activities together such as singing, movement, playing musical instruments and making art using a variety of media.
Classes are facilitated by Gill Cruikshank who ran this popular group for several years prior to building works. Gill also works with Dee Whittington and her 'movement' groups on creative support for performances.
Time:
Wednesday/Thursday @ 10am - 11am
When:Contact Burrinja Box office for term 2 dates and availability
Cost: $100 for 10 Sessions
Limited spaces available
Bookings via Box Office only. Phone (03) 9754 8723
Dates
Term 1: 5-Mar
Term 2: 16-Apr, 7-May, 4-Jun
Term 3: 16-Jul, 6-Aug, 3-Sep
Term 4: 8-Oct, 5-Nov, 3-Dec
Venue
Black Box Studio
Rainbows and Sparkles | Monthly Craft Play Date
Play Dates are perfect for 3 - 4 year olds who just want to spend time getting messy with art experiences and a favourite adult!
As with Rainbows & Sparkles, this is a parent/carer participation class and is an ideal opportunity for an hour of quality mess making time without the clean up!
Bookings and payments in advance are essential.
Limited spaces available.
$12 per class | Suitable ages: 3 – 4 year olds
Dates
Easter Shool Holidays 2015
31 March - 8 April
Prices
$20
Early bird discount $17
Burrinja Childrens' Holiday Art Classes
All classes suitable for children 6 - 12 year old
Tues 31st March
10.30am-12pm Watercolour and Shells, Beach Scene
1.15pm - 2.45pm Masks-Decoration and collage

Wed 1st April
10.30am-12pm Portraits using tone and pencils
1.15pm - 2.45pm Multi-coloured decorative leaf and flower patterns

Tues 7th April
10.30am-12pm Fun creatures from leaf prints
1.15pm - 2.45pm Dolls-(pre-made), design, make clothes, decorate $23

Wed 8th April
10.30am -12pm Decorated pencil cases, markers, sewing and necklaces
1.15pm - 2.45pm Make and Design a 3D Model Car, using cardboard template


For bookings contact: Bev on 0449 654 343 or email This email address is being protected from spambots. You need JavaScript enabled to view it.


Dates
Wednesday 8 April

Time10am-10:45am
Prices
$10 per person
Pants Down Circus Rock-Style Workshop
Get ready for Pants Down Circus Rock by coming along to make your own rock star kit with Gill Cruikshank!
All Rock Stars need crazy hair, bling glasses, a guitar and microphone and this 45 min workshop will help you create your own rock star look.
Places are limited to 10 in the class
Bookings essential
Bookings via the Box Office on 9754 8723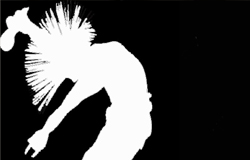 Dates
Workshop 1
Wednesdays 29 April -17 June
Workshop 2
Thursdays 30 July - 10 September
Cost
Workshop 1 $100 (8 weeks)
Workshop 2 $90 (7 weeks)
Creative Writing workshops -
for kids who love to write!
Practical and fun, these workshops give students feedback on their writing and a chance to learn more about editing and writing processes. The facilitator is Pauline Hoskin, a local playwright and author with many years experience teaching English and drama.
Workshop 1 - SWITCH ON your imagination
Get started, develop characters and dialogue, plan and end a story, edit and Improve!
Suitable for ages 8—11
When: Wednesdays, 29 April—17 June
Time: 4:15pm—5:15pm
Cost: $100 (8 weeks)
Workshop Two—WRITE FANTASTIC!
Writing fantasy, science fiction and horror! Create imaginary beasts, invent fantastic works and describe terrifying adventures!
Suitable for ages 8 - 11
When: Thursdays, 30 July—10 Sept
Time: 4:15—5:15pm
Cost: $90 (7 weeks)

Limited spaces—so get in quick!
Book online or phone 9754 8723.
Dates
Friday 29 May
Saturday 30 May
Sunday 30 May
Where
Burrinja
Prices
3 Day Festival Pass $90
Early Bird $70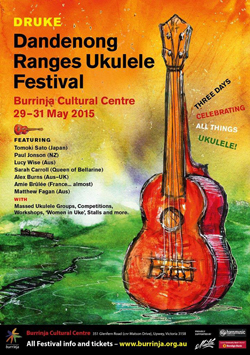 Dates
Saturday 20th of June 2015
(3hrs: 12.00pm – 3.00pm)
Where
Burrinja Arts Workshop
Prices
$50 per student
Smash and Chat
Do you want to get creative with crockery?
The long awaited 'one off' Mosaic Workshop is finally here...
This workshop serves as a 3 hours window of opportunity to mosaic on whatever personal project you may have currently brewing ... This session provides the opportunity to 'drop in' and get creative on any mosaic project you have started or plan to start, with a group of fellow mosaic enthusiasts.
Jessie Journoud-Ryan
will be thrilled to assist and advise you with your current projects and a selection of crockery, adhesives and basic tools will be available to you. Please come also prepared with your own crockery, tools and own prepared surfaces to mosaic.
Please note that you do not need to be an expert, but this is not a comprehensive beginner's workshop, but rather, this is a drop in Mosaic session.
Please note that an extra charge of $10 is applicable (and payable on the day) if you need to purchase a prepared (scored and primed) surface to Mosaic.
A selection of the artist's own tile and crockery collection and adhesives will be available.
Book Online here, or contact the Box Office on 9754 8723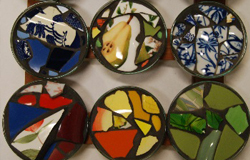 Dates
Ongoing Classes from
30 January 2015
Venue
Studio 6
Learn to play Piano the Simply Music Way.
Simply Music Piano
Simply Music Piano is a remarkable, Australian- developed piano and keyboard program that offers a breakthrough in music education. This unique method has children, teens adults and seniors playing great sounding blues, classical, contemporary and accompaniment piano pieces from the first lesson.
Soul Journey
Realise the hidden potential within. A journey of self discovery that introduces you to your creative abilities in both music and art.
Using simple piano improvisation techniques, learn to add your own personal sound-track to your paintings created in class.
No piano or drawing experience necessary.
Drum Circle
A fun dynamic way to discover your musical abilities through rhythm.
No experience necessary.
Tuition is also available for: Piano accordian, flute, violin, clarinet and tenor saxGroup and private lessons available

More Info at: www.harmoniousmelodies.com.au
Bookings: via Nicole on 0417 844 590