Dates
Tuesday 4 Oct - 6 Dec (8 weeks)

(NOTE: no class on Melb Cup day 1st Nov or 22nd Nov)
Times
4pm - 5:30pm
Venue
Burrinja Black Box
Price
$144

Bookings via This email address is being protected from spambots. You need JavaScript enabled to view it.
DANCE RAPA
One of Melbourne's most sort after contemporary dance instructors, Anton Cleaver-Wilkinson brings contemporary dance to the Hills like never before. These classes are more than learning steps, students learn how to choreograph from their own rich imagination, with an opportunity to create their own dance piece - at all levels.
DANCE RAPA does not engage in competitive dance practices such as Eisteddfods or dance examinations.
DANCE RAPA encourages personal expression through movement.
DANCE RAPA is where young people can create and choreograph their own dance works.

Ranges Academy of Performing Arts (RAPA) is a NOT FOR PROFIT academy for the creative enrichment and development of young people from ages 6 to 18.
As a not-for-profit the Academy is governed by a board of directors, with all of RAPA's creative programs designed and delivered by industry professionals with
extensive experience in various fields of the arts, and with a passion for making a difference in young people's lives.

RAPA is a warm, friendly and safe environment. An academy for the arts that develops confidence, personal motivation and self-worth. A place of encouragement where young
people can express their own rich fertile imaginations.
More info about ranges Academy at http://rangesacademy.org.au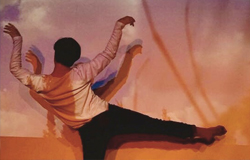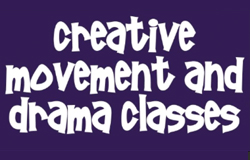 Term 4 Dates
Wednesdays
5 Oct - 30 Nov

Play Up 4pm - 5pm
Act Up 5pm - 6pm
Advanced Troupe 6pm - 7:30pm
Venue
Black Box Studio
Cost
Play Up $117 (9wks)
Act Up $117 (9wks)
Advanced Troupe $180 (9wks)
Visit or call the
Box Office on 9754 8723
Creative Movement and Drama Classes
PLAY UP
: Grades Prep – 2 or Ages 5 – 7/8 years
The emphasis for this age group is on creative play and improvisation. Classes are designed to stimulate the imagination of young children, through participation in various drama, music and movement activities.
ACT UP
: Grade 3 – 4 or Ages 8 – 9/10 years
These classes are designed to encourage children to become confident in presenting their own ideas and to work together in a group. This is achieved through movement, poetry, songs, scripts and theatre games; providing safe, supported performance opportunities.
ADVANCED TROUPE
: By invitation only
This class is for students showing the commitment to work within certain guidelines enabling them to extend their drama experience and skills. It will be a class requiring focus and dedication and within these guidelines each student should have a fully rounded drama experience, still full of creativity and enjoyment but supported by focused behaviour and extended by more advanced scripts, monologues & movement.
Classes are facilitated by Dee Whittington who has many years' experience with children and youth of all ages in the areas of creative movement, drama and music, with fabulous outcomes for the participants.
Further inquiries contact the box office on 9754 8723 or email This email address is being protected from spambots. You need JavaScript enabled to view it.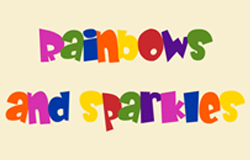 Term 4 Dates
Wed 5 Oct - 14 Dec (no class 2 Nov)
Thurs 6 Oct - 8 Dec
Time
10.00am-11.00am

Cost:
10wks $120
($12 per class)
Visit or call the
box office on 9754 8723
Venue
Black Box Studio


Rainbows and Sparkles
Have fun and get creative with your child in an engaging art group for pre-schoolers.
Join Gill Cruikshank on a Rainbows and Sparkles creative adventure singing, movement, parachute play, musical instruments and art making using a variety of media.
With a strong focus on parent/ carer participation the class invites children and adults to have fun together exploring creative activities.
Gill Cruikshank is a local creator with 10 years' experience running this popular class and is passionate about nurturing creative expression shared between children and their families.
Limited spaces available

Please note there will a PRIORITY SALE for returning students in term 2. General bookings open on Tuesday 28 June at 10am. Classes need a minimum of 7 bookings confirmed & paid for 1 week prior to commencement to go ahead. So be sure to pay early to avoid disappointment.

ANY ENQUIRIES please CONTACT the Box Office: Tue-Fri, 10:00am-4:00pm, 9754-8723 or This email address is being protected from spambots. You need JavaScript enabled to view it.

Suitable ages: 2 – 4 with parent/carer participation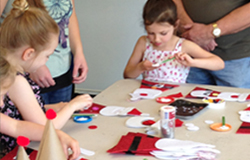 Rainbows and Sparkles
Christmas Craft Play Date
Have fun and get creative with your child in an engaging art class for pre-schoolers.
Join Gill Cruikshank for a special Rainbows and Sparkles Creative Play Date packed full of Christmas Crafts
Children and adults have fun crafting special Christmas decorations and gifts.
Limited spaces available
Suitable ages: 2 – 4 with parent/carer participation
Dates
SAT 10 DEC
SUN 11 DEC
(10am - 4pm)
12hrs (including breaks)
Suitable 18+
Where
Arts Workshop
Prices
$260 Full weekend [12hrs]
$150 Single day [6hrs]
Bookings: 03-9754-8723
Facilitator: Jessie Yvette Journoud-Ryan
Do you want to get creative with crockery?
Back due to popular demand… with a few variations!
This brand NEW workshop is designed for those of you who would like to indulge in 12hrs or 6hrs of tuition with Jessie Yvette Journoud-Ryan over single weekend...

Beginners are welcome too!
Students may also book for a single day only.
Classes are run by professional artist and qualified teacher Jessie Yvette Journoud-Ryan.
Main materials will be supplied (Tools, adhesives, a selection of crockery, tiles).

Workshop Variations & Specifications:
- A pre-prepared marine-ply surface (30cm X 30cm) will be provided (and optional).
- You are free to bring along your own pre-prepared surface of any dimension.
- Possibility of a grouting session for works completed prior to the actual weekend.
- The workshop will effectively be booked for 12hrs in total over the weekend, so you can choose what kind of breaks you prefer at any time.
The Weekend Mosaic workshop at Burrinja in Upwey, comprising of a total of 12hrs of tutored classes will cost $260 per student or $150 for a single day (6hrs). Classes are limited to 6 places to ensure individual attention.
Book via the Box Office on 9754 8723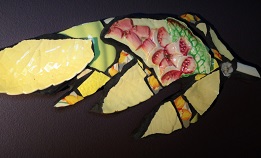 Dates
17 - 24 January
Prices
Classes $22
Early Bird $18 (until 13 Jan)
January Holiday Art Classes
Tues 17 Jan
10.30am-12pm 3D Diorama Card Scenes Drawing and Collage

Tues 17 Jan
1.15pm-2.45pm Owl Drawings Greylead, coloured chalk crayons

Wed 18 Jan
10.30am-12pm
Watercolour Beach Reflection Illusion of water

Wed 18 Jan
1.15pm-2.45pm
Message Flag Meditation What is your Message?

Thurs 19 Jan
10.30am-12pm
Screenprint Bag, Summer scene & necklaces or cartoons. Fabric bag provided

Thurs 19 Jan
1.15pm-2.45pm Hidden Image Pictures. Experiment with mixed media to see what is hiding in the picture.

Fri 20 Jan
10.30am-12pm Calendar Portrait Drawing for the New Year

Fri 20 Jan
1.15pm-3.15pm Sun dye, Tie Dye Fun Dye $30.00, E bird $26.00 Family Discount (2) $50, $45 E bird, Class for Adults & children *3 items BYO t.shirt. Material provided

Tues 24 Jan
10.30am-12pm Felt Soft Toy Design, sew & Fabric Pencil Case

Tues 24 Jan
1.15pm-2.45pm
Watercolour Imaginary Animals What happens when you put 3 animals together?


*Term 1 2017 "Every Child's an Artist" Tues 7th Feb, Thurs 9th Feb, 4.10pm to 5.30pm, 6 weeks $90
Ages 6-12 years
Inquiries : Bev 0449 654 343 or This email address is being protected from spambots. You need JavaScript enabled to view it.
Facebook // www.creativerainbowsoul.com.au