Burrinja Café & Bar
Please excuse us while we undertake some changes and updates in January 2015, ready for a new year at Burrinja Cafe.
We will be closed from Monday Dec 22 until the end of January 2015.
Coffee, tea and nibbles will still be available in the Jarmbi foyer for your holiday visits to Burrinja.
After seven years operating Burrinja Cafe Cheryl and Alan have not retendered for the position and will be finishing up at the end of 2014. Burrinja thanks Cheryl, Dave (and before that Steve) and the team for their work running the cafe at Burrinja and the many terrific music nights they have hosted. We wish them all the best in their new endeavors at the Upwey RSL.
We have confirmed exciting new management for the Cafe that will keep it local, friendly and fabulous but we're going to have to wait another week or two before announcing just exactly who so watch this space!!
We can assure everyone that Burrinja will still be a great place for excellent food and coffee in an inspiring cultural space, and that our 15 year commitment to presenting fabulous music nights will continue!
Our cafe will be closed through January, but will reopen early February with a new team, new menus and lots of other updates for the great year ahead.
We're also planning a special Burrinja Cafe re-opening event details will be on our subscriber emails and social media later in January.
Burrinja Cafe provides great food and coffee in a fantastic intimate atmosphere. It is an 80 seat fully licensed cafe that will seduce you the moment you walk in.
Escape the hustle into warm ochres, great art and comfy lounges. Enjoy lunch, group get-togethers, music events, regular art exhibitions or just relax.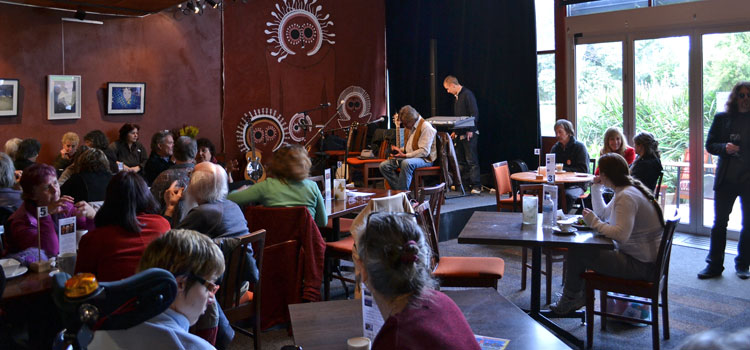 Live Music at Burrinja Café
The Café features a variety of music including Ranges Folk Club, Blues and Roots, Bluegrass, Open Mic Nights and free live music every Sunday afternoon.
Check out the What's On - Music page for full details.
Café Gallery
The Burrinja Café Gallery is a high profile exhibition space within the Burrinja Café for local artists to showcase their work. It offers a rich program of 2-dimensional artworks in various mediums from talented local artists.
Check out the What's On - Art page for full details.
Hire the Café
The Burrinja Café and Bar is a great venue for birthdays, anniversaries, conference dinners or to relax with a glass of wine after your workshop or meeting. The café is also open for preshow dining and drinks.
Able to seat up to 80 people, the space is perfect for that special function or celebration with a delicious difference. A warm, welcoming environment with table seating and comfy lounges, the café also serves as an art gallery, adding an extra element of enjoyment for your guests.
The Burrinja Café and Bar can provide onsite catering and can host a diverse range of events including music nights, gala events and community meetings.
To enquire about hiring the Café, please contact Toni Kirk, Venue Operations Manager at Burrinja, via This email address is being protected from spambots. You need JavaScript enabled to view it.or 9754 8723.
To register your Cafe event details please click here.
Functions and Catering
Burrinja Café can cater for all types of functions, from simple finger food up to wonderful warming dinners.