Burrinja Café & Bar
Burrinja Café's exciting 2015 plans revealed!
Burrinja are delighted to confirm a new partnership with Sandra and her team from Kallista Tea Rooms who will take on the operations of the Café and catering at the Cultural Centre from 2015 onward.
Burrinja Café will keep it local, friendly and fabulous – with an emphasis on great customer service for everyone visiting the arts centre, including the return of full table service with a personal, welcoming approach.
Sandra's team will be bringing a new chef with exciting, accessible menus that offer something for everyone, including fresh, organic, vegetarian and vegan, as well as fabulous pastries!
Early opening for Breakfasts, with a tempting breakfast menu that extends late into the day, is something we are all looking forward to. That and great coffee will make Burrinja Café a must-visit in the mornings.
And for later in the day a whole new wine list with a focus on supporting great local wineries will make Burrinja an excellent place for that longer lunch or afternoon wind-down.
The Café will open itself up to the gardens and parkland, with table service to the fully licensed outside areas making it the perfect place to soak up some sun while enjoying a drink or meal.
Burrinja's 15 year commitment to presenting great music nights will continue – look out for confirmed gig listings to be announced soon.
We'll also be putting new life into the Café, refreshing some of the décor and fittings, while ensuring it retains the fantastic intimate, cosy and relaxed atmosphere that it is known for.
All of these changes will take a little time to put in place, so Burrinja Café will be closed for renovations for the next few weeks.


Re-Opening on Saturday February 21
From February 21 Burrinja Café will be a great place for excellent food and coffee in an inspiring cultural space where you'll want to spend time, enjoy good conversation, good food and excellent service, or to come and soak up the sounds of some fabulous music.
We'll keep you updated with menus and other announcements over the coming weeks, and we look forward to welcoming you to the new Burrinja Café in 2015!


Bookings
Oh, and by the way… just because we aren't open yet, it doesn't mean we are not taking bookings! While we wait for a new phone number, if you would like to book a table for pre-theatre show meals – like the Grigoryan Brothers on Sunday March 8 - or book the café for a function, please call Toni or Mel at Burrinja on 9754 8723.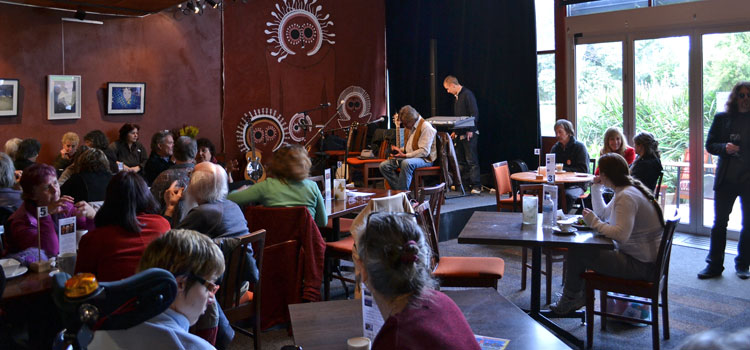 Live Music at Burrinja Café
Burrinja's 15 year commitment to presenting great music nights will continue in 2015, including some of the regulars such as the Mountain Pickers – look out for confirmed gig listings to be announced soon!
Check out the What's On - Music page for full details.
Café Gallery
The Burrinja Café Gallery is a high profile exhibition space within the Burrinja Café for local artists to showcase their work. It offers a rich program of 2-dimensional artworks in various mediums from talented local artists.
Check out the What's On - Art page for full details.
Hire the Café
The Burrinja Café and Bar is a great venue for birthdays, anniversaries, conference dinners or to relax with a glass of wine after your workshop or meeting. The café is also open for preshow dining and drinks.
Able to seat up to 80 people, the space is perfect for that special function or celebration with a delicious difference. A warm, welcoming environment with table seating and comfy lounges, the café also serves as an art gallery, adding an extra element of enjoyment for your guests.
The Burrinja Café and Bar can provide onsite catering and can host a diverse range of events including music nights, gala events and community meetings.
To enquire about hiring the Café, please contact Toni Kirk, Venue Operations Manager at Burrinja, via This email address is being protected from spambots. You need JavaScript enabled to view it.or 9754 8723.
To register your Cafe event details please click here.
Functions and Catering
Burrinja Café can cater for all types of functions, from simple finger food up to wonderful warming dinners.