End of the Line Festival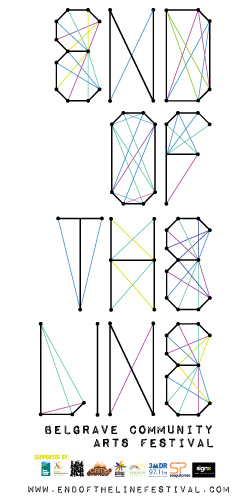 End of the Line festival is a one-day, truly grassroots, community arts festival put together by volunteers of the Belgrave Community Arts Partnership, and held in November each year.
Running purely on the passion, generosity and donations of musicians, artists, performers, makers and the community, End of the Line is creating an epicenter of creativity within the town of Belgrave, which will create ripples all over the hills.
The festival features more than 40 musicians over 5 stages, all donating their talents for the greater cause of sharing and celebrating the arts. Over 200 artists are collaborating in 20 exhibitions that are taking over the most unusual spaces throughout the town, including local shops, alleyways and even the laundromat! Street performances, sculpture installations, a makers market, workshops, demonstrations and theatre performances all combine to help foster connections within the community, awakening a pre-existing passion that has sat quietly in the hills, waiting for the right time to unleash itself.
It is guaranteed to be unlike any other event you have attended, oozing with creative juices, unlocking unexplored locations, and providing a platform for everyone to connect, get excited, and get involved in the arts and their community.
The 2013 End of the Line festival was a massive hit! Stay tuned for exciting developments into the future.
Full 2013 program available here.
For details visit www.endofthelinefestival.com