BELGRAVE LANTERN PARADE
Saturday June 18, 2016

THIS YEAR IS THE TENTH ANNUAL LANTERN PARADE!
Celebrating Winter Solstice & New Beginnings
This year marks the Tenth Belgrave Lantern Parade on June 18 – and what a wonderful celebration we have in store for our Hills' community!
This year we encourage everyone to embrace the spirit of Radiance by making and bringing their own Lanterns to the Parade and being illuminated!
Now is the time to start making your own Lanterns to be a part of this year's wonderful tenth anniversary parade. If you'd like to join a Lantern Making Workshop there are lots of different workshops on weekends at Belgrave Library over the next 6 weeks. All the information is on the Lantern Parade web site
belgravelanterns.org.au
We've got workshops for really simple lanterns, and workshops for really big and adventurous creations!
Bookings are essential. Call Belgrave Library direct on 9800 6489 to reserve your Workshop places.
If you are after inspiration for your beautiful lantern, check out some of the wonderful Lanterns being made on the
Lantern Parade's Facebook Page
; or look out for some of the Lanterns popping up in the Belgrave Shops as a part of Winter Windows in June.
VOLUNTEERING
Did you know that one of the best ways to experience the Lantern Parade is by VOLUNTEERING and getting right in the middle of it all? Every year dozens of fabulous people work together so that 10,000 people in the hills can enjoy this community celebration – so why not join the team and be one of them?
If you think you might be interested in Volunteering, check out the
website
for the whole range of different things you can do to help; or just email
This email address is being protected from spambots. You need JavaScript enabled to view it.
In 2016 the Main Street will be closing a half hour earlier and we're creating a Lantern Village where people can enjoy themselves both before and after the Parade at the top of Hayes Car Park.
This is Belgrave's parade, and now is your chance to get even more out of this wonderful event. Make a lantern, a group lantern, contact us to volunteer to help make it all happen – get in touch!
Remember to walk, ride, catch a train or share a lift to the Parade in 2016 – and leave the car at home!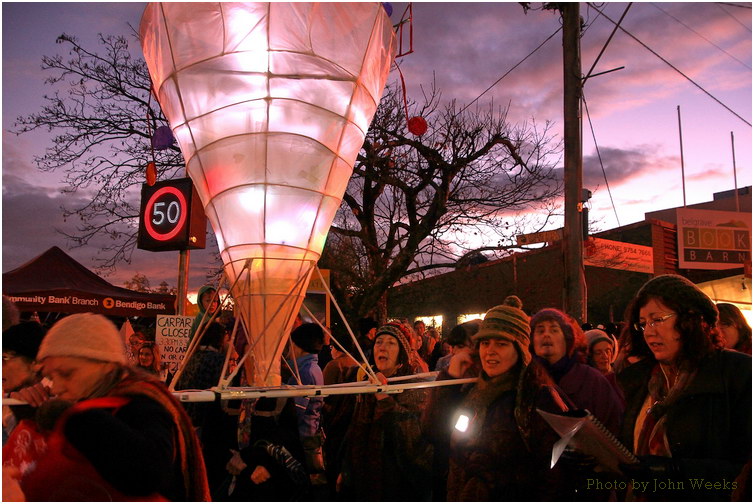 ABOUT THE BELGRAVE LANTERN PARADE & WINTER SOLSTICE
The Parade celebrates the Winter Solstice – our shortest day of the year. It marks the midst of Winter in our cycle of seasons, but most importantly it heralds the turning point – the new beginnings as we turn toward Spring and the blossoms of the Hills that are just around the corner.
The Winter Solstice is the shortest day and the longest night. All over the world people come together in their communities to acknowledge this important moment, celebrating with festivals, food, music, rituals, costumes, arts and more. Come and express yourself with your lanterns, your outfits, with your community group, with your sense of creativity and your festive spirit.
For more details visit the Belgrave Lantern Parade website: www.belgravelanterns.org.au