---
Donate
Supporting Burrinja:
Arts & Culture in the Dandenong Ranges
Little or Big – make a difference with your tax deductible donation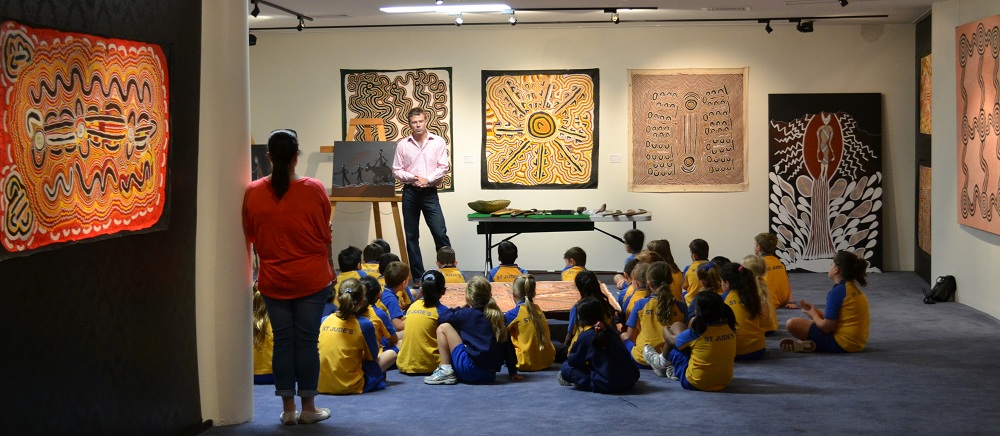 By gifting to Burrinja's Public Fund you demonstrate your passion and support for arts and culture in the region. All donations help us to deliver more arts and cultural programs into the community, and are greatly appreciated. And every donation to the Burrinja Public Fund is tax-deductible.

Burrinja operates with a volunteer Board of Management, our fabulous volunteers and a small, dedicated team of staff. Since 1998 we've helped develop and present arts and culture in the Dandenong Ranges, and in 2011 we opened our wonderful new theatre and exhibition galleries with funding from the Local, State and Federal Governments.
But did you know we also run and support many other cultural events that aren't necessarily at Burrinja? Like the Dandenong Ranges Open Studios, Belgrave Lantern Parade, Belgrave Survival Day, Hillscene and Hillscene Live, End of the Line, Project Studios and much more. These community-based events and activities are vital for the vibrancy of our region, and attract more participation every year.
Many of these cultural programs, events and exhibitions are provided at little or no cost to the community.
You can help us keep on delivering these important programs through your generous donations.

Give a little – or buy a seat!
As they say, every little bit helps. All donor support is highly valued by Burrinja, and will make a difference.

•    $20 will help transport the 'Arties' to Burrinja from their supported residential service each week;
•    $50  will buy art materials for our Kids Zone;
•    $100 will provide an artist with a month's residency in our Project Studio;
•    $150 allows us to get a new street banner to promote the Lantern Parade or other events;
•    $200 would support our next exhibition opening event; and,
•    $1,000 will get help us get the next edition of Hillscene printed and on the street.  

These are just a few examples.
And your generous donation to Burrinja of $200 or more will be acknowledged with a theatre seat name plaque recognizing your support, giving you an important on-going stake in the region's theatre. Yes, you can become a part of our unique history and community. You will also receive acknowledgment on our donor's board, web site and in our Annual Report. Here's our list of generous
Public Fund Donors
to date.
We welcome the opportunity to discuss how you may donate to our Public Fund to ensure that your generous donation works best for you. Contact Ross Farnell on 9754 8723 or email
This email address is being protected from spambots. You need JavaScript enabled to view it.
Online Donation Form.


The Burrinja Public Fund is endorsed as a Deductible Gift Recipient (DGR) under Subdivision 30-BA of the Income Tax Assessment Act of 1997; 12.1.1 public fund on the register of cultural organisations.


All donations will be issued with a tax receipt.
---
---