Venue Hire
Please contact Toni Kirk, Venue Manager at Burrinja, with any queries about Venue Hire via This email address is being protected from spambots. You need JavaScript enabled to view it.or 03 9754 8723.
About Burrinja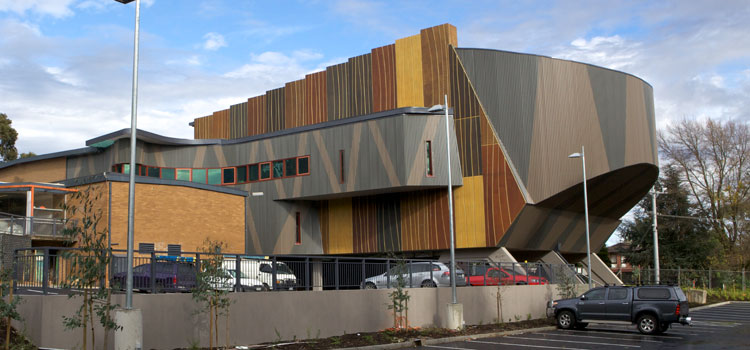 Situated in the picturesque Dandenong Ranges, Burrinja Cultural Centre offers vibrant, creative spaces ideal for any event from music and theatrical performances and rehearsals, to corporate and business functions, to social and special events.
Burrinja's mix of regional, contemporary, Indigenous, performing and studio arts makes it a unique cultural hub. The design of the new theatre and foyer spaces by Gregory Burgess Architects captures this difference in its ochre colours, chevron lines and subtle curves.
Comprising a fully equipped professional theatre, performance studio, licensed café and bar, exhibition foyer, workshop space and meeting room, Burrinja is a stunning and vibrant venue for your event.
There are many aspects of Burrinja your guests can enjoy, from the Art of Place Indigenous Garden, to contemporary art in the galleries, to a glass of wine at the Burrinja Café. You can even include a tour of our amazing Indigenous art collection in your event.
Burrinja is user friendly for people with a disability and all areas are wheelchair accessible, including elevator access to the theatre and first floor from the car park.
Space is available for wheelchairs for all performances and functions in the theatre, and a hearing loop is installed in the theatre.
There is on-site parking for guests and bus spaces.
We can offer you full box office facilities, including online ticketing, and marketing support if appropriate.
Our experienced staff are committed to quality customer service and will work with you to ensure that your event at Burrinja is unique, successful, enjoyable and memorable.
Spaces for Hire at Burrinja
Burrinja Theatre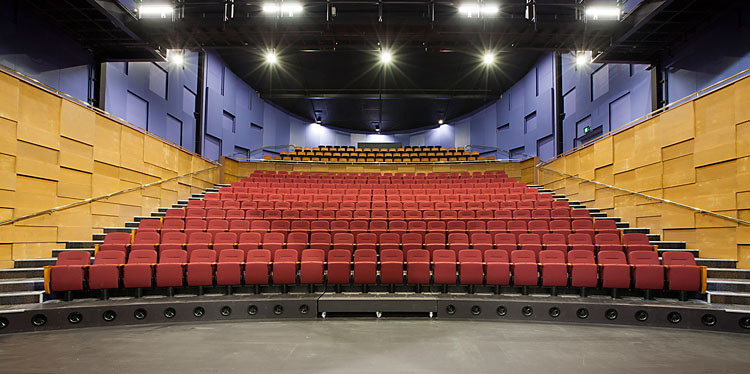 The Burrinja Theatre can offer a 300 seat configuration and has full stage facilities with professional technical and contemporary staging equipment. The tiered seating and 10m x 9m sprung sheet timber stage make it an ideal space for theatre shows, plays, concerts, large conferences and seminars. Other features include in-house audio loop, seating for to up to 10 wheelchairs, ample well-appointed dressing rooms, green room, wide screen data/video projector, and convenient backstage loading bay.
Burrinja Theatre Standard LX Rig
Black Box Studio

Situated on the first floor, the Studio is a flexible space that can seat up to 120 people in a flat floor space with flexible stage, lighting, digital projection and sound facilities. Available for corporate training, seminars, functions, performances, rehearsals and workshops. A break-out room/dressing room and kitchen facilities are also available when hiring the Studio.
Download Black Box Studio Specs
The Skylark Room
The Skylarke Room is a great venue for your conference dinner or to relax with a glass of wine after your workshop or meeting. It is also open for pre-show dining and drinks.
Seating up to 80 people, the space is perfect for that special function or celebration with a delicious difference. A warm, welcoming environment with table seating and comfy lounges.
Once hired, register your Cafe event details by clicking here.
Jarmbi Gallery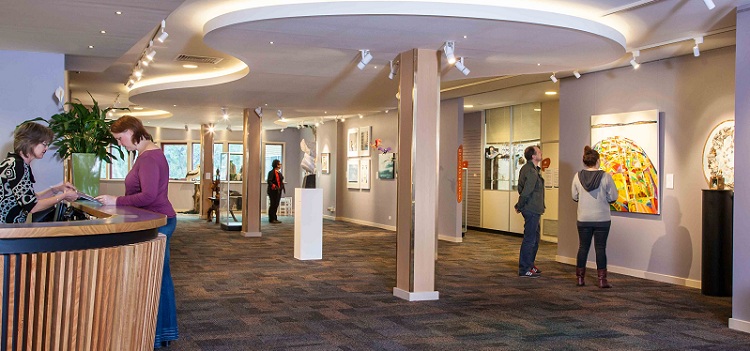 An ideal area for art, photographic and craft exhibitions with a gallery hanging and lighting system to enhance displays, the exhibition foyer is also the perfect space for cocktail parties and pre-dinner drinks for up to 120 guests.
Arts Workshop

The Arts Workshop suits creative classes and workshops for up to 25 people. It is an indoor and outdoor space which is perfect for making a bit of a mess in.
Meeting Room
Located in the Administration section of the theatre, the Meeting Room is suitable for up to 8 people in carpeted, air-conditioned comfort, with access to WiFi and AV facilities. Perfect for small meetings or workshops. In house catering options available.
Hire Charges at Burrinja
Rates
Burrinja offers a range of price options to suit different hirers and their event requirements. There are different rates for each available space, and for rehearsals vs performances.
Generous discounts are available to Not-for-Profit Organisations, local government and community groups.
Surcharges may apply for public holidays and evenings. All charges will be outlined at time of booking.
For full details on rates for the Arts Workshop and Meeting room please contact our Venue Manager Toni Kirk via This email address is being protected from spambots. You need JavaScript enabled to view it.or on 03 9754 8723.

Theatre and Black Box rates can be downloaded below.
Black Box Hire Charges
Theatre Hire Charges
Standard Inclusions
When hiring the Burrinja Theatre, your hiring charges include standard theatre lighting and audio, access to WiFi, use of 4 ground floor dressing rooms, use of green room, power, air conditioning, standard cleaning, foyer use for merchandise and programs. Staffing, ticketing and marketing support will incur additional charges.
When hiring the Black Box Studio, your hiring charges include standard theatre lighting and audio, use of 1 first floor dressing room, power, air conditioning, standard cleaning, foyer use for merchandise and programs. Staffing, ticketing and marketing support will incur additional charges.
Hiring Policy
To download Burrinja's Venue and Theatre Hiring Policy please click here
Hirers Insurance
You will need to supply Burrinja with a current Certificate of Currency for $10,000,000 public liability insurance.
Alternatively, hirers can liaise with the Yarra Ranges Council for cover under their insurance and be charged a one-off surcharge for this.
Please contact Toni Kirk, Venue Manager at Burrinja, with any queries about Venue Hire via This email address is being protected from spambots. You need JavaScript enabled to view it.or 03 9754 8723.
Workshop Booking Information
Once you have booked your workshop in with our Venue Manager, upload all your workshop info onto this form so we can upload the information onto our website and assist you with promotions and bookings as required.