Dates
July 8 – July 30
Venue
Growing Pains Initiative
Burrinja Level 1
Abstractify
Growing Pains Initiative
Gareth Kaluza, Celeste Magee, Sarah Macay, Laura Malignaggi and Dan Draper
Abstractify explores the world of abstraction through the work of 6 artists across a range of mediums. It's more than just paint splashed on a canvas. It's images distorted until we barely know what they are, it's pattern, shape and form, it's emotion poured onto canvas and paper.
More Growing Pains Initiative
This project is supported by Burrinja and Yarra Ranges Council.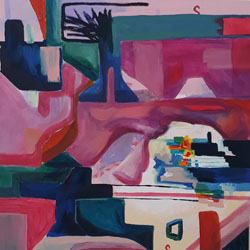 Celeste Magee - Conversation