B2M (Bathurst to Melville Tiwi Islands) – MAMANTA


Step into a pumping RnB concert, Tiwi Islands style!
Burrinja Theatre
FRI 16 NOV 8PM
Tickets
$36 Adult
$32 Concession
$30 Friends of Burrinja
$ 28ea Group 6+
$18 26 & Under
PACKAGE
3+ Burrinja Season shows $30ea
Single $3 ticketing fee applies per total transaction
The Memo, Healsville
SAT 17 NOV 7.30PM
"B2M…wow, the music, the joy, the talent- it was contagious. It would have been a standing ovation that demanded an encore- but everyone was already on their feet dancing! We couldn't get enough of them!" Phaedra Watts, Artistic Director, Nannup Music Festival
Running 70 minutes | no interval
Strobe and Laser lighting

B2M Musicians:
Shelton Murray
Greg Orsto
Fabian Kantilla
Daniel Cunningham
Damien Narul
Darren Narul
Jeffrey Simon
Mamanta Credits:
Producer - Skinnyfish Music
Director - Rob Collins
Music Co-Producers and Collaborators - Michael Hohnen & James Mangohig
Multi-media Creator - Juno Aragon
Tour Coordinator - Artback NT
Key partners for the project are: Artback NT & Skinnyfish Music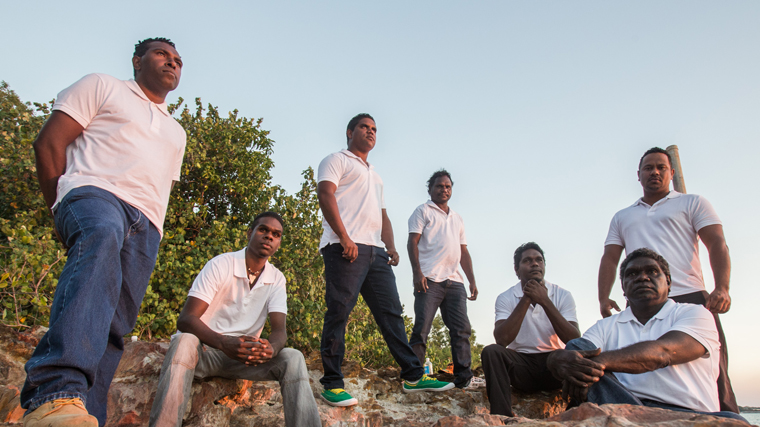 Image by Duane Preston
Mamanta –'friend' in Tiwi – pairs seven piece band B2M's acclaimed R&B music and performance with captivating footage of life and culture in the Tiwi Islands. Showcasing their new album, Mamanta is a vibrant cultural experience told through a mix of dance, chants and song.
Hailed as "Australia's answer to the Backstreet Boys" (Huffington Post), this vibrant boyband have conquered China, East Timor, Taiwan and Ireland.
In an historic show of support from the Tiwi Elders, B2M have gained permission to use traditional Tiwi chants and blend them with modern musical elements.
Find yourself tuned to the beat of their unique sound as they bring you a rare insight into their island culture delivered with their trademark wit, musicality and charm. If you haven't had an opportunity to travel to the Tiwi Islands, this unique blend of contemporary and traditional sounds is sure to take you on an illuminating and uplifting journey.
About the company
B2M are strong Tiwi cultural leaders who write, sing and perform music that transcends cultural, social and geographic boundaries. The band's debut album, Home, is unique and infectious, filled with beats, chants and harmonies that showcase their ability to carry a positive image of their people and culture through RnB Tiwi style! Holding role model status in their community and becoming ambassadors in a broader Australian and international landscape, B2M have performed extensively throughout WA and the NT, China, East Timor and most recently, Ireland. B2M were formed in late December 2004.

The B2M 2018 national tour is coordinated and presented by Northern Territory's leading arts B2M (Bathurst to Melville) is a seven-piece band from the Tiwi Islands, 80km north of Darwin, where the Arafura Sea meets the Timor Sea in the Northern Territory. Formed in late December 2004 B2M are strong Tiwi men who write, sing and perform music about the issues we all face.