Past Exhibitions
Kathleen Boyle: Leitmotif
23 July – 27 September 2009
'My work is often concerned with those aspects of life which remain a mystery to us. Suffering, joy, relationships, the particular experience of being a woman, a child, of touching the world and others, of nature and grace' – Kathleen Boyle
This exhibition profiled key drawings and monoprints from Kathleen Boyle. While Kathleen's broader body of work ranges across media from printing and drawing, to painting, collage and most recently wooden construction, this exhibition offers a short review of her more figurative drawings and prints. Even within this framework, however, Kathleen's adventurous approach to experimenting with various media and materials is evident in the various papers and surfaces she works on and the techniques she employs to express her vision.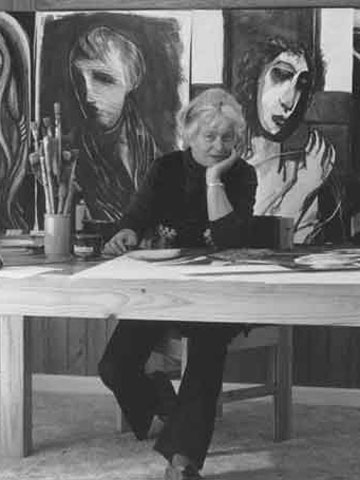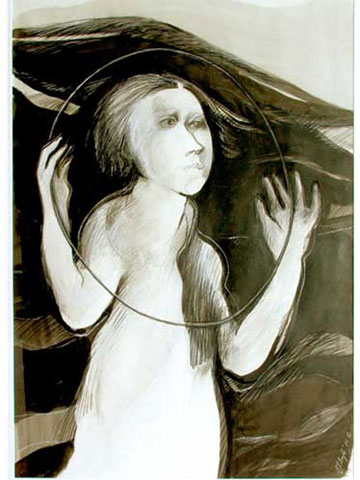 Kathleen explains drawing as more than the simple copying of an object, seeing it rather as the construction of an image using line, shape and scale, together with shade, light, and tonal contrast. Kathleen uses the process of drawing as a means of exploration, translating the world according to her creative vision. And this vision tends to return to philosophical questions. The interplay of outer and inner worlds is a concept frequently explored through her work.
Over her lifetime, Kathleen Boyle has been involved in and witnessed much of the development of the artistic world as a practicing artist, art student, and teacher in Melbourne.
From 1960 to 1987 Kathleen Boyle was a Lecturer in Fine Art at Chisholm Institute of Technology (later Monash University). During this time she undertook a Master of Fine Arts Degree in San Francisco (1973-1975).
Kathleen Boyle, who lives in the Dandenong Ranges, has won several awards for her work, held many solo exhibitions and participated in numerous group shows nationally and internationally. She is represented in the private and public collections in Australia and overseas.
Winning several awards for her artwork, Kathleen has held many solo exhibitions and participated in numerous group shows She is represented in the collections of several regional galleries and universities in Australia and also in public and private collections in Australia, England, Italy and the United States.