Past Exhibitions
Stories of Ancestors
Western Arnhem Land works by the Nganjmirra family from the McLeod Gift Collection
15 January - 27 February 2011
This exhibition draws on works from the McLeod Gift Collection to explore and celebrate the unique artwork produced by Kunwinjku people in the Oenpelli community of the western Arnhem Land region.
Situated in the Top End of Northern Australia, Arnhem Land covers an area of 150,000 square kilometres. It is home to some of the oldest rock art sites in Australia, documenting at least 50,000 years of storytelling tradition etched across the rocky outcrops. The art of this region is known for superb crosshatching or rarrk work and the depiction of the internal organs of animals, birds and fish, often described as X-ray art. Connecting the spiritual and the human, these artworks are icons of place, identity and origin, telling the stories of ancestral beings.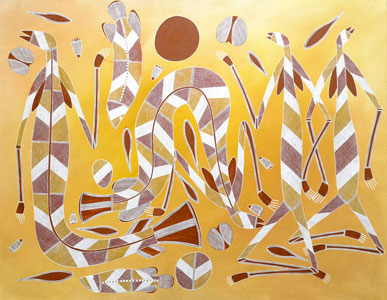 Works in this exhibition have been produced by various members of the Nganjmirra family. These paintings are part of a continuing art tradition handed down through the family for many generations, from the early 1940s and traditional works by master painter and great-grandfather, Nawakadj, through to the present day works of Eva and Lawrence Nganjmirra.
It is believed that ancestors created and painted the first designs, passed on through families following a strict system of apprenticeship. Recreating the actions of ancestral beings through art intensifies the bond between these families, their territory, their history and the ancestral beings. Along with dances, songs and rituals, it is believed that these paintings and drawings hold the power of the ancestral beings.
Stories of Ancestors features artwork by artists from the Nganjmirra family across several generations, including Nawakadj (Bobby) Nganjmirra Barrdjaray (1915 - 1992), his three sons Alexander (1961-2006), Wesley, Peterson, Thompson and his niece Eva Nganjmirra, who currently live in Gunbalanya (Oenpelli) and its outstations in Arnhem Land.
Nawakadj (Bobby) Nganjmirra was a senior artist, storekeeper and one of the last rock painters in Arnhem Land. Bobby taught his sons to paint on bark and rock when the family lived in an isolated bush camp between Alex was raised in the bush near the Goomadeer River in Western Arnhem Land and lives at Gunbalanya. He is part of a continuing art tradition that has been handed down through his family for many generations.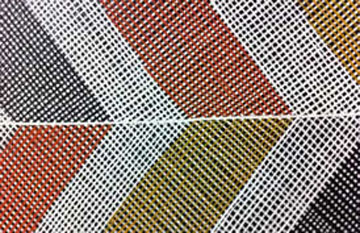 The foundation for the Australian Indigenous art 'industry' today was laid in Oenpelli in 1912 when the first bark paintings were traded for sticks of tobacco. Inspired by the dramatic pictures of x-ray animals and spirits that seemed to be moving and growing in layers of rock, Baldwin Spencer commissioned artists from the region to paint for him on bark as if on rocks. Artists from this area, including the Nganjmirra family, have continued in this tradition, though they now also paint on canvas.
Paintings on bark and rock are still produced in this region, as well as a variety of other materials. This exhibition features ochre works on bark, paper, board and canvas. Natural earth pigment or ochre is still frequently used in this region of Arnhem Land, along with other more contemporary materials.
Techniques showcased in this exhibition include crosshatching or rarrk work, X-ray art and the hand stencils which are traditionally found in many rock art sites in the region. Rarrk is the technique of painting a group of lines first one way, then crossing over them with lines going in the opposite direction. The shapes made between the crossed lines traditionally were diamond shaped as the lines were painted diagonally.
In Western Arnhem Land the rarrk is usually used to fill in the outlined images of the painting with the background being plain. Other areas of Arnhem Land use the rarrk work to cover the entire painting. Brushes were traditionally made from grasses and bark. The bark or twigs were chewed to make them pliable. For very fine rarrk work several long hairs were tied together and used as a brush.