Date
9 SEPT – 5 NOV

Tickets
Adult $10
Concession/Seniors $7
Burrinja Members $5
Catalogue $5

Mid Week Special (Wednesdays)
Exhibition entry + scone and tea $12 (half price)

Venue
Burrinja Gallery
Frank Hodgkinson: Sense of Place

Frank Hodgkinson (1919-2001) was one of Australia's foremost abstract painters and artists. He was drawn to the Australian landscape in general and Aboriginal culture in particular in all its manifestations.
His curiosity with Aboriginal art and culture called him to the Top End for long periods of time throughout since the 1980s. Arnhemland especially made a deep impression on him, and he returned several times to this spirited country.
Hodgkinson subsequently authored 'Kakadu and the Arnhem Landers', one of three diaries ('Paris Sketchbook' and 'Sepik Diary' being the others) in which he illustrated his hand written text with detailed sketches and washes.
Sense of Place will present original sketches and excerpt of this diary together with a selection of larger paintings, which show the artist as an observer exploring the spiritual connections to country and people as Hodgkinson poses on the most central of human questions: Where do we come from?
"Frank Hodgkinson is a prodigy. He is a man so various that he hardly gives you time to focus on any single one talent. He is a painter, a sculptor, an architect, a designer of habitats and ambiences. His creative energy is enormous. His curiosity is at once that of a child and a mature philosopher trying to make sense of the cosmos over which he has ranged with hunger and delight" -
Morris West.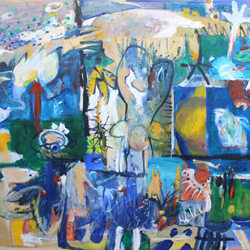 Image: Frank Hodgkinson
She Sang Him a Crocodile, Oil on Canvas, 183 x 198 cm, 1989