Date
2 April – 10 July

Venue
Burrinja Gallery Upstairs
Jenny Saulwick and Community Art

Jenny, a sculptor by training, has worked for over three decades creating art with local communities. She has been an inspirational artist and artisan, a facilitator and organiser, a teacher and a visionary.
For many years Jenny has been a strong, persistent and creative campaigner in the Dandenongs. On Australia Day 2015 she was awarded Yarra Ranges Environmentalist of the Year Award.
The exhibition presents a number of projects which Jenny, now in her eighties, has been involved with, and offers insight to her creative process and work with diverse ages to create art.
Burrinja marks the sad passing of Jenifer Ann Saulwick on May 20 this year.
Jenny was not only an inspirational artist and activist within our community, but contributed greatly to the establishment of the Dandenong Ranges Community Cultural Centre - Burrinja. Jenny served on the original council committee in 1997 and was a founding member of the Association's Board in 1998, serving the cultural centre for over 10 years as a Board member until 2009 and contributing actively in many other ways to the region's artistic and cultural life. Jenny lived life to the fullest, and will be sadly missed.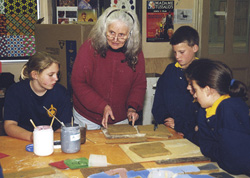 Jenny Saulwick - 26.9.1934 - 20.5.2016