---
Date
Thursday 4 December
Time
7.30pm
Venue
Burrinja Theatre
Admission
Presented by JTM Productions
Their music weaved its magic across the world and epitomised the 1960's and the flower power movement.
Now 40 years after the tragic death of Mama Cass Elliot, California Dreaming is a tour de force concert celebrating all things Mamas and Papas – their lives, their loves and their music in a fully scripted, choreographed 90 minute concert with a four piece band and Australia's hottest musical theatre talents.

Set on a stage reminiscent of the Ed Sullivan Show, California Dreaming will take you back on a memory laden trip with songs like; I Saw Her Again, Dream a Little Dream, Monday Monday, Creeque Alley, San Francisco and of course the iconic California Dreaming plus many more either written or sung by the group.

This memorable night will cover all of their greatest hits and some of their lessor known work.  With 29 songs, spanning 3 years and 5 albums, plus a couple of surprises, you'll be dancing in the street to the unforgettable sounds and harmonies of The Mamas and The Papas as the stars of California Dreaming make their own kind of music on this, their Australian Tour.

Covering all the hits this will be a wonderful night of Music!

Date
Wednesday 8 April at 6pm
Thursday 9 April at 1pm
Venue
Burrinja Theatre
Admission
All Tix $19
Family 4+ $15


Pants Down Circus ROCK!
AC-DC with Acrobats
Big Hair, Big Tricks, Big Air Guitar = One Awesome Show, perfect for the whole family!
It's a long way to the top, the big top, and these guys are livin' on a prayer for nothin' but a good time.
This all ages event showcases the incredible skill of four rock stars of Australian circus. Imagine the greatest rock band ever, as a circus. It'll shake you all night long, set to a pumping classic rock soundtrack with a wide range of circus acts from trapeze and acrobatics to juggling and hula hoops. It is a show that is sure to entertain every audience member whether you like death-defying stunts, incredible displays of strength and agility or just plain silly nonsense.
'This vibrant show is a delight and entertained its audience of all ages. The degree of skill displayed in this show is impressive.'
5 Stars - theatreguide.com.au
More Info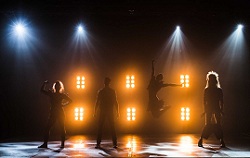 ---
---