---
Date
28 March - 22 June

Venue
Burrinja Gallery
Rod Moss: Whitegate - Where Art and Life Collide

Rod Moss has been a resident of Alice Springs since 1984. His paintings are a result of his unique and close relationship with the Arrente community of Whitegate, one of several town camps on the outskirts of Alice Springs. In his carefully constructed and referenced paintings he presents the Whitegate families in everyday life situations, with strong connectedness through country and kinship.
Through additional audio stories told by the artist, the exhibition brings to the visitor's attention the stories behind the carefully constructed paintings. They create an intriguing and intimate portrait of the families of Whitegate and describe the on-going struggle of the Whitegate residents with health issues, alcoholism and violence.
Rod Moss is the author of the recently published book A Thousand Cuts (2013) and The Hard Light of Day which in 2011 won the NT Book Award and the Prime Minister's Award for Non-fiction.
Rod Moss is represented by Anna Pappas Gallery in Melbourne and Fireworks Gallery in Brisbane.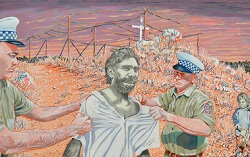 Date
28 March - 22 June

Venue
Burrinja Inner Gallery
Ronnie Sexton: Woodhenge

The Woodhenge Carvings comprise of nine wooden sculptures which have taken Irish woodcarver Ronnie Sexton six years to complete.  These extraordinary creations range from 3 to 4 metres in height. Carved from Cedar wood and adorned with hundreds of crystals, stones, rocks and 24 carat gold-leaf gilding, each carries intricate and detailed symbols of cultures from across the planet.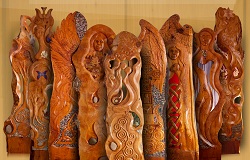 Open Studios Exhibition: Balance 
The Dandenong Ranges Open Studios Weekend features an eclectic range of artists and media against the backdrop of one of Melbourne's most beautiful and popular tourism destinations.
 The Open Studios weekend, featuring 32 local hills studio locations, is one of the most anticipated events for the region's cultural calendar, attracting art minded visitors and tourists since 2004. Featuring Hills artists working across a range of mediums – as varied as painters, potters, wood carvers, digital artists and textile artists – the Dandenong Ranges Open Studios program provides a unique insight into our artists' work environments as well as their art.
Coinciding with the Open Studios weekend is the annual Open Studios Exhibition at Burrinja Gallery. This year's group exhibition theme of 'Balance' was chosen by the artists and is sure to generate some new and interesting work. This exhibition is a unique opportunity to see and experience work from each of the artists in one gallery, making Burrinja a great place to start the Open Studios weekend tour.

For more info on Open Studios visit www.openstudios.org.au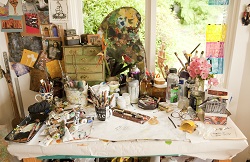 Dates
24 April - 8 June
Venue
Cafe Gallery
Katherine Reynolds: Farmyard Friends 

Katherine is a Fine Arts student at Monash University. She works with many different mediums throughout her practise, and in the case of this body of work, has utilised a mixed media approach to increase the familiarity with the environment in which the animals are found.
The works in this exhibition explore the inquisitiveness and personality of various domestic animals, with the aim of giving the viewer the feeling that the animals are about to speak and pose questions about the human world. Each animal has its own distinct personality, and its own opinions of the world, which are expressed through the expressions on the animal's faces.
Dandenong Ranges Open Studios

Featuring many hills artists working across a range of mediums, Open Studios provides a unique insight into our artists' work environments as well as their art practice. The Dandenong Ranges has a rich and vibrant artistic heritage which continues today. Open Studios allows local artists to share their artwork and gives visitors the opportunity to get an inside look into the eclectic and often hidden art world of the hills.
Open Studios Weekend
Saturday and Sunday
3rd and 4th of May 2014
All studios are open between 10am and 5pm
Balance: Open Studios Group Exhibition
22nd April to 18th May 2014
Jarmbi Gallery, Burrinja
Cnr Glenfern Road and Matson Drive, Upwey, VIC 3158
For more info on Open Studios visit www.openstudios.org.au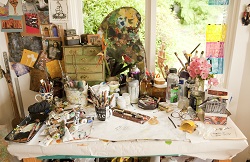 Sunday 4 May

2pm
Black Box
Free Entry

Author Talk and Book Signing with Bruce Pascoe 
Dark Emu – Black Seeds: agriculture or accident?
National award-winning author Bruce Pascoe's new book, 'Dark Emu – Black Seeds: agriculture or accident?,'  is set to re-ignite the long-running debate about the true nature of Aboriginal civilisation at the time of European colonisation.
Burrinja is delighted to provide a special opportunity for Bruce to explore the themes presented by his new book and hear first-hand his grounded insights.
Free entry, RSVP here
Sunday 11 May

11:30am
Burrinja Gallery
Free Entry

Ronnie Sexton: Artist Talk and Wood Carving Demonstration 
A wonderful opportunity to hear local artist Ronnie Sexton talk about the process and ideas behind her impressive 4 Metre High wood carving series 'Woodhenge', followed by a up-close demonstration of Ronnie's wood carving technique.
Artist Talk and Tour: 11:30am – 12:15pm
Wood Carving Demonstration: 12:45pm – 1:15pm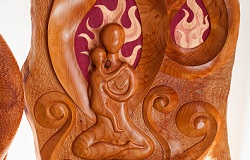 ---