Date
2 April – 10 July

Venue
Burrinja Gallery Upstairs
Jenny Saulwick and Community Art

Jenny, a sculptor by training, has worked for over three decades creating art with local communities. She has been an inspirational artist and artisan, a facilitator and organiser, a teacher and a visionary.
For many years Jenny has been a strong, persistent and creative campaigner in the Dandenongs. On Australia Day 2015 she was awarded Yarra Ranges Environmentalist of the Year Award.
The exhibition presents a number of projects which Jenny, now in her eighties, has been involved with, and offers insight to her creative process and work with diverse ages to create art.
Burrinja marks the sad passing of Jenifer Ann Saulwick on May 20 this year.
Jenny was not only an inspirational artist and activist within our community, but contributed greatly to the establishment of the Dandenong Ranges Community Cultural Centre - Burrinja. Jenny served on the original council committee in 1997 and was a founding member of the Association's Board in 1998, serving the cultural centre for over 10 years as a Board member until 2009 and contributing actively in many other ways to the region's artistic and cultural life. Jenny lived life to the fullest, and will be sadly missed.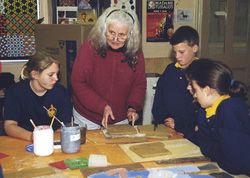 Jenny Saulwick - 26.9.1934 - 20.5.2016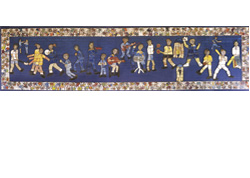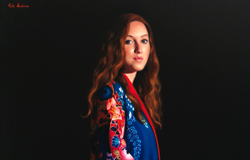 Image: Vicki Sullivan
Into the Night, Oil on Belgian linen, 2015
Date
30 April – 29 May 2016

Venue
Burrinja Gallery
Women Painting Women

Fiona Bilbrough | Jacqui Grantford | Raelene Sharp | Sally Ryan
Vicki Sullivan | Avril Thomas | Heather Ellis
Women Painting Women is a major exhibition of portraiture in traditional oil painting and bronze sculpture. It presents award winning realist painters from Victoria, South Australia and New South Wales including
Fiona Bilbrough
,
Jacqui Grantford
,
Raelene Sharp
,
Sally Ryan
,
Vicki Sullivan, Avril Thomas
and sculptor
Heather Ellis
.
Taking its inspiration from the Women Painting Women exhibitions in the United States, this is the first Australian instalment of the Women Painting Women phenomenon which celebrates traditional realist painting and the talent of female artists.
Featuring well known Australian women such as Nobel Prize Nominee Dr Catherine Hamlin, actors Kerri Armstrong and Jacki Weaver, opera singer Liane Keegan, and self-portraits of the artists, the exhibition highlights the power and insight of women painting women and situates the artists' work within the broader art historical context.
Women Painting Women Public Program
Artist Talks
with Raelene Sharp & Jacqui Grantford
Sat 7 May at 2pm | FREE |
Book here
or call 9754 8723
Painting Demonstrations
with Fiona Bilbrough and Vicki Sullivan
Sun 15 May from 11am |FREE | No bookings required
Expert Casting
discussion with Heather Ellis and Craig McDonald
Sun 22 May at 2pm | FREE |
Book here
or call 9754 8723
Artist Talk
with Vicki Sullivan
Sat 28 May at 2pm | FREE |
Book here
or call 9754 8723
More info and full Public Program details here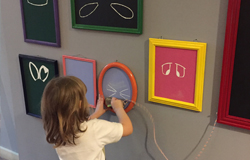 Date
Winter

Venue
Burrinja Foyer
Burrinja Kids Stay and Play
Amy Laker Bruni
Rainbow Rain and Mythical Creatures
Amy Laker Bruni is a Resident Artist at Leaf Studios, Kallista and creator & designer of label Lillbeart.
Amy' moto is, "Life is all about having FUN…"
And laughing. Dreaming. Exploring. Feeling. Creating. Experimenting. Challenging. Enjoying.
"As adults sometimes those moments are far and few between, and it is not until we have children come into our lives that we remember how to simply be and feel the purity of life again. Those fleeting moments of joy and delight or the capacity to envelope oneself in sensation allows the connection to our inner child, or for the young to express on an emotional level how visually and textually their senses are stimulated.
My leaf rainbow with rainbow rain aims for you to discover the fun of immersing yourself in a hyperreal magical place. Walk through, run through, pause in the middle, close your eyes, run your hands around, feel the 'rain' on your face." Amy Laker Bruni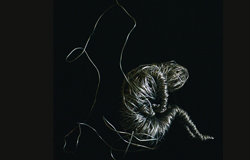 Image: Louise Daniels
Unravelling 3, Hand formed aluminium wire sculpture, 32cm high, 2015
Date
4 June - 3 July

Venue
Burrinja Gallery
Louise Daniels: Unravelling

Opening Celebration 2:30pm Sunday 5 June
Walker Street Gallery SHE 2015 Award winner.
This powerful charcoal drawing and aluminum sculpture series represents women dealing with the burden of change and uncertainty.
Daniel's research engages communities of women and an exploration of mental health. Her imagery represents women under stress and their different responses to severe pressure. Each is fighting strains imposed on them, with varying degrees of success.
Her work highlights the importance of resilience for individuals and families, Daniels says 'women are often a quietly binding force that holds families and communities together'.
Daniels lives in Ulverstone in north-west Tasmania. She is proud to be an Aboriginal Tasmanian with a deep history connecting her to northern Tasmania.
Date
4 Jun - 3 Jul

Venue
Burrinja Gallery
Opening Celebration 2pm Saturday 4 June

'Familiar, yet Fantastic,' Icon paintings, stained glass, lino cut prints, and photographic works; all inspired by the medieval era. Works by Betty Lawry, Kirsten Laken, Chris Lawry and Mark Noke.

The Icons painted by Betty Lawry are based on those images of Christian saints which are popular among Eastern Orthodox Churches. Betty's beautiful versions of this ages old art form are non traditional, in so much that they are painted on archival paper, and framed, rather than on blocks of wood as is more common.

Kirsten Laken's stained glassworks have a clear relationship to the stained glass and lead light church windows which amazed people of the medieval era. Her modern renditions of saints and monsters are created using traditional techniques that are centuries old, and yet with a splash of colour she has bought them into the future.

Printmaker Chris Lawry is fascinated by the gargoyles which were designed as waterspouts to protect medieval and gothic stone walls. Their often monstrous forms were thought to have an ability to ward off evil spirits. She has created a series of lino cuts based on them.

In 2002, Mark Noke walked the entirety of the 'Camino de Santiago', a pilgrimage of about 1,475 kilometres, or roughly 1,000 miles. This particular pilgrimage has been walked for over a 1,000 years. The pilgrimage began in Le Puy, France and finished in Santiago de Compostella, in Spain. These photographs reflect some of his favourite parts of his long walk.







Image: Betty Lawry (detail)

Date
7 July – 7 August

Venue
Burrinja Gallery
What Lies Beneath

"There is no dead matter, lifelessness is only a disguise behind which hides unknown forms of life" - Bruno Schultz

Eco-printing engages the pigments in leaves, natural fibres, metal and heat to create prints and imagery that cannot be orchestrated or controlled – as Rebecca Funk describes: 'this is a dance with Nature herself where we follow Her lead…'

Emerging from a series of workshops lead by local artist Jacqui Grace and soul crafter Rebecca Funk, the cohort of makers will exhibit new eco-printing based work developed from an exploration of creative process where artist, matter and cosmos are co-constructors of meaning, beauty, sacredness, art and chaos.

Dynamics between structure and emergence, individual work and collaboration, the stagnant and the ephemeral, process and outcome culminate in an exhibition which will showcase the generative process of eco-printing as we explore what lies beneath the leaf, and these constructs.
Call for participants: your are invited to

- learn the art of eco-printing/botanical dyeing on watercolour paper, silk, wool & leather
- create sacred space together
- engage in group and individual practices
- co-curate a gallery space, and exhibit your journey and work
- follow threads of curiosity and the terrifyingly wonderful lure of the Unknown
Exhibition Opening Celebration Thursday 7 July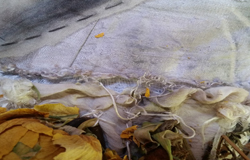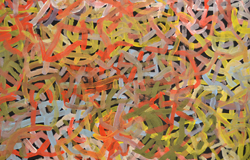 Image: Emily Kame Kngwarreye
Bush Yam Dreaming, Acrylic on canvas 183 x 152, 1995 (detail)
Date
16 September – 27 November

Venue
Burrinja Gallery
Masters of Aboriginal Contemporary Art
Emily Kame Kngwarreye
A survey exhibition of one of the Western Desert art movement's most important artists Emily Kame Kngwarreye.
Credited with taking Australian indigenous art to the world 'Emily' is one of our most iconic and collectable painters. An Anmatyerre elder, keeper of the Alhalkere Women's Dreaming stories, she was in in her 70's before she began capturing this deeply significant cultural heritage on canvas.
This exhibition is part of Burrinja's Masters of Aboriginal Contemporary Art series which presents an intriguing portrait of Australia's most revered Aboriginal and contemporary artists.
"Kngwarreye's prominence is no overnight sensation; it finds its roots in a lifetime of ritual and artistic activity. Her energetic paintings are a response to the land of her birth, Alhalkere, north of Alice Springs … the contours of the landscape, the cycles of seasons, the parched land, the flow of flooding waters and sweeping rains, the patterns of seeds and the shape of plants, and the spiritual forces which imbue the country. Kngwarreye's vision of the land is unique; her paintings challenge the way we look at art by Aboriginal Australians" Wally Caruana, National Gallery of Australia
'Few artists have painted the country like she has, with an ability to penetrate its very soul'. -Margo Neale, curator of her 1998 retrospective exhibition