---
Date
13 September - 16 November 2014

Venue
Burrinja Inner Gallery
Admission
Exhibition $5.00.

Yarra Ranges Residents and Jarmbi Members are Free.
With Country in Mind 
Hermannsburg Watercolours from the Ebes Collection 

A most unusual combination: in 1934 a young Arrernte man at Hermannsburg Mission sees an exhibition of water colour paintings by Victorian artists Rex Battarbee and John Gardner. Inspired he asks Battarbee to teach him, and subsequently he becomes Australia's most famous artists: Albert Namatjira.
Now known as the Hermannsburg School, successive generations have continued with the tradition of water colour painting which brought central Australian landscapes to the attention of mainstream Australia.
This exhibition returns to its beginnings, to Albert Namatjira, his mentor and patron, Rex Battarbee, and the first generation of painters they inspired.

Curator Talk: Albert Namatjira, Clifford Possum and the origins of Aboriginal Art
Wednesday 17 September at 1.30pm // Free Entry // More Info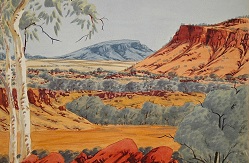 Date
5 September - 16 November

Venue
Burrinja Gallery
Admission
Exhibition $5.00.

Yarra Ranges Residents and Jarmbi Members are Free.
Arlpwe Artists
Pictorial Letter from Arlpwe at Ali Curung

Artists from Ali Curung, visit Burrinja for a week of demonstrations, cultural education and to present a showcase exhibition of works from the region's artists.

For the second consecutive year, the exhibition showcases new paintings featuring Kaiditch (Kaytetye) country in a traditional and modern style
as well as traditional artefacts.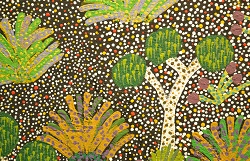 Dates
22 August - 28 September
Venue
Jarmbi Upstairs Gallery
Mater Christi College Arts: A Celebration of Student Creativity 
Exhibition works have been selected from across Year levels to showcase fashion design garments, visual communication designs and contemporary artworks to represent diversity of media and stages of artistic development.

Creativity and innovation are central to the work of the College. Teachers model professional studio practices and relationships and encourage students to research, develop and test ideas.

The College is proud of the outstanding student achievements in the visual arts including numerous accolades in Top Arts, VCE Showcase, Exhibitions and Awards.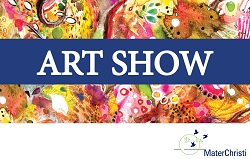 Dates
22 August - 28 September
Venue
Jarmbi Downstairs Gallery
Janine Sutton, Joy Serwylo, Jenny Rowe & Lisa Von Muller: A Wing and a Prayer
The artists explore the universality of the symbols, humans from the dawn of time have used to manifest its devotion to the unseen, unknown, feared, adored and revered. Talismans, prayer beads, alters, totems and amulets are common to all peoples of the world and our works explore these spiritual expressions each in our personal way.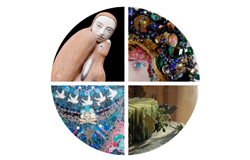 Date
Wednesday 17 September
Time
1.30pm
Duration, One Hour
Venue
Burrinja Inner Gallery




Curator Talk: Albert Namatjira, Clifford Possum and the origins of Aboriginal Art

The beginning of the Hermannsburg School of water colour painting in the late 1930s has been synonymous with the stellar career of its originator, Albert Namatjira. His influence and achievement as a role model and mentor within the Arrernte community of Hermannsburg has been much acknowledged, and his legacy continues through subsequent generations of water colour painters to this day.
Much overlooked though is the affect Namatjira had on the emergence of the Western Desert acrylic art movement in Papunya in the 1970s. In this talk Burrinja curator JD Mittmann will investigate Namatjira's influence one of its most famous artists, Clifford Possum Tjapaltjarri.
Dates
19 September - 2 November

Venue
Cafe Gallery
Matthew Rutten: The Beauty of Colour and Silk
Matthew Rutten's latest exhibition "The Beauty of Colour" presents a great range of art works. Matthew furthered his artistic education at Melbourne College of Textiles, his work is done using cold batik wax called guta, and the washes are done using silk dyes and salt. Each piece is a one off design all done freehand.
Matthew's scarves are very popular, having sold out at one exhibitions and being exhibited as part of Dandenong Ranges Open Studios, Lady Hawke Cafe and for a group exhibition at Steps Gallery, Carlton.
---