---
DLux Media and University of Sydney
Striking Contrasts
This screen based touring exhibition features ten contemporary Australian video artists, including Angelica Mesiti, John Conomos, Grant Stevens and Deborah Kelly.
Reflecting on two distinctive and opposite visions of the Australian cultural landscape, that of the vast centre to the built up city peripheries, the exhibition explores these contrasts through various techniques such as documentary film, narrative  sequence and the use of found footage.
Curated by dLux MediaArts in association with Geoffrey Weary, Sydney College of the Arts, University of Sydney.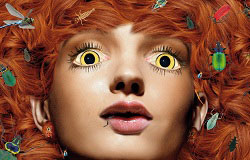 She'll be right, mate?
An Indigenous History in Australian Cartoons
Drawn from the extensive archive of the Australian Cartoon Museum this exhibition chronicles issues of Indigenous affairs in Australian society, sports and politics in the last 30 years.
Australia's best cartoonists will surprise, shock and make us laugh. Featured are Nicholson, Jeff, Spooner, Knight, Leunig, OZ and many more, surveying representations of Indigenous issues and snapshots in time that illustrates Australia's often rocky road towards reconciliation from the Bicentenary to the Apology.
Accompanied by a public and education program of workshops, demonstrations, tours and talks.
Curated by James Bridges - Australian Cartoon Museum, and JD Mittmann, Curator and Manager of Collections, Burrinja.
Date
25 July - 17 August

Venue
Burrinja Gallery
Yarra Valley Grammar: Energy

The annual art student exhibition presents works across a range of mediums, showcasing the talent of Yarra Valley Grammar graduates.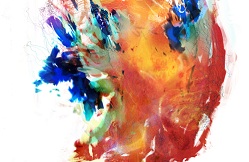 "The History of Everything" Guided Tour

with Jim Bridges, President of the Australian Cartoon Museum
Jim guides you through the history of Cartooning in Australia, the development of the Australian Cartoon Museum and provides some quirky insight into the individual lives of some of Australia's greatest cartoonists, and maybe their subjects.

Thursday 31 July at 11am
Thursday, 14 / 21 / 28 August at 11am
Duration 45 Minutes,
RSVP
Date
1 August - 14 September

Venue
Cafe Gallery
Marita Reynolds: Feathers, Furs and Fins 

Marita has created a series of works focusing on native birds, whales, turtles and elephants. Using graphite and coloured pencils, in varying ways, she has re-created the feel and look of feathers, furs and fins. A wonderful selection of works that invite you to reflect on the nature that surrounds you from day-to-day.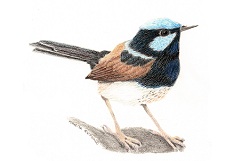 Curator's Floor Talk: She'll be right, mate?
Hear the stories behind the cartoons, and cartoonists, as Jim Bridges walks through the curatorial process and thinking behind the original exhibition
She'll be right, mate.
Duration 45 Minutes //
RSVP
Date
Saturday 9 August
10:30am - 4pm

Venue
Burrinja Gallery
Screening: Peter Nicholson's Rubbery Figures

The eighties were a period of great political upheaval, creating perfect fodder for comedians, cartoonists and animators alike.  Enter "Rubbery Figures", lead by cartoonist Peter Nicholson, a powerful example of cutting satire via the medium of puppetry and caricature. 
With politicians like Bob Hawke, Paul Keating, John Howard, Margret Thatcher and Ronald Reagan falling in their cross hairs, this series of short films aired as part of the popular comedy skit show Fast Forward.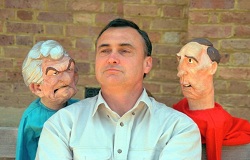 ---