Art - What's On
Rejuvenation
Burrinja Gallery will be closed from Tues 29 November, re-opening Sat 10 December
Date
10 Dec - 12 Feb

Venue
Burrinja Gallery
Wominjeka: A New Beginning

Wominjeka: A New Beginning celebrates 30 years of the Koorie Heritage Trust. This project highlights cultural continuities alongside new modes of creative practice in the work of five cross-generational early career artists;
Georgia MacGuire, Aunty Marlene Gilson, Mitch Mahoney, Josh Muir
and
Raymond Young.
Each of the participating artists has developed new work in dialogue with the Trust's significant collections of objects, artworks, archives and oral histories – each identifying objects and artifacts that share or spark a connection with their own artistic practice, personal or cultural enquiry. Over a three-month period the artists worked alongside senior mentors;
Maree Clarke, Lee Darroch, Ray Thomas
and
Peter Waples-Crowe
to explore the Trust's Collections and to develop new works in dialogue with the past.
The exhibition presents this new work alongside the objects of inspiration from the Trust's collection. Exhibited works utilise a broad array of media, materials and techniques including; painting, animal skin cloaks and textiles, bark and feather flowers, clay shields and digital prints.
Exhibition coordinator: Jan Duffy, Koorie Heritage Trust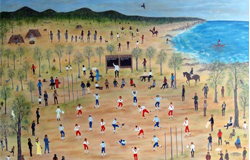 Image: Aunty Marlene Gilson
(Wathaurung / Wadawurrung) (detail)
Marngrook Football, 2015
acrylic on canvas
Courtesy of the artist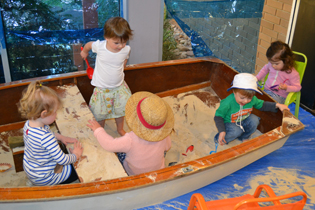 Date
Until Jan 2017

Venue
Burrinja Foyer
Burrinja Kids Stay and Play
Free family activity by local studio artist Eliza Phillips
This Summer season get boating - and stay cool at Burrinja with local artist and Burrinja studio resident Eliza Phillip's gorgeous new Kids Stay and Play free family activity!
Each year Burrinja invites 4 local artists to create engaging free activities for families to enjoy at Burrinja.
Dates
Exhibition 1 APR - 14 MAY
Weekend 29 & 30 APR
Dandenong Ranges Open Studios 2017
Meet the makers hidden in the Hills
You are invited to step through the threshold and into the personal studios of some of the most inspiring artists in the region.
The Dandenong Ranges Open Studios is a unique weekend and exhibition opportunity to experience and meet artists in their working studios; it is in these curious and inspirational environments that the artist's creative practice truly comes to life.
Each year since 2004 the program showcases around 30 studios including Emerging Artists, Collectives and Individual Artists. We welcome you to visit the studios and artists that most intrigue and excite you. The Open Studios is also a unique opportunity to acquire artwork and hand crafted items directly from the artists and be enriched by the insights of their creative worlds.
IMPORTANT DATES
OPEN STUDIOS WEEKEND Sat & Sun 29 + 30 April, 10am and 5pm
GROUP EXHIBITION AT BURRINJA GALLERY Saturday 1 April - Sunday 14 May
Exhibition opening and event launch event: Friday, 31st March @ 7pm
Full details and applications at
openstudios.org.au