Date
8 May 2015 – 7 June

Venue
Jarmbi Gallery Downstairs
Connected Voices: More than Green

Connected Voices is a group of four artists, each working with textiles as their primary medium. As Diploma of Textile Art graduates, they continue to explore their contemporary art practice within a wide range of techniques: botanical dyeing, freestyle hand weaving, collage, digital and hand printing, machine and hand stitching.
While the inspiration from and response to the natural environment informs much of their work, the concept of More than Green extends beyond the visual. These artists are also exploring eco-dyes, zero waste production, sustainable practice and recycling; processes which remain mostly hidden but are an intrinsic part of the artworks.
They produce original, meaningful pieces in a tactile and familiar medium; yet one which can be re-interpreted in a contemporary and expressive way.
Official opening
Friday 8 May 7pm
Floor talk with Jill Migliette Sunday 17 May, 12pm & 1pm
Demonstrationswith Heather Walters & Diane Mattiske 11am -3pm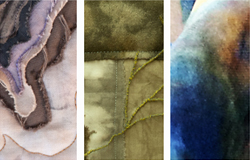 Date
8 May - 7 June

Venue
Jarmbi Gallery
Orly Faya : The Gaia Collection

Orly Faya is an Australian born, International artist and traveller of twelve years who has delved deeply into the realm of mimetism within body painting and photography over the last 18 months.

Painting human bodies into the various landscapes around the globe, Orly's message is clear: We came from the earth, are of the earth, and will return to the earth. It is time to remember who we are and recognise the importance of honouring our harmonious existence.

Orly's debut exhibition is a celebration of creation itself, sharing the stories of the artworks, organic collaborations with Mother Earth in all her spontaneous glory and the people who stand to merge, their strength and determination within intensity beyond explanation. You are invited to share this special debut occasion and take the opportunity to connect with Orly's unique pieces, presented to a live audience for the first time ever.
Exhibition opening Saturday 9 May at 2pm
Creation's Calling -Collaborating for Sustainability
Friday 22 May at 7pm
An evening of celebrating humanities connection to the earth through creative expression.
Kevisato Duncan Sanyü Meyasetsu from The Wilderness Society sharing the amazing work they do and why they do it...
LIVE MUSIC!
Liana Perillo on the Harp, Bloodwood - Elle Plume Reika Sroyphet & Cassie, + more Local Acts from the Dandenong!
LIVE BODY PAINTING - Orly Faya Snir and Serra Stone
SPOKEN WORD POETRY
Marija Heart ♥, Shoshana Sadia, Justine Walsh, Orly Faya, AND MORE...!
Chick here for more info on The Gaia project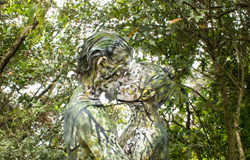 Date
16 May - 28 June

Venue
Burrinja Gallery
Contents Under Pressure:
Stencil Art in Australia from 2003 - 2010

The last decade saw the birth of a new art form as aerosol based stencil paintings appeared in Melbourne's laneways from 2001. At the forefront were dozens of local artists who embarked on an exciting (and not always legal) mission to 'beautify' urban places. Thousands of stencils adorned public and private wall in laneways in Carlton, Collingwood, Richmond and the CBD.
Originally frowned upon, in only a few years 'street art' became 'cool' and publically accepted. Through the proliferation of digital images on the internet the localised stencil art phenomenon quickly grew into a global street art movement. Melbourne became known as 'stencil capital'. Subsequently, stencil art evolved from quick applications on concrete to artistically refined paintings on canvas, and moved from the street into the gallery.
Showcasing over 200 works by key artists including Psalm, Phibs, Haha, Meek, Meggs, Rone, Ghostpatrol, Satta among others this exhibition presents the formative period of one of Australia's most dynamic art movements.