---
Date
13 September - 16 November 2014

Venue
Burrinja Inner Gallery
Admission
Exhibition $5.00.

Yarra Ranges Residents and Jarmbi Members are Free.
With Country in Mind 
Hermannsburg Watercolours from the Ebes Collection 

A most unusual combination: in 1934 a young Arrernte man at Hermannsburg Mission sees an exhibition of water colour paintings by Victorian artists Rex Battarbee and John Gardner. Inspired he asks Battarbee to teach him, and subsequently he becomes Australia's most famous artists: Albert Namatjira.
Now known as the Hermannsburg School, successive generations have continued with the tradition of water colour painting which brought central Australian landscapes to the attention of mainstream Australia.
This exhibition returns to its beginnings, to Albert Namatjira, his mentor and patron, Rex Battarbee, and the first generation of painters they inspired.
Gallery Tours:
Thursday and Saturday at 11am
Included in Gallery Entrance.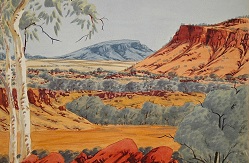 Date
5 September - 16 November

Venue
Burrinja Gallery
Admission
Exhibition $5.00.

Yarra Ranges Residents and Jarmbi Members are Free.
Arlpwe Artists
Pictorial Letter from Arlpwe at Ali Curung

Artists from Ali Curung, visit Burrinja for a week of demonstrations, cultural education and to present a showcase exhibition of works from the region's artists.

For the second consecutive year, the exhibition showcases new paintings featuring Kaiditch (Kaytetye) country in a traditional and modern style
as well as traditional artefacts.

Gallery Tours: Thursday and Saturday at 11am
Included in Gallery Entrance.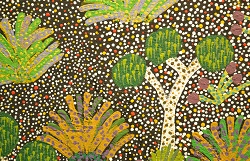 Dates
19 September - 2 November

Venue
Cafe Gallery
Matthew Rutten: The Beauty of Colour and Silk
Matthew Rutten's latest exhibition "The Beauty of Colour" presents a great range of art works. Matthew furthered his artistic education at Melbourne College of Textiles, his work is done using cold batik wax called guta, and the washes are done using silk dyes and salt. Each piece is a one off design all done freehand.
Matthew's scarves are very popular, having sold out at one exhibitions and being exhibited as part of Dandenong Ranges Open Studios, Lady Hawke Cafe and for a group exhibition at Steps Gallery, Carlton.
Date
3 October - 26 October

Venue
Jarmbi Upstairs Gallery
The Bequeath of Vera Skipper

Local hills artist, Vera Skipper, has bequeathed oil pastels and paintings from decades of her creative career to the Belgrave Fire Brigade. The paintings will be sold as a means to fund an urgently needed second fire tanker.
Official Opening and Art Sale:
Sunday 5 October at 11am
To be opened by Glenda Wise, artist and tutor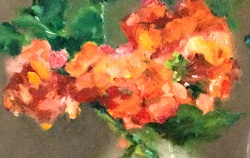 ---