---
DLux Media and University of Sydney
Striking Contrasts
This screen based touring exhibition features ten contemporary Australian video artists, including Angelica Mesiti, John Conomos, Grant Stevens and Deborah Kelly.
Reflecting on two distinctive and opposite visions of the Australian cultural landscape, that of the vast centre to the built up city peripheries, the exhibition explores these contrasts through various techniques such as documentary film, narrative  sequence and the use of found footage.
Curated by dLux MediaArts in association with Geoffrey Weary, Sydney College of the Arts, University of Sydney.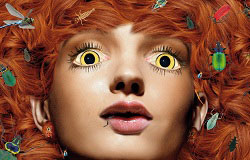 She'll be right, mate?
An Indigenous History in Australian Cartoons
Drawn from the extensive archive of the Australian Cartoon Museum this exhibition chronicles issues of Indigenous affairs in Australian society, sports and politics in the last 30 years.
Australia's best cartoonists will surprise, shock and make us laugh. Featured are Nicholson, Jeff, Spooner, Knight, Leunig, OZ and many more, surveying representations of Indigenous issues and snapshots in time that illustrates Australia's often rocky road towards reconciliation from the Bicentenary to the Apology.
Accompanied by a public and education program of workshops, demonstrations, tours and talks.
Curated by James Bridges - Australian Cartoon Museum, and JD Mittmann, Curator and Manager of Collections, Burrinja.
Date
1 August - 14 September

Venue
Cafe Gallery
Marita Reynolds: Feathers, Furs and Fins 

Marita has created a series of works focusing on native birds, whales, turtles and elephants. Using graphite and coloured pencils, in varying ways, she has re-created the feel and look of feathers, furs and fins. A wonderful selection of works that invite you to reflect on the nature that surrounds you from day-to-day.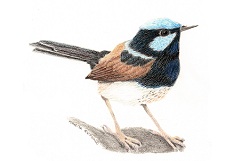 Dates
22 August - 28 September
Venue
Jarmbi Upstairs Gallery
Mater Christi College Arts: A Celebration of Student Creativity 
Exhibition works have been selected from across Year levels to showcase fashion design garments, visual communication designs and contemporary artworks to represent diversity of media and stages of artistic development.

Creativity and innovation are central to the work of the College. Teachers model professional studio practices and relationships and encourage students to research, develop and test ideas.

The College is proud of the outstanding student achievements in the visual arts including numerous accolades in Top Arts, VCE Showcase, Exhibitions and Awards.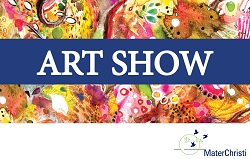 Dates
22 August - 28 September
Venue
Jarmbi Downstairs Gallery
Janine Sutton, Joy Serwylo, Jenny Rowe & Lisa Von Muller: A Wing and a Prayer
The artists explore the universality of the symbols, humans from the dawn of time have used to manifest its devotion to the unseen, unknown, feared, adored and revered. Talismans, prayer beads, alters, totems and amulets are common to all peoples of the world and our works explore these spiritual expressions each in our personal way.

Official Opening: Saturday 23 August at 2.30pm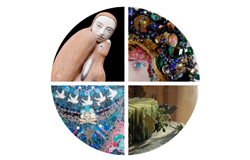 "The History of Everything" Guided Tour

with Jim Bridges, President of the Australian Cartoon Museum
Jim guides you through the history of Cartooning in Australia, the development of the Australian Cartoon Museum and provides some quirky insight into the individual lives of some of Australia's greatest cartoonists, and maybe their subjects.

Thursday, 14 / 21 / 28 August at 11am
Duration 45 Minutes,
RSVP
---