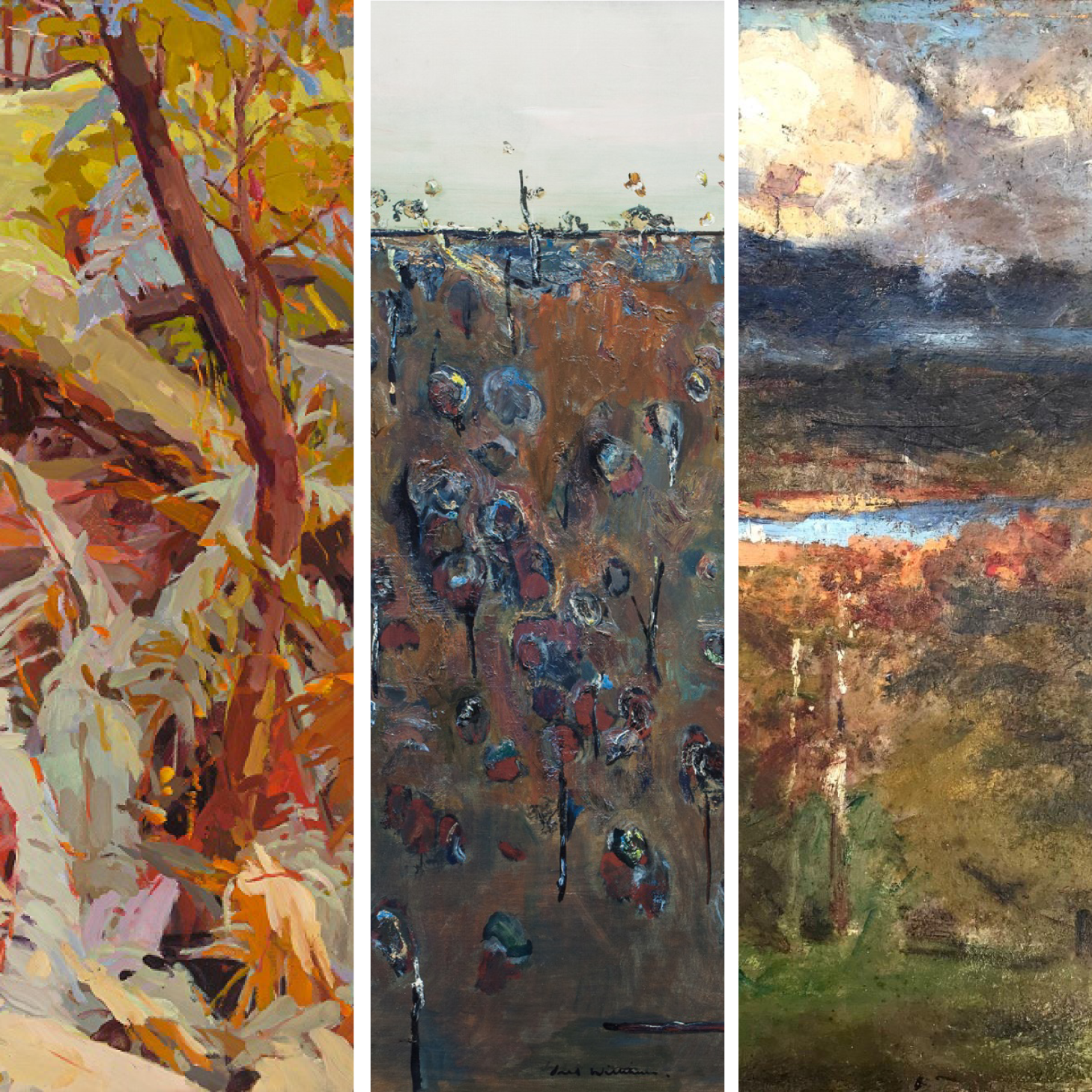 Image Credit: (left to right): Mary Tonkin, Ramble, Kalorama 2017-19 (detail) oil on linen,Fred Williams (1927 - 1982), UPWEY LANDSCAPE, oil on canvas, , Miles Evergood (1871 - 1939) c. 1935 – 1938, oil on canvas

Dates
15 May - 4 Jul
Venue
Burrinja Gallery
Gallery Hours
Wed - Sat
10.30am to 3.30pm
The Ranges | 3 Perspectives
Drawing from the vivid and lush landscape of the Dandenong Ranges, a place each artist once called home, the works in this exhibition showcase three distinctly different perspectives.
Be captured by the unique majesty of the ranges, seen through the eyes of these brilliant Australian landscape painters.
Mary Tonkin - Ramble : Contemporary plein air landscape artist whose detailed large scale representations reflect the forest at her family's property in Kalorama.
Fred Williams -The Upwey Years : Australia's most iconic landscape artist redefined painting in the Australian bush during his 'Upwey years' from 1963-68.
Miles Evergood - Vistas : An impressionist whose 1930's Kalorama paintings are characterised by strong colours and expressive brushstrokes and use of palette knife.
See the digital experience here
Dates
Friday June 11, 7pm – 10pm
new date - Friday June 25, 7pm – 10pm TBC
Venue
Burrinja Gallery
Tickets
$15 Admission

Burrinja Enhanced for The Ranges | 3 Perspectives exhibition
Art After Dark
The arty night out in the hills you've been waiting for...Art After Dark is where our galleries come alive. Be fascinated by Friday night out at Burrinja.
Live Music from Pia Nesvara
Sound & Vision Scapes from installation artist Dave Thompson
Curator Floor Talk with JD Mittmann
Film Screening of Patterns of Landscape // Fred Williams
PYO (paint your own) landscape
Exhibition Viewing
Food by Little Artisan Catering Co.
Signature cocktail & bar
Date
Sat 3 July 11.00am
Venue
Burrinja Theatre
Tickets
Admission $20
Group 4 + $16pp

Single $3 ticketing fee applies
per total transaction
Burrinja Circus Festival Performance
Jugg Life
Live percussion combined with the camaraderie of two best friends, who also happen to be Australia's best jugglers.
Beginning with the simple tap of a stick on a drum and ending with the total mayhem of both performers keeping ludicrous numbers of props in the air, Jugg Life is an intense, non-stop escalation of skill and entertainment. As sound melds seamlessly with world-class technical ability and energetic stage presence, performers Byron Hutton and Joe Fisher display precisely what they love about juggling in as many ways as possible, incorporating competition, danger, music and a Rubik's Cube. Colourful, visual, turbulent and fun, Jugg Life is fun for the entire family. 'It's one hour of satisfaction' - Ciara Thorburn (Circus Garage Sale) 'Making juggling cool for the first time in history' - Fez Faanana (Briefs Factory)
Recommended for All ages | 60 mins