burrinja presents
Friends of the Hills | Emily Lowe
Stay n' Play
MAY - JULY | Burrinja Foyer
A celebration of the iconic and beautiful flora and fauna of the Dandenong Ranges is coming to Burrinja's Foyer. Through a new interactive art installation 'Friends of the Hills', artist Emily Lowe has created a space to enjoy what our local flora and fauna consists of through meditative colouring for all ages.
In a truly immersive experience, see how the worlds of nature and art collide to connect and gain a better understanding of the things we care about.
Emily is a resident studio artist of burrinja's Aerie Creative ecology and enjoys capturing the beauty and essence of the local landscape through painting.
Instagram: @emilylowefinearts
Facebook: Emily Lowe fine arts
burrinja presents
Totem Cave | Skubz Mope & Macarena Ocea
Stay n' Play
AUG - NOV | Burrinja Foyer
Come and explore the Totem Cave, where mysterious monuments to strange and bizarre creatures are waiting to be discovered. Some lay in pieces just waiting for someone to help rebuild them, maybe you can help? Leave your mark and create your own Totem Mask to put on display in the cave for future explorers to discover (or take it home as a keepsake of your adventures!) The Totem Cave is a place of mystery and adventure, created by resident artists Skübz Mope and Macarena Ocea.
Instagram: Skubz Mope @skubzmope
Instagram: Macarena Ocea @macarenathreads
Upwey Community Group & Burrinja Presents
The Upwey Archies 2023
ENTRY EXTENDED TO SAT 26 AUG ~ VISIT BURRINJA FOR LATE ENTRY
ON DISPLAY OCT 13 - NOV 11 | UPWEY MAIN STREET
Grab your art equipment – pencils, paints, collage, mixed media – and celebrate the people of Upwey important to you!
Bringing together the creative voices and vision of our community, this project is a celebration of the people of Upwey. Inspired by the Archibald Prize and 'Not The Archies', the Upwey Archies is a community portrait project.
Cost per entry: $15, or $10 for 14yrs & under.
Entry:
Head to Burrinja between August 9th – 25th (opening hours are 10am - 4pm | Wed - Sat), pay your fee at box office and collect an art board (included in your fee).
Tickets ~ $10 - $15
How it works once you have your canvas board/s...
1. Create a portrait of a person that is important to you on the canvas provided.
2. Complete your Artwork Description online HERE
3. Complete the information on the back of your canvas.
4. Return your Archies entry (we will not accept wet or damp artwork) to Upwey Township Hall (opposite skate park) during these dates & times
Art boards are due back to Upwey Township Hall (opposite skate park)
• 4.30 – 6.00pm Friday 6th October
• 10:30 – 12.00 noon Saturday 7th October
5. Enjoy seeing your work publicly displayed throughout Upwey between Oct 13th – Nov 11th
AWARD CEREMONY
Attend the award presentation ceremony, 7pm Friday November 10th, at the Upwey Township Hall.
download entry information pdf

online art work description form

burrinja presents
The Land Speaks | Margaret-Anne
19 Aug - 30 Sep | Burrinja Gallery 02
In this exhibition of watercolours and paintings Meg Gooch explores memories embedded in the land and elements of change that have effected the Gippsland lakes system since colonisation.
Using natural dyes from the local vegetation and made inks from the vegetation at the Barrier Landing area in Lakes Entrance.
This exhibition will be opened by Fleur Stone, President of the Barrier Landing Coast Care Group, Lakes Entrance.
Join us for the opening Sat 19 Aug @ 3pm ~ RSVP here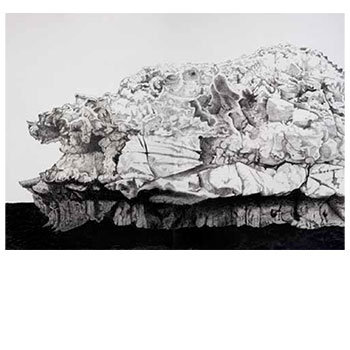 Image credit: Amanda Page, Precipice ll, 2020, photopolymer etching on Fabriano 280gsm from charcoal drawings, 70 x 100 cm
burrinja presents
Transition | Amanda Page
19 Aug - 30 Sep | Burrinja Gallery 01 & 03
Transition depicts states of change in atmospheric activity. Through site-specific observations of icy vistas in Antarctica and Iceland Amanda Page developed artworks which reference that change.
Camera-less exposure processes combined with digital photography, drawing and printmaking are used to explore natural systems such as weather patterns and phenomena such as erosion to record and reveal processes of melting and the movement of energy in materials.
Join us for the opening Sat 19 Aug @ 3pm ~ RSVP here
Opening remarks by Associate Professor Shane Hulbert, School of Art - Design and Social Context, at RMIT.
aerie creative ecology presents
TRANSCENDENCE | YJ Fauzee
9 Sep – 21 Oct | aerie gallery
As never before in our history the connection between humanity and the Earth has reached an impasse - we rest upon a precipice. To overt environmental disaster humanity must listen to the Earth and acknowledge our spiritual connection and interdependency. This exhibition explores the essence of this shift - a 'transcendence', an awakening, to enable healing of ourselves, our planet and safeguard all living things.
Join us for the exhibition opening in the aerie gallery. Sat 9 September @ 2pm ~ RSVP HERE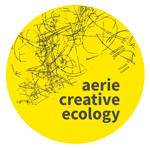 Burrinja & Vic Health presents
Mini Happiness Hacks Workshop
Sat 9 Sep @ 2pm | Art Studio @ Burrinja
Want to learn what science can tell us about ways to boost our mood, mental well-being and resilience? Come and join, Unicorns creator and trained Secondary Teacher Delsi to learn a series of science-backed happiness hacks to improve mood, social connection, health, and overall happiness!
Workshop: 2 pm – 3.30 pm
Facilitator: Adele Moleta (Delsi)
Light afternoon tea /snacks served.
Let us know you are coming by registering now HERE
Get in touch with any questions or to let us know what your access needs are at This email address is being protected from spambots. You need JavaScript enabled to view it..
Hosted by the Queer Art Collective (QAC) at Burrinja and respectfully acknowledging the diverse lived experiences of LGBTQI+ and BIPOC communities, this event is specifically designed as an inclusive space for LGBTQIA+ identifying people and their allies, friends and families who may or may not also be Queer. QAC is committed to creating art and social gathering events created for and with queer-identifying people. This is an event for all ages, but young people should be accompanied by an adult. And it's FREE.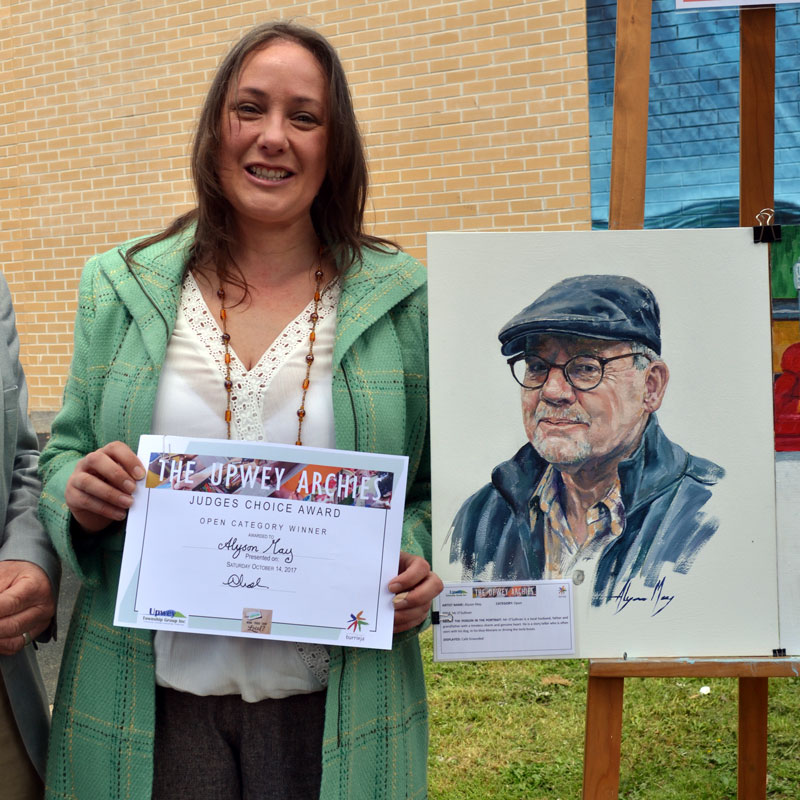 Alyson May with her portrait of "Mr. O'Sullivan" - WINNER of the 2017 Upwey Archies Portrait Prize Open Category.
"Technically brilliant; a cheeky look; telling a story"- 2017 Upwey Archies Judge Amy Middleton
Upwey Community Group & Your Library Presents
The Upwey Archies 2023 ~ FREE Workshops & Talks
🎨 Portrait Workshop – Youth
THU 21 SEP @ 4:00PM | BELGRAVE LIBRARY
Join former Upwey Archies winner and professional artist Alyson May for a free portrait workshop – especially designed for entries to the 'Youth' category. These workshops will help your young artists get their Upwey Archies entry started or finished! Bring your Archies canvas board (or purchase one at the workshop), and be guided by Alyson on the fundamentals of creating a stunning portrait.
Materials (no oils) supplied.
Recommended for ages 0 - 14
🎨 Portrait Workshop for Adults
SAT 23 SEP @ 2:00PM | BELGRAVE LIBRARY
Join former Upwey Archies winner and professional artist Alyson May for a free portrait workshop. These workshops are aimed at both emerging and established artists, and are a great way to get your Upwey Archies entry started or finished!
Bring your Archies canvas board (or purchase one at the workshop), and be guided by Alyson on the fundamentals of creating a stunning portrait.
Materials (no oils) supplied.
Recommended for ages 15 and over
🔊 Art talks by children
SAT 14 OCT @ 10:30AM | BELGRAVE LIBRARY
A panel discussion on art, life, playgrounds, school life, and everything else! Come and join the winners of the 2022 Upwey Archies – YOUTH category, as they discuss their art, their lives, and their portraits from their own perspective. A panel discussion of art by our youngest artists, this will be a very entertaining event.
Recommended for all ages
burrinja presents
Where Artists Meet (W.A.M.)
Thu 28 Sep @ 7.00pm | Fat Goat
WAM is Back!
Here's your chance to get out, have some fun and talk shop with other local artists and have a cheeky drink.
These regular gatherings propose space for connecting and developing conversation between local creatives. WAM provides a fun and friendly environment to talk shop with other artists, share tips, discuss creative practice, projects and local arts and culture. With the Dandenong Ranges rich and abundant cultural landscape Burrinja's WAM events are a great opportunity to develop new creative networks, find out about potential opportunities and connect with your local arts community.
Join us on the last Thursday of every month @ 7pm at the Fat Goat (2 Morris Road, Upwey)
Put W.A.M. In your calendar!
Up coming dates: 29 June, 27 July, 31 Aug, 28 Sept, 26 Oct & 30 Nov
burrinja presents
OUTSIDE THE LINE | Cathy Sofarnos
7 Oct - 19 Nov | Burrinja Gallery
'Outside the Line' is an introspective body of work that embarks on an ontological journey, delving into the essence of abstract concepts and their profound connections to childhood memories and experiences. Through vibrant and evocative abstract expressions, this collection invites viewers to explore the blurred boundaries between reality and imagination.
Drawing inspiration from my own recollections of a carefree childhood, the paintings encapsulate the essence of innocent wonder, nostalgia, and joy. Each stroke of colour and texture becomes a visual ode to the emotions and impressions imprinted upon the canvas of memory. As I navigate the abstract realm, I endeavour to unravel the nature of being and existence through the lens of introspection.
These paintings become portals to ponder the very fabric of reality and our place within it. 'Outside the Line' serves as a reminder that our childhood memories, with their unbridled creativity and imagination, continue to shape our understanding of the world and leave lasting imprints on our life journey.
Artist Statement
Cathryn Sofarnos is a multi-disciplinary abstract artist based in Mt Evelyn, Australia. Born in Hobart, Tasmania she enjoyed a free range childhood roaming the untamed wilderness of her Tasmanian backyard. Endless hours were spent exploring empty windswept beaches, investigating rock pools and leaving marks in the sand, and the deep impressions of the child's mind, has provided a solid foundation for Cathryn's work today.
Along with a deep interest in dimensional ontology and the metaphysical layers of our perception, Cathryn's work delves into the interplay between abstract form and the dimensional nature of colour , line and pattern. By embracing the fluidity and ambiguity of abstraction, she invites the viewer to contemplate the interconnectedness of multiple dimension and its potential influence on our perception of existence . Her dynamic expression of line and colour, sets the intention to captivate a glimpse into the multi-dimensional nature of our world, creating a vivid and evocative experience on a large scale.
Join us for the opening Sun 8 Oct @ 2pm ~ RSVP here
burrinja presents
COLOUR FIELDS / NEGATION OF LINE | Prue Crome
7 Oct - 19 Nov | Burrinja Gallery
Line on canvas and the edge of a canvas direct and contain the focus of the viewer, 'Colour fields / negation of line' investigates the conceptual notion of canvas as object and surface where vision and thoughts are engaged in the intention and meaning held on the canvas. Colour fields continues the investigation with line and marks minimised, omitting a focal point, subtle layering of pigments hopes to capture the illusive nature of light and depth perception on a thin surface. The intention is to create an immersive quality, felt with all the senses.
Philosophically, my thoughts reside around metaphysical concerns of transience and the intangible nature of perception. The inspiration for these colour field paintings comes from the atmospherics of light that brings a sense of boundlessness and an ability expand and contract space.

Prue Crome lives and works in Kallista, in the Dandenong Ranges.
About the Artist
Childhood on the Sydney northern beaches, powerful embracing ocean with vast skies, mountain top rainforest property in North Qld, distant views and weather events and now in the Dandenong Ranges, spacious skies and distant views. An outdoors person connected to the constant ebb and flow of my environment.
My background is in the environmental sciences, industrial design, graphics and sculpture. Whilst studying for my MFA I became enthralled with space and light and investigating the conditions that alter one's perception, with a focus on immersive installations. Solo and group exhibitions in Cairns, Brisbane, Singapore, Hamburg, Melbourne and residencies in Yokohama and Melbourne.
Join us for the opening Sun 8 Oct @ 2pm ~ RSVP here
burrinja presents
All That Which Sings | Eleanor Louise Butt
7 Oct - 19 Nov | Burrinja Gallery
'As the image pulls me deep inside of it, a special kind of silence descends, trapping me in its dark spaces and channels of light; releasing its secrets as it carries me across surfaces and down through layers. And then that eternal struggle, as I try to pull back from its hold (its trance-inducing revelry, its devilry).' Dr Jan Bryant, 2022
About the Artist
Eleanor Louise Butt is a Kallista-based contemporary artist whose practice is grounded in studio experimentation. Taking painting as her primary medium, she employs colour, texture, line, and form as strategies for charging surfaces with gestural energy. Expanding these techniques into bronze sculpture and drawing, Eleanor's work adopts the potentialities of paint to create visual dialogues across a range of media, where action, experience, perception, memory, and art historical references are interwoven and folded back into one another.
Eleanor has held solo exhibitions in Melbourne, Sydney and the UK since 2014, and has been included in group exhibitions in Melbourne, Denmark, Geelong, and Sydney since 2009. She has an Honours degree from the Victorian College of the Arts (2013).
Eleanor was the 2019 recipient of a tenancy at Porthmeor Studios, St Ives, Cornwall, UK - the first female Australian artist in the studios' 140-year history. She was awarded the George Hicks Award (2012) and has been a finalist in the Bayside Acquisitive Art Prize (2023), Muswellbrook Art Prize (2023), Waverley Art Prize (2023), Omnia Art Prize (2023), Macquarie Group Emerging Artist Prize (2016) and the M Collection Art Award (2016).
Eleanor Louise Butt is represented by Nicholas Thompson Gallery.
Join us for the opening Sun 8 Oct @ 2pm ~ RSVP here
burrinja presents
ARCHIVING THE FUTURE
An exhibition, installation and public program in celebration of Burrinja's 25th year birthday
03 Dec – Late Feb, 2023 | Burrinja, Foyer & AERIE Galleries
Looking back whilst also walking forward: this special project brings together a suite of objects and artefacts found in the depths of the Burrinja archive – from the mundane to the dazzling, the everyday to the extraordinary. What stories of people and place are hidden within the objects that we keep?
These objects are brought together for this special exhibition that reflects on 25 years of community leadership through the arts. Simultaneously, Archiving The Future will commission a new installation in our aerie gallery, a piece of speculative art that proposes a future as yet unknown to us.
Keep your eyes peeled for a calendar full of activity and activation over summer, and join us in archiving the future. If that's even possible.