burrinja presents
Burrinja Climate Change Biennale
Launch ~ Sat 3 December @ 2pm | Burrinja
Burrinja Climate Change Biennale returns with a region wide program. Burrinja has partnered with Yarra Ranges Council, Your Library and the Yarra Ranges Regional Museum to create a program that spans the whole ranges and crosses over a range of art forms. Join us at Burrinja as we launch the program with sneak previews of each of the exhibitions & actions, an opportunity to explore Burrinja's Award Exhibition with works from 44 artists, as well as the Emerging artist take over in the aerie gallery.
From the scientific to the fantastic, the cultural to the creative, the Burrinja Climate Change Biennale (BCCB) brings together diverse voices, practices and perspectives to interrogate and speculate on the future we so desperately need. The BCCB offers both a reflective perspective and a beacon of hope. Whilst we cannot undo the past, as actively engaged creative citizens living within ecologies in crisis it is our responsibility to re-imagine a future that does no more harm.
Each of the exhibitions and events in the program highlights significant issues around the urgency and impact of the climate crisis.
Launch Event ~ Sat 3 December @ 2pm ~ RSVP HERE
The Burrinja Climate Change Biennale is delivered in partnership with Yarra Ranges Regional Museum, ngurrak barring/RidgeWalk, Yarra Ranges Council and Your Library.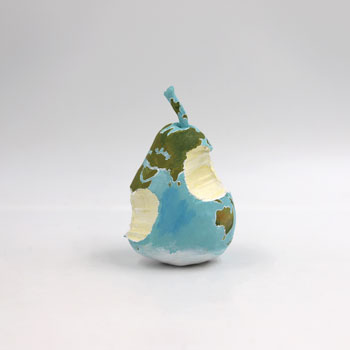 Image credit: Kenny Pittock, 'The World's Gone Pear Shaped (Twice-bitten)', Acrylic on ceramic, 11 x 8 x 8 cm, Edition 2 of 6.
Burrinja Climate Change Biennale presents
Burrinja Climate Change Biennale Award Exhibition
Sat 3 Dec, 2022 - 25 Feb, 2023 | Burrinja Gallery
Global in nature, national in scope and local in action, the Burrinja Climate Change Biennale provides a platform to address one of the most pressing topics of our time.
Uniquely situated in the temperate rainforest micro-climate of the Dandenong Ranges on Melbourne's eastern fringes, its location offers the perfect backdrop for local and global community knowledge networks to share, learn and expand through the Biennale's wide-ranging public program and macro-themes.
At the centre of the Burrinja Climate Change Biennale is its Award Exhibition, which provides a space for artists to engage creatively and imaginatively with aspects of climate change. The exhibition invites and encourages the collaboration of science and arts, of critical thought and creative practise.
Participating artists: Amanda Page, Amanda Ruck, Anthony Breslin, Anton Hasell, Callum Watson, Cara-Ann Simpson (QLD), Cathy Ronalds, Ches Mills, Chris Lawry, Clare James, Elizabeth Gleeson, Emily Lowe, Emma Jennings, Fast Fashun, Florence Wang, Jacqueline Christians, Jenny Reddin, Jessie Yvette Journoud-Ryan, John Krzywokulski, Joy Serwylo, Katherine Boland (NSW), Kenny Pittock, Kerri Hollingsworth & Norton Fredericks, Kirsten Laken, Laki Sideris & Gretel Taylor, Lesley Rosochodski, Liz Walker, Martha Breninger, Marylin Litchfield, Neville Cichon (SA,) Nina Killham, Poppy Somers, Rain White, Rebecca Wolske, Robyn Veneer, Sweeney (NSW), Sarah Delaney (NT), Sarah Dute, Sarah Newall, Shani Black (NSW), Shyanne Clarke (QLD), Simon Welsh (NSW), Steven Firman, Zoe Irving.
Launch Event ~ Sat 3 December @ 2pm ~ RSVP HERE
The Burrinja Climate Change Biennale is delivered in partnership with Yarra Ranges Regional Museum, ngurrak barring/RidgeWalk, Yarra Ranges Council and Your Library.


Burrinja Climate Change Biennale presents
Top 50 Green Emotions | George Akl
Sat 3 Dec, 2022 - Sat 11 Feb, 2023 | aerie gallery
Top 50 Green Emotions provides an opportunity to reflect on the multidimensional complexities of climate change.
A deeply distilled documentary presented in a rhizomatic installation. Allowing the viewer to go on an adventure via their own political aesthetics by exploring the cacophony of voices, images, theories, propaganda, geo-politics and personal interests that have been captured in the work.
Launch Event ~ Sat 3 December @ 2pm ~ RSVP HERE
The Burrinja Climate Change Biennale is delivered in partnership with Yarra Ranges Regional Museum, ngurrak barring/RidgeWalk, Yarra Ranges Council and Your Library.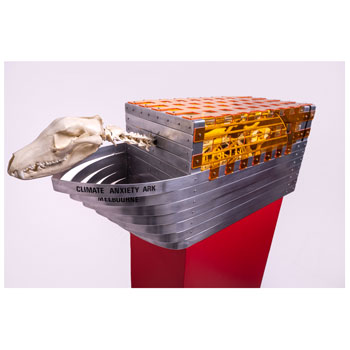 Image credit: Paul E. Mason, CLIMATE ANXIETY ARK 2022, 54 x 128 x 32cm, SoundClip Audio, LEDs, electrical components, aluminium, stainless steel, acrylic, epoxy resin, high density foam, brass, hemp cord, nitrile.
burrinja presents
CLIMATE ANXIETY ARK | Paul Mason
Sat 3 Dec, 2022 - 25 Feb, 2023 | Airlock - Burrinja Gallery
Paul E Mason's exhibition, Climate Anxiety Ark, exploits the language of the museum through meticulously crafted sculptures that reference reliquaries, automatas and dioramas. These objects expose the museum as an apologist for colonialism, and its cloistered artefacts alternately as a source of unequivocal truth or frivolous, illusory spectacle. Interpretive and design tropes and famous museum objects are reimagined and reframed to expose the privileging of Western over Indigenous knowledge systems. Combining dissonant visual elements from the past and present, the artist connects the colonial legacy of dispossession and exploitation to the current reality of an unfolding climate disaster.
burrinja presents
NGV Kids on Tour 2023
Let's Make Art
JAN-FEB | Burrinja Foyer
Get creative this summer with NGV Kids on Tour!
The theme for this year's program is Let's Make Art! The activities on offer share the methods of working invented by some of the leading European artists featured in the exhibition The Picasso Century which ran from June to October 2022. Artists such as Georges Braque, Remedios Varo, Pablo Picasso, and Natalia Goncharova lived and worked in Paris in the early twentieth century and are recognised for their innovative and experimental approaches to making art.
MAKE A SCULPTURE
All ages Create your own sculpture by turning a set of shapes into a three-dimensional tabletop structure.
MAKE A COLLAGE
All ages Experiment with colour and shape as you cut and paste to make a colourful collage.
MAKE A POEM
All ages Draw a portrait of a special person in your life and then write a poem about them by remembering the things they say.
MAKE A CREATURE
All ages Work together with friends and draw your own surrealist creature
aerie creative ecology presents
The Wave | Amanda Bartholomew & Rebecca Johnson
18 Feb - 1 Apr | aerie gallery
This exhibition celebrates the life-long friendship of Amanda and Rebecca. They met as young girls waiting in line at their school tuckshop. Together arm in arm, they burst into the world amidst the smoky haze of what was the Melbourne counterculture scene of the 1980s. Many nights were spent together, revelling in post-punk bands such as The Birthday Party, Paul Kelly and the Coloured Girls, The Saints, Laughing Clowns, The Triffids, The Church, The Go-Betweens, Models, Died Pretty, T.I.S.M., Huxton Creepers, Dave Graney and the Coloured Snakes, Painters and Dockers, Hunters and Collectors, Cosmic Psychos, X, Big Pig, Not Drowning Waving and the Bachelor's from Prague just to name a few!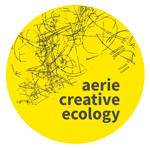 burrinja and yarra ranges council presents
Creative Showcase | Yarra Ranges VCE Students
Sat 4 Mar – Sat 18 Mar | Burrinja Gallery
The Creative Showcase is an annual celebration of the creative talents of our emerging artists and their work.. Comprising of works selected from applicants across the Yarra Ranges, the exhibition encompasses a range of media, including drawing, painting, photography, and mixed media. The exhibition includes reflections on identity, emotions, isolation and dreams.
aerie creative ecology presents
Soft VS Edgy | Natalie Wijeyeratne
15 Apr - 27 May | aerie gallery
Soft VS Edgy is a new collection of original acrylic paintings exploring the nature of Passivity / Growth / Loud and Quiet Expression / Surrender / Directness / Starkness of reality / Sensuality; and the way these themes emerge both visually on the page and metaphorically in relationship to one's self and others. Are these concepts mutually exclusive? Where do they overlap? How can we be both? In a time where vulnerability is encouraged, is it Edgy to be Soft? Or Soft to be Edgy? These are the themes Natalie invites you to explore when viewing her 2023 series. Soft VS Edgy is Natalie's second solo exhibition.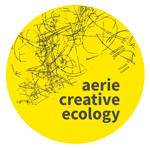 burrinja presents
Transcendence
Dandenong Ranges Open Studios Exhibition
Fri 31 March to Sat 13 May | Burrinja Gallery
The annual Open Studios group exhibition is designed to produce a cohesive and diverse range of artwork to showcase the creative energy and skill of each artist.
Asking each studio to contemplate what it means "Transcend" the Dandenong Ranges Open Studios Group Exhibition offers compelling takes on nature, community, spirituality, interior worlds and more. Be captivated by inspiring moments of reflection and renewal, magic and escapism, comfort and calm. In its 20th year, the show includes works from each of 44 participating studios and will delight visitors from all walks of life.
burrinja presents
Between Two Sites
27 May to 1 July 2023 | Burrinja Gallery
The Between Two Sites exhibition and public programs respond to the impact of human activity on habitats in the Yarra Ranges and Alpine Shire. Curated by Madelynne Cornish and Sarah Lynch for the Bogong Centre for Sound Culture. It showcases the artwork of Victorian and international artists who participated in the centre's residency program. These artists have undertaken extensive fieldwork within the Yarra Ranges, Alpine National Park and Kiewa Valley. They have produced a new range of site-specific artworks that comprise a rich and diverse set of environmental references to deepen our understanding of these places. Artists have used audio-visual installation, photography and sound composition to reflect the ecology of these regions.
Artists include: Shannon Collis, Madelynne Cornish, Lesley Duxbury, Sarah Edwards, Amias Hanley, Sarah Lynch & Anne McCallum
aerie creative ecology presents
Fabric. Layerism. Collage. | Mark Ewenson
3 Jun - 15 Jul | aerie gallery
'My art practice centers around the beauty of the diverse and body positive feminine form with an original collage concept 'Fabric Layerism'; a convergence of collage, fibre arts, craft, drawing and painting, though mostly omitting paint altogether to create a fresh 2D art aesthetic. My work combines the classical with the contemporary, with influences of both masculine and feminine gaze of the female form within domestic, natural and ethereal environments. This exhibition showcases works made over the past several years including through the Covid lockdowns of 2020/21, and some dating back to the earlier stages of Fabric Layerism'.