burrinja presents
There Used To Be A Canopy Here | Cathy Ronalds
Fri 29 Jul - Sat 27 Aug | Burrinja Gallery
It has been over a year since the June 9th storm tore across our mountain through the night, destroying homes and felling large swathes of bush. Seeing such devastation to the bush I love so dearly and hearing the stories of terror and near death experiences in our community was distressing.
I felt compelled to create a series depicting the devastation we felt to honour both our collective trauma and the bush.
A year later, the removal of fallen trees continues. Those who know this mountain well are familiar with the eerie feeling: there used to be a canopy here.
Music score: Edward Willoughby
Performing artist: Gretel Taylor
Join us for the opening on Thu 28 July @ 6.30pm ~ RSVP HERE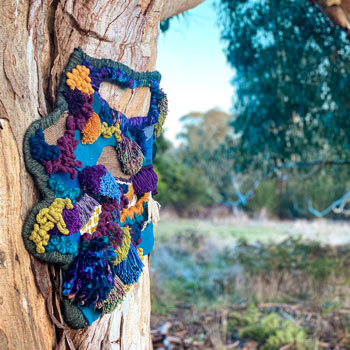 image credit: Bronwyn Ward, Untitled, yarn & recycled textiles, 150cm x 70cm, Photography by Kerri Hollingsworth
burrinja presents
S P A C E S I N B E T W E E N
Bronwyn Ward
& Kerri Hollingsworth
Fri 29 Jul - Sat 27 Aug | Burrinja Gallery
The loss of an estimated 25000 trees during the June 2021 storm has impacted all of us. Our collective grief of the enormous gaps left in our landscape is something which connects us all.
Artists Kerri Hollingsworth and Bronwyn Ward explore this loss by creating fibre sculptures to hold and protect their memory. The artists imagined a forest where all is present apart from our lost trees. They have painstakingly woven, latch hooked and wound natural fibres into tactile sculptures. Incorporating works made with community over conversations of the disaster impact as part of Yarra Ranges Council's Art Attack program.
You are invited to wander amongst the spaces in between and reflect on your own experience of loss and change. Participate by weaving found natural materials in a communal nature weave to pay homage to our lost trees. Kerri and Bronwyn hope these works will encourage you to contemplate what we have lost and how we can become a more resilient community in the future.
This exhibition has been supported by Yarra Ranges Council Art Attack program.
Join us for the opening on Thu 28 July @ 6.30pm ~ RSVP HERE
burrinja presents
Eucalypts | Victoria Watts
Fri 29 Jul - Sat 20 Aug | Burrinja Gallery
Through the fallen leaves and branches I wander, in search of a perfect composition, a view to evoke the atmosphere of the Australian bush; its peeping and twinkling sunlight, tweeting birds and the subtle crackling of undergrowth and bark under foot. These works honour our Eucalypts, spawned from visits to State Parks in Victoria and National Parks in Tasmania over the past decade which harken back to earlier memories of growing up in a rural township, the height of weekend enjoyment being a day trip and picnic amongst the towering gums.
Join us for the opening on Thu 28 July @ 6.30pm ~ RSVP HERE
aerie creative ecology presents
Dreamscapes | Eamon Wyss
6 Aug – 10 Sep | aerie gallery
Dreaming stories found naturally in the landscape
'Dreamscapes' is a collection of dreaming stories found naturally in the landscape - a series of un-manipulated drone photography of ephemeral salt lakes in Victoria, purposely composed from the air to emulate abstract paintings.
The main inspiration for these works comes from aboriginal dot-paintings Eamon encountered in the Australian desert as a boy, which use both topographical and symbolic communication of the landscape to tell a story.
Join us for the exhibition opening Sat 6 Aug @ 11am ~ RSVP HERE
Eamon Wyss will be giving an Artist Talk on Sat 20 Aug @ 11am ~ RSVP HERE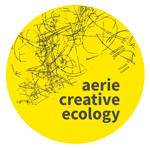 Burrinja & Vic Health presents
Queer Collage Party with Aaron Billings (Pink Ember Studios)
We are bringing back the Queer Collage Party - But this time, its for all ages!
Thu 18 Aug @ 6pm | Tasty Az @ Burrinja
After a delicious dinner from social enterprise Tasty Az we will be guided in making some rock'n collage with Aaron and also get some insight into his practice.
About Aaron...
Aaron makes work featuring the male form, particularly the feminised male form and versions of masculinities that mess with gender representation. Through the medium of comics, books, and textiles Aaron explores queer political power and resists heteronormative ways of seeing.
This event runs 6-8pm (ish)
6pm dinner
7pm Q & A and collage workshop
Let us know you are coming by registering now HERE
Get in touch with any questions or to let us know what your access needs are at This email address is being protected from spambots. You need JavaScript enabled to view it..
Upwey Community Group & Burrinja Presents
The Upwey Archies 2022
On display from Oct 13 to Nov 10 | Upwey Main Street
Grab your art equipment – pencils, paints, collage, mixed media – and celebrate the people of Upwey important to you!
Bringing together the creative voices and vision of our community, this project is a celebration of the people of Upwey. Inspired by the Archibald Prize and 'Not The Archies', the Upwey Archies is a community portrait project.
Cost per entry: $12, or $8 for 14yrs & under.
Entry:
Pay your registration fee, then head to Burrinja between August 10th – 20th (opening hours are 10am - 4pm | Wed - Sat), collect an art board (included in your fee).
How it works once you have your canvas board/s...
1. Create a portrait of a person that is important to you on the canvas provided.
2. Complete your Artwork Description online HERE
3. Complete the information on the back of your canvas.
4. Return your Archies entry (we will not accept wet or damp artwork) to Upwey Township Hall (opposite skate park) during these dates & times
• 4.30 – 6.00pm | 6th October
• 4.30 – 6.00pm | 7th October
• 10.30 – 12.00pm | 8th October
5. Enjoy seeing your work publicly displayed throughout Upwey between Oct 13th – Nov 10th
AWARD CEREMONY
Attend the award presentation ceremony, 7pm Friday November 11, at the Upwey Township Hall.
Entry ~ $8 - $12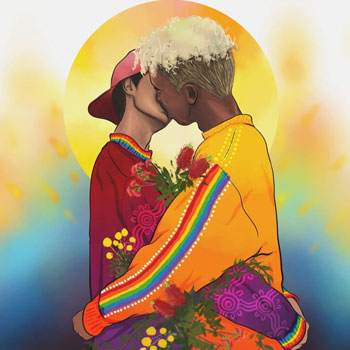 Image: Dylan Mooney, OUR MOMENT (detail), 2020 from their Queer, Blak, & Here Series
QAC is part of the Big Connect proudly funded by Vic Health


Burrinja & Vic Health presents
Queer Stories from the NGV Collection
Mon 22 Aug @ 10.30am | NGV International
Exhibition visit + Lunch 10.30 am (This event is for 18-25yo LGBTQI+ indentifying young people) NGV International

"QUEER shines a light on the NGV Collection to examine and reveal the queer stories works of art can tell. This exhibition of works from the NGV Collection spans historical eras and diverse media including painting, drawing, photography, decorative arts, fashion, video, sculpture, and design and explores queerness as an expression of sexuality and gender, a political movement, a sensibility, and as an attitude that defies fixed definition.
Rather than attempting to provide an definitive history of queer art, the exhibition explores the NGV Collection from a queer perspective, presenting and interpreting queer concepts and stories."
Tickets ~ Free
Let us know you are coming by registering HERE
Find out more about the Queer Art Collective
burrinja presents
Where Artists Meet (W.A.M.)
Thu 24 August @ 7.00pm | Burrinja
WAM is Back!
Here's your chance to get out, have some fun and talk shop with other local artists and have a cheeky drink.
These regular gatherings propose space for connecting and developing conversation between local creatives. WAM provides a fun and friendly environment to talk shop with other artists, share tips, discuss creative practice, projects and local arts and culture. With the Dandenong Ranges rich and abundant cultural landscape Burrinja's WAM events are a great opportunity to develop new creative networks, find out about potential opportunities and connect with your local arts community.
Join us on the last Thursday of every month @ 7pm at the Fat Goat (2 Morris Road, Upwey)
burrinja & Injalak Arts presents
Bim kunwarddewardde
(Stone Country Paintings)
Injalak Arts
03 Sep - 08 Oct | Burrinja Gallery
Injalak Arts is located in the stone country of West Arnhem Land, in a landscape crossed by rocky escarpments, wetlands and monsoonal forests. Stories from the land have been told by paintings on rocks for at least 20,000 years.
This project is the most recent moment in the deep time story of Kunwinjku culture, showing that kunwarrdebim (rock art of the stone country) continues to inspire contemporary West Arnhem Land artists. The exhibition is a collaborative project of Injalak Arts and Burrinja, presenting an overview of Kunwinjku bim (painting) from the last three decades.
Artists include: Allan Nadjamerrek, Freddie Nadjamerrek, Gabriel Maralngurra, Gary Djorlom, Gavin Namarnyilk, Gershom Garlngarr, Glen Namundja, Graham Badari, Isaiah Nagurrgurrba, Joey Nganjmirra, Lawrence Nganjmirra, Maath Maralngurra, Roland Burrunali, William Djawirda Manakgu, and Timothy Nabegeyo.
Join us for the public exhibition opening with exhibition artists and Injalak Arts Centre staff. Sat 3 Sep @ 11am ~ RSVP HERE
On the day experience a Painting demonstration by Gabriel Maralngurra, and artist guided tours Timothy Nabegeyo and Gavin Namarnyilk from 11.30 am.
Supported by Australia Council for the Arts.
burrinja presents
All My Fat Country | Rod Moss
27 Aug - 08 Oct | Burrinja Gallery
From a body of more than 200 works made during the artist's four decades of life in Mparntwe/Alice Springs, four paintings have been selected. Their themes reflect his enduring friendships with the traditional owners of town and surrounding county, the Arrernte.
Recently, Moss has returned to re-describing the local environment in graphite, the medium he favoured in his first exhibition at Hawthorn City Gallery in 1978. Then it was the suburban backyard. In the present show, its the rugged hill country at his backdoor.
Rod Moss was born in Ferntree Gully and had his first exhibition at Burrinja in 2014. He is an award-winning author of several books including The Hard Light of Day and A Thousand Cuts.
Join us for the opening Friday 26 August 6.30 pm ~ RSVP HERE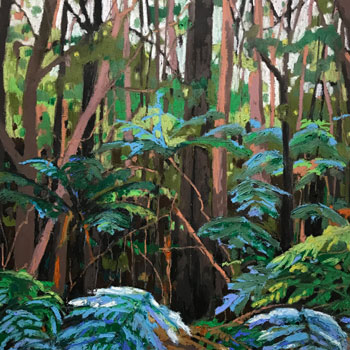 Image credit: Liberty Finn, Archival Quality Original Mixed Media Painting on gallery wrapped canvas.
aerie creative ecology presents
When the Forest Speaks | Liberty Finn
17 Sep - Oct 29 | aerie gallery
Liberty Wilding's visual rambles in the forest reflect inner and outer journeys of exploration and knowing. The works in this exhibition shift from hope and magical light toward a more contemplative consideration of loss and regret. The forest's cycles of decay and growth echo her inner experience and are a reminder that we are not unique in this often jarring cyclic experience of life.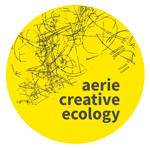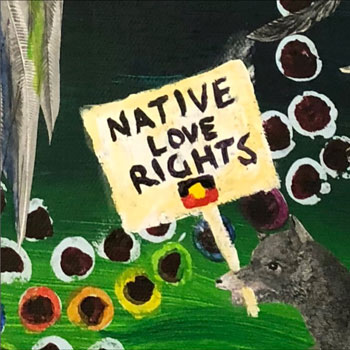 Image: Peter Waples-Crowe, Detail of the Natives Rallied for Love
QAC is part of the Big Connect proudly funded by Vic Health



Burrinja & Vic Health presents
Community Dinner and Talk with Peter Waples-Crowe
Tue 20 Sep @ 6pm | Tasty Az @ Burrinja
After a delicious dinner from social enterprise Tasty Az we will enjoy an Artist Talk with indigenous artists Peter Waples-Crowe.
About Peter...
Peter Waples-Crowe is a Ngarigo visual and performance-based artist living in Melbourne. His intersecting experiences as an Aboriginal person and his work with community health and arts organisations give him a unique perspective as an artist and community cultural development worker. Waples-Crowe creates bold colourful work that explores the representation of Aboriginal people in popular culture, often referencing the dingo as a totemic figure and an analogy for Indigenous peoples.
This event runs 6-8pm (ish)
6pm Dinner
7pm Artist Talk
Let us know you are coming by registering HERE
Get in touch with any questions or to let us know what your access needs are at This email address is being protected from spambots. You need JavaScript enabled to view it..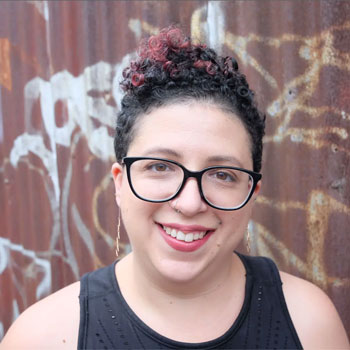 Image: Peter Waples-Crowe, Detail of the Natives Rallied for Love
QAC is part of the Big Connect proudly funded by Vic Health



Burrinja & Vic Health presents
Story-sharing workshop with author Roz Bellamy
Sun 25 Sep @ 2pm | Burrinja
Join us for an insightful story sharing workshop with award-winning queer author Roz Bellamy at Burrinja
Please note ~ This event is for 15-25yo LGBTQI+ identifying young people. Family/support people are welcome to attend.
About Roz...
Roz is an experienced presenter, public speaker, interviewer and moderator. They have performed their work and presented at events including the Emerging Writers' Festival, the National Young Writers' Festival, the Melbourne Fringe Festival and Queerstories. They have been interviewed on podcasts, ABC Radio, Joy FM, 3CR, Channel 31 and SBS. In 2021, Roz was a writer in residence with Moreland City Council.
Let us know you are coming by registering HERE
Get in touch with any questions or to let us know what your access needs are at This email address is being protected from spambots. You need JavaScript enabled to view it..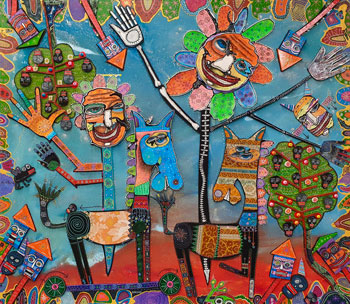 image credit: Anthony Breslin, 'A Frolic in the Garden of Scull' mixed media on canvas, 160 x 140cm, ©Anthony Breslin
burrinja presents
Melange | Anthony Breslin
15 Oct - 19 Nov | Burrinja Gallery
An exhibition of all new works which will include large scale, theatrical mixed media paintings, sculpture, animation, installation and a series of interactive "art games".
The show will also showcase a small series of finely detailed provoking, surrealist like drawings from 25 years back which Anthony has never exhibited before.
Join us for the exhibition opening Sat 15 Oct @ 2pm ~ RSVP HERE
Join us for Anthony Breslin's Artist Talk on his process and the works in his exhibition Melange. Sat 29 Oct @ 2pm ~ RSVP HERE