The McLeod Gift Collection
On behalf of its owner, Yarra Ranges Council, Burrinja manages a rare public collection of over 600 items of Aboriginal and oceanic art from Papua New Guinea. The collection was donated to the Shire of Yarra Ranges in 2001 by Neil McLeod, a local resident and renowned photographer, book author and field collector.
The McLeod Gift Collection includes Aboriginal artworks as well as one of the most significant collections of post-colonial Oceanic artefacts from New Ireland and New Britain in Australia. Neil McLeod accumulated these over a lifetime's experiences gained from his deep involvement with Indigenous people from various parts of Australia and Papua New Guinea.
"Many of the works are extremely rare and of invaluable ethnographic significance and constitute a valuable repository of evidence of rapidly disappearing cultures. My wish is for this unique resource to remain in the Shire of Yarra Ranges where it will be an enjoyable asset for local people and visitors to the hills and so that it may educate and foster understanding of the creators of the works."
- Neil McLeod, 2001
A number of items in the collection are also listed on the Victorian Collections website.


Burrinja manages the McLeod Gift Collection on behalf of its owner, Yarra Ranges Council, actively seeking to present, store and preserve collection items to industry best practice and national museum standards.

Luke Nganjmirra Kunwinjku, Arnhem Land, NT Acrylic and ochres on bark 144 x 50 cm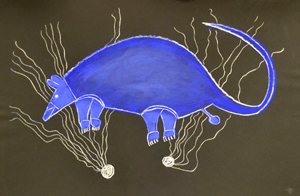 Ulitjiri Thompson Kunwinjku, Arnhem Land, NT, Male Bandicoot, blue and white chalk on black paper, 51 x 76 cm, c1988
The McLeod Gift Collection contains around 70 canvas and bark paintings from The Kimberley, Central Desert, South Australia and Top End. These include works by internationally renowned artists such as Rover Thomas Joolama, Emily Kame Kngwarreye, Queenie McKenzie, Jonathan Kumintjarra Brown, Derrick Oobagooma, Jack Dale Mengenen, David Mowalpariai, Nawakadj (Bobby) Nganjmirra, Patsy Lulpunda and Lily Karadada.

Additionally, the Collection includes a unique collection of over 200 Aboriginal drawings on paper, many created by Ulitjiri Thompson, Bobby Nganjmirra and other members of the Nganjmirra family.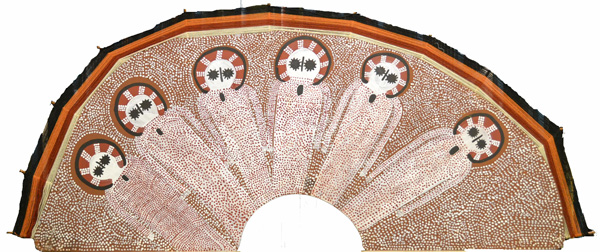 Jack Dale Mengenen Ngarinyin, Kimberley, WA, Djunba: Ceremonial Dance Board, Ochres and wool on ply board, 230 x 100 cm, C2000
Neil McLeod knew many of the artists personally and visited them regularly on his numerous trips to The Kimberley and Top End. Often artists came to visit him in Tecoma and painted in his studio. He has organised and curated many exhibitions, including several at Burrinja. He published several books, including books on Nawakadj Nganjmirra and Jack Dale Mengenen.

Selected Aboriginal paintings of the McLeod Gift Collection formed the backbone of the Footprint of the Spirits exhibition, which toured to seven public galleries in New Zealand in 2002 and throughout Australia in 2004-2010.
Paintings in the McLeod Gift Collection also gave inspiration to Burrinja's recent touring exhibition Black Mist Burnt Country, in particular Jonathan Kumintjarra Brown's Maralinga Before the Atomic Test. Jonathan Brown features among over 30 Indigenous and non-Indigenous artists with works across the mediums of painting, photography, sculpture, new media and video. The exhibition has been curated by Burrinja and will travel to eleven metropolitan and regional galleries in five states from September 2016 to February 2019. Full details on the Black Mist Burnt Country Website.
Neil McLeod has been a keen field collector of Papua New Guinean ceremonial art for many years. As part of the McLeod Gift Collection he donated 200 objects from various locations of islands in the Bismarck Archipelago in the North-East of Papua New Guinea: Tabar Island, New Ireland and the Gazelle Pensinsula of New Britain. These include rare ceremonial Malangan objects such as masks, wands, friezes and other carved objects, including a canoe. A similar canoe exists only in the collection of the South Australian Museum in Adelaide.
Additionally the Collection also contains around one hundred rare Iniet figures made by the secret Tolai society on New Britain's coastal Gazelle Peninsula. These stone carvings date from the post-colonial period, some almost a hundred years old.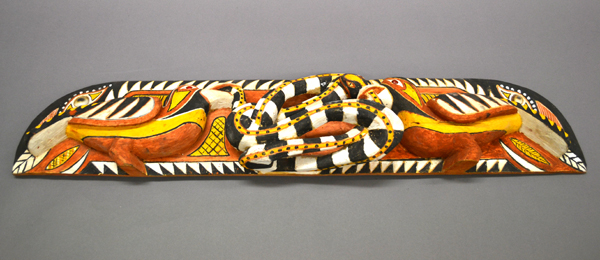 Ben Sisia Malangan, New Ireland, Papua New Guinea, Horizontal Frieze Decorative Carving, Wood and pigment, 15 x 81 x 12 cm, 1990s