2019 Gallery, Studios, Cafe Redevelopment
BURRINJA - CONTEXT
Over the past two decades, Burrinja Cultural Centre has developed into an iconic cultural facility in the Hills Region of the Yarra Ranges. Burrinja is one of a suite of cultural facilities Yarra Ranges developed to build social connection through creativity, arts and heritage.
INTERNAL REDEVELOPMENT 2019
The aim of the project is to complete works in areas of the complex untouched during the performing arts redevelopment of 2011. The project seeks to transform functionally distinct yet interdependent creative spaces at Burrinja. It will reconfigure many currently 'ad hoc', tired and disconnected areas into a flowing active and more usable space.
The redevelopment will transform Burrinja galleries; artist studios and making spaces; café, hospitality and music performance space; the first floor 'black box' multi-purpose space, along with the main entranceway to the building.
FUNDING THE PROJECT
Council has successfully applied for $1.25m from the Victorian State Government's Growing Suburbs Fund and will contribute $1.25m to the project. Some further Asset Refurbishment and Environmental Sustainability funding will also contribute funds to a $3m total project.
Approximately 14 jobs will be generated by Council's investment in the construction of the facility.
Read Funding Announcement Media Release HERE - December 2017
WHY IS THIS NECESSARY?
Burrinja as both a regional cultural hub and venue has distinct, activated 'villages' of creativity – the galleries, studios, café and music venue – but lacks the internal pathways that connect these villages. This redevelopment will remove the existing roadblocks, opening up the inherent creative connections between them, transforming cul-de-sacs into intuitive pathways that provide vastly improved accessibility to these activities and their social benefits for all members of our community.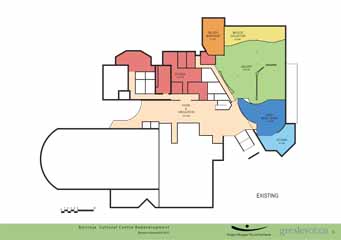 Existing conditions
See below for examples of current internal building conditions that we are seeking to improve.
The new development will create an improved capability for social and cultural change through creative engagement – with positive social impact. It will prioritise shared social experiences, enabling connections to be made where now barriers exist.
WHAT WORKS ARE PROPOSED FOR THE BUILDING?
With the exception of the potential to remodel the entrance slightly and provide some extended outdoor cover for patrons arriving and leaving, all of the works proposed are internal only.
This project does not seek to extend the building or to increase its capacity for patron numbers on site, or to increase the number of events.
Rather it seeks to greatly improve existing spaces and utilisation to enhance the experience of all patrons, visitors and users of this cultural facility.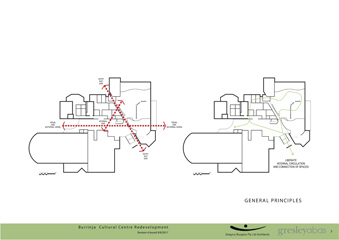 New Design Principals
To see proposed New Design Principals to open up and connect spaces click here
PROJECT VISION
Creativity is the common thread that runs through Burrinja's spaces. Whilst each space is carefully developed to effectively deliver a specific service, all spaces are integrated to deliver the collective creative vision. This vision extends to creative making, presenting, performing, exploring, working and playing. The Burrinja environment attracts and encourages social connection, enabling us to 'build community through arts'.
The vision is one of transparency and openness. The creation of a relationship of spaces, uses and functions that when taken together are more than the sum of their individual parts. The design outcomes shall prioritise equally the functional effectiveness, usability and requirements of each space with the interconnectedness between those spaces physically, conceptually and creatively.
The design solutions shall answer the question: how can our spaces be better configured and designed to talk to each other, drawing them into the same creative narrative that is 'Burrinja' – a cultural hub for the community of the Dandenong Ranges?
SEPARATION OF CAFE AND MUSIC VENUE
With the budget and scope of works expanded part way through this project to now include the first floor black box/ multi-purpose space and kitchen an opportunity has arisen for the first time in twenty years to consider alternative ways to program and operate venues in the facility that may produce better long term sustainable outcomes for the venue, for patrons and financially over coming decades.
The project architects have found inherent contradictions in the original design brief that asked for a combined 'open, casual, smaller day time gallery café space integrated with and open to the foyer' (approx. 40 patrons), along with a 'larger, acoustically isolated music performance/ function venue' for up to 120 patrons. These are contradictory uses that the existing space has always struggled with.
Alternatively, the first floor space now provides an excellent opportunity to create a larger, separate music/ performance/ function venue with adjacent commercial kitchen, while we are able to provide a smaller separate day café space in the ground floor foyer area.
After much consideration and further reviews of the benefits of both design options, the Project Group and Architects are now pursuing this new design option to take into detailed design and build.
Design changes in separating café/ performance facilities
1. Day Gallery Café:
a. The day café will comprise an area that can seat up to 40 patrons. There will be no separation from the foyer and other areas. It will be fully integrated into the expanded, welcoming public spaces.
2. Performance, Function and Multi-purpose space + commercial kitchen – first floor
a. A space that already caters reasonably well for performances – the black box space will be refurbished including entrances, foyer and fitout to create a much better performance and function space that can seat up to 140 patrons plus stage.
b. Adjoining dressing room and toilets create an excellent existing green room facility for performers.
c. Adjoining kitchen will be upgraded to become the new 'commercial catering kitchen' for the entire facility. It will have its size expanded slightly.
3. New 25 person activity space – ground floor
a. The existing ground floor kitchen and bar area will be transformed into a functional 20 to 25 person activity and meeting space – where workshops and the like can be run as an alternative to the large first floor space.
STRATEGIC OUTCOMES
As a result of achieving the desired design outcomes, Council, Burrinja and other government partners will achieve the following strategic outcomes:
1. Increased accessibility to and functionality of existing community asset
2. Meet the demands on the facility created by increased engagement with programs.
3. Contribute positively to and grow the centre's existing social impact and community engagement within the region
4. Be able to better meet targets and fulfil strategic plan and program plan
5. Respond to increased demand from artists for space to develop creative industries practice and outcomes.
6. Increased regional profile for the Cultural Centre and facility – including local/ community and tourism.
7. Increased economic activity for artists, performers and for the cultural centre.
8. Address long term issues identified for rectification in the Asset Management Plan
9. Contribute positively to the centre's cultural narrative
10. Reduce energy costs and associated environmental / carbon footprint
PROJECT TIMING
Internal works are scheduled to commence in January 2019, with project completion scheduled for February 2020.
BURRINJA OPERATIONS DURING THE BUILD – 2019
Burrinja will remain operational during 2019, but in a limited capacity.
Due to the extent of works, only the Theatre and its support services will remain accessible and operational. We will continue to provide a theatre program for 2019, albeit reduced in scope, and with very little programmed for the first four months of the year.
School shows will be able to operate during the latter part of the year.
Our gallery, studio, café, workshop and first floor spaces will be closed for refurbishment. We will be able to operate a foyer bar for performances, but meal and catering services will not be available.
Burrinja will continue to manage and support many programs and events throughout the community, such as the Dandenong Ranges Open Studios, utilising and alternative gallery space, and events like the Belgrave Lantern Parade.
We continue our support and auspice of multiple arts and cultural projects, both those ongoing and new projects that are currently in development.
Our Box Office and administration will continue to operate, albeit on reduced hours during the year – TBA.
For inquiries regarding this project please email This email address is being protected from spambots. You need JavaScript enabled to view it.