Burrinja Internal Redevelopment
BURRINJA - CONTEXT
Over the past two decades, Burrinja Cultural Centre has developed into an iconic cultural facility in the Hills Region of Yarra Ranges. Burrinja is one of a suite of cultural facilities Yarra Ranges developed to build social connection through creativity, arts and heritage.
INTERNAL REDEVELOPMENT 2019
The aim of the project is to complete works in areas of the complex untouched during the performing arts redevelopment of 2011. The project seeks to transform functionally distinct yet interdependent creative spaces at Burrinja. It will reconfigure three currently 'ad hoc', tired and disconnected areas into a flowing active and more usable space. The redevelopment will transform Burrinja galleries; artist studios and making spaces; café, hospitality and music performance space; along with the main entranceway to the building.
The reconfigured environment will be a design solution that is visually reflective of its creative use and intent whilst functionally encouraging connectedness, conversation, networking and engagement by all users and patrons.
FUNDING THE PROJECT
The $2.5m redevelopment will transform Burrinja galleries, artist studios and making spaces, café, hospitality and music performance space, along with the main entranceway to the building. Approximately 14 jobs will be generated by Council's investment in the construction of the facility.
Council has successfully applied for $1.25m from the Victorian State Government's Growing Suburbs Fund and will contribute $1.25m to the project
Read Funding Announcement Media Release HERE - December 2017
WHY IS THIS NECESSARY?
Burrinja as both a regional cultural hub and venue has distinct, activated 'villages' of creativity – the galleries, studios, café and music venue – but lacks the internal pathways that connect these villages. This redevelopment will remove the existing roadblocks, opening up the inherent creative connections between them, transforming cul-de-sacs into intuitive pathways that provide vastly improved accessibility to these activities and their social benefits for all members of our community.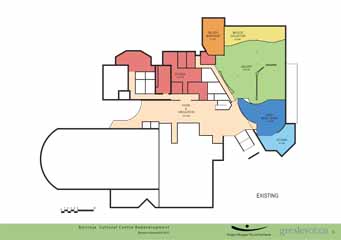 Existing conditions
See below for examples of current internal building conditions that we are seeking to improve.
The new development will create an improved context and capability for social and cultural change through creative engagement – with positive social impact flow-ons. It will prioritise shared social experiences, enabling connections to be made where now barriers exist.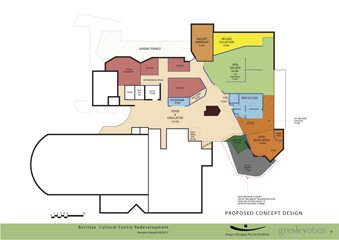 Proposed New Internal Layout

To see Proposed New Internal Layout click here
WHAT WORKS ARE PROPOSED FOR THE BUILDING?
With the exception of the potential to remodel the entrance slightly and provide some extended outdoor cover for patrons arriving and leaving, all of the works proposed are internal only.
This project does not seek to extend the building or to increase its capacity for patron numbers on site, or to increase the number of events.
Rather it seeks to greatly improve existing spaces and utilisation to enhance the experience of all patrons, visitors and users of this cultural facility.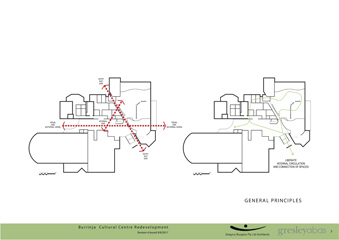 New Design Principals
To see proposed New Design Principals to open up and connect spaces click here
PROJECT VISION
Creativity is the common thread that runs through Burrinja's spaces. Whilst each space is carefully developed to effectively deliver a specific service, all spaces are integrated to deliver the collective creative vision. This vision extends to creative making, presenting, performing, exploring, working and playing. The Burrinja environment attracts and encourages social connection, enabling us to 'build community through arts'.
The vision is one of transparency and openness. The creation of a relationship of spaces, uses and functions that when taken together are more than the sum of their individual parts. The design outcomes shall prioritise equally the functional effectiveness, usability and requirements of each space with the interconnectedness between those spaces physically, conceptually and creatively.
Our redesigned spaces will include Gallery, Café and Studio spaces that work severally and together. They invite and encourage community, patrons and creatives to engage, to explore, to pause for reflection, and to then go further and deeper. The design solutions shall answer the question: how can these spaces be better configured and designed to talk to each other, drawing them into the same creative narrative that is 'Burrinja' – a cultural hub for the community of the Dandenong Ranges?
STRATEGIC OUTCOMES
As a result of achieving the desired design outcomes, Council, Burrinja and other government partners will achieve the following strategic outcomes:
1. Increased accessibility to and functionality of existing community asset
2. Meet the demands on the facility created by increased engagement with programs.
3. Contribute positively to and grow the centre's existing social impact and community engagement within the region
4. Be able to better meet targets and fulfil strategic plan and program plan
5. Respond to increased demand from artists for space to develop creative industries practice and outcomes.
6. Increased regional profile for the Cultural Centre and facility – including local/ community and tourism.
7. Increased economic activity for artists, performers and for the cultural centre. 8. Address long term issues identified for rectification in the Asset Management Plan
9. Contribute positively to the centre's cultural narrative
10. Reduce energy costs and associated environmental / carbon footprint
PROJECT TIMING
Internal works should commence just prior to the end of 2018, with project completion before the end of 2019.
CURRENT BUILDING CONDITIONS
Here are just a few examples of the areas we are seeking to update, improve and connect.