Dates
24 JUN - 23 JUL
Venue
Burrinja Gallery
Paintbrush, Loom & Hammer
Three variations on a natural history theme
Jessie Yvette Journoud-Ryan | Michele Fountain | Amy Duncan
In this unusual collaboration, three artists approach a common nature theme with vastly different techniques.
Sculpture artist Jessie Yvette Journoud-Ryan smashes found pieces of crockery and gives them new life in the form of sculptures, using these man-made shapes and materials to create interpretations of natural forms such as flowers and birds.
Handweaver and printmaker Michele Fountain creates textural objects and images featuring wildflowers and trees, using lovingly hand-crafted textiles and hand-cut linoleum prints.
Tattoo artist and painter Amy Duncan channels her love of botanicals and traditional vanitas themes into finely detailed still life paintings, featuring her own flower arrangements and found natural objects.
This eclectic collection of work is a playful reflection on and celebration of the botanical, the universal language of flowers and natural history.
Exhibition opening: Sat. 24 June, 6:00 – 9:00
REGISTER HERE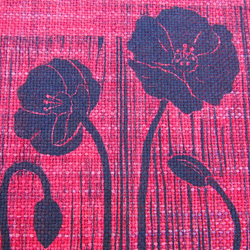 Michele Fountain