Date
4 NOV 2017 - 4 FEB 2018

Venue
Burrinja Foyer
Mandy Martin: Triggers in the Landscape
Mandy Martin is a practising artist with a national and international reputation for her concern about environmental issues, landscape conservation and land management. This exhibition draws on a range of paintings produced by the artist in recent years which focus on relationship between climate change, CO2 emissions and cool-burn fire management by Indigenous land owners.
Adelaide-born Mandy Martin studied at the South Australian School of Art from 1972-75. Martin has held numerous exhibitions in Australia and overseas. Her works are held in many public and private collections across Australia. In the USA she is represented in the Guggenheim Museum New York and the Los Angeles Museum of Contemporary Art.
Between 1978 – 2003 she was a lecturer at the School of Art, Australian National University in Canberra and a fellow from 2003-06. She is currently an Adjunct Professor at ANU's Fenner School of Environment and Society.
This exhibition is presented by Burrinja in collaboration with Australian Galleries
More info about
Mandy Martin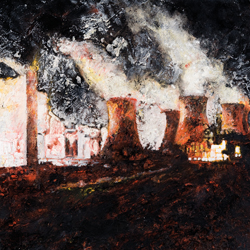 Image: Mandy Martin 'Power Station 12' 2011, pigment and oil on linen, 51 x 51 cm