Jutta Malnic: Mwaga - A bird at the end of the world
Mwaga is a photographic essay captured by Jutta Malnic on a small island in the East of Papua New Guinea in the 1980s. It shows the near-synergic relationship between the people on the island and the Mwaga gannets, a bird species locally referred to as 'navigator birds'. Ancient Polynesian seafarers used these birds' behaviour and movements as a navigation guide.
Jutta Malnic is a Sydney-based photographer born in Berlin to a German father and Australian mother in 1924. After her family move to Australia in 1948, Jutta Malnic soon began to work as a on-board photographer for a shipping line. Between 1950 and 1969, Jutta Malnic sailed on 72 cruises around the South Pacific Islands. She developed deep relationships with the people of the region. Talking to the islands' Chiefs, shermen, women and children, she was taught about the culture and legends in the Pacific Islands — and captured her impressions through the lens of her camera. Throughout her career she published several books.
Presented in cooperation with Goethe-Institut Australien.
Join us for the exhibition opening at 2pm on Sunday 6 May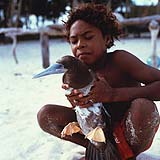 Image: Jutta Malnic Photo Series 'Mwaga, A Bird at the End of the World'