3 Perspectives | Mary Tonkin, Fred Williams & Miles Evergood
Burrinja Gallery | MAY 15 - JUL 24
Drawing from the vivid and lush landscape of the Dandenong Ranges, a place each artist once called home, the works in this exhibition showcase three distinctly different perspectives.
Be captured by the unique majesty of the ranges, seen through the eyes of these brilliant Australian landscape painters.
Mary Tonkin (1973 - )
Contemporary plein air landscape artist whose detailed large scale representations reflect the forest/bush at her family's farm estate at Kalorama.
Landscape painter Mary Tonkin completed a Bachelor of Fine Arts (Honours) in 1995 and a Master of Fine Arts in 2002 at Monash University, where she has also lectured. Tonkin has held solo exhibitions in Melbourne and Sydney since 1999. Her work has been included in group exhibitions at the Art Gallery of New South Wales, Mornington Peninsula Regional Gallery and internationally in New York. A survey exhibition titled 'Home' was held at Burrinja Gallery in the Dandenong's in 2012. Tonkin was awarded the National Gallery of Victoria Trustee award in 1994 and 1995 and Dobell drawing prize in 2002. She was the recipient of the Elizabeth Greenshield foundation grant in 1998 and Australian post-graduate fellowship award in 2000. Tonkin's work is held by the Art Gallery of New South Wales, Sydney; the National Gallery of Victoria, Melbourne; the Mornington Peninsula Regional Gallery, VIC and several regional and tertiary institutions.
"Like Monet, Tonkin has set out to paint the same motif again and again, in every season and every sort of daylight; she has painted the forest ravaged by bushfires, and blooming with new life." John McDonald - The Good Weekend 2019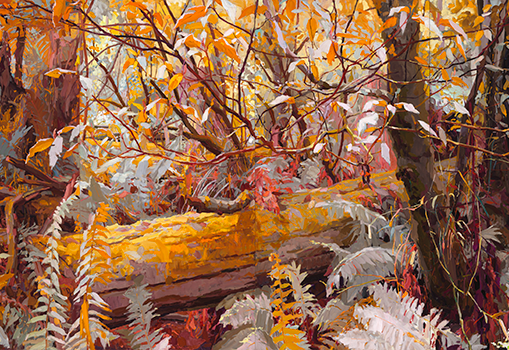 Image Credits (left to right): Mary Tonkin, Ramble, Kalorama 2017-19 (detail) oil on linen, 21 panels, 180 x 1890 cm Photographer Matthew Stanton | Mary Tonkin, still from 2013 interview by ArtDotTV

Fred Williams (1927 - 1982)
One of Australian most significant artists who redefined landscape painting during his Upwey years.
Melbourne-born Fred Williams is considered one of Australia's finest landscape painters of the twentieth century. His works mark a great departure from traditional depictions of the Australian landscape.
After winning the 1964 Helena Rubinstein Travelling Scholarship, Fred Williams visited Europe. He returned inspired by the densely painted landscapes of French nineteenth-century painter Gustave Courbet, an influence that can be seen in the generous application of paint in the foliage of this painting. Williams and his family had moved into a small house on 2 acres of land at Upwey, in the Dandenong Ranges outside of Melbourne in 1963. With his studio situated at the base of a valley, the setting became the inspiration for the high horizon line seen in this and many other paintings.
"Upwey landscape reveals Fred Williams' considerable strengths and sensitivities as a painter. This work is part of a series that Williams undertook after he moved to Upwey in the foothills of the Dandenong Ranges in 1963. Williams often liked to work in series as a way of clarifying and distilling what he was aiming for. Characteristically, Upwey landscape combines the artist's feeling for place with his masterly control of pictorial structure that can be traced back to his interest in Paul Cézanne." Ron Radford (ed), Collection highlights: National Gallery of Australia, National Gallery of Australia, Canberra, 2008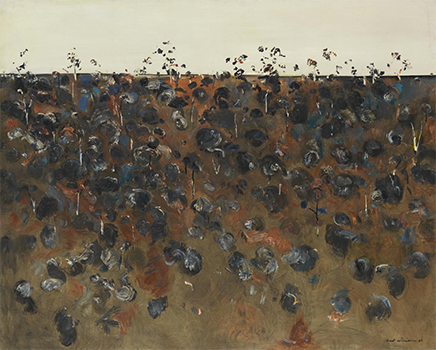 Image Credits: Fred Williams (1927 - 1982), UPWEY LANDSCAPE, oil on canvas, 147.5 × 183.3 cm
Miles Evergood (1871 - 1939)
An impressionist whose 1930s Kalorama paintings are characterised by strong colours and expressive brushstrokes and use of palette knife.
Words by Charles Nodrum
Born in 1871 in Carlton, Myer Blashki, eleventh child of Hannah and Phillip Blashki, (he was a noted silversmith), grew up in a traditional Jewish migrant family in a rapidly expanding Melbourne.
After studies at the National Gallery School, and exhibiting at the VAS and the RAS in Sydney, he made an unusual move. Whilst virtually all his contemporaries were gravitating to London and Paris in 1898, he moved to San Francisco, and then to New York.
The painterly brushwork that characterised his later work had already evolved by 1900 - the year he married Flora Perry whose merchant father, whilst as uneasy about this union as were the Blashkis in Melbourne, nevertheless settled on his daughter a substantial annual income for life. Her health was never the best and they moved to England in 1910, to be closer to her family who felt an English education for their grandson Phillip to be more appropriate. After studies at Eton, Cambridge and the Slade, Phillip went on to become a noted Social Realist painter in The USA. In 1914, Myer, together with other fellow Australian artists, enrolled in the RAMC, in the same year he changed his surname to the anglicised form of his mother's maiden name - Evergood - and his first name to Miles, by which he was known thereafter.
With Phillip's education complete, they returned to New York in 1922 - yet another move that had been, and would continue to be, a repeating motif throughout his life. Flora's death in 1927 was both a personal and financial blow and in 1931, with his new partner, Polly, he returned to Australia - Brisbane, till 1933, Sydney, till 1935, and Melbourne, till his death in 1939. Here he renewed contact with his artist friends, exhibited his recent works, and participated in the art scene.
The friends included Longstaff, Bunny, Bell and Quinn, in Melbourne. As for his exhibitions, they attracted positive responses: " ... he is obsessed with the texture of paint and aims at a jewel-like beauty ..." (Brisbane, 1932); " ... newer and more arresting than that [note] struck by .. the most advanced of the cubists-classicists or the youngest members of the landscapes - decoration school" (Gavin Young, Art in Australia, April 1933);
"His work is an unremitting search for volume and intensity of colour. In the process he moved a long way from impressionism and not into any new 'ism' but into an intensely personal style." The Argus, May 1939.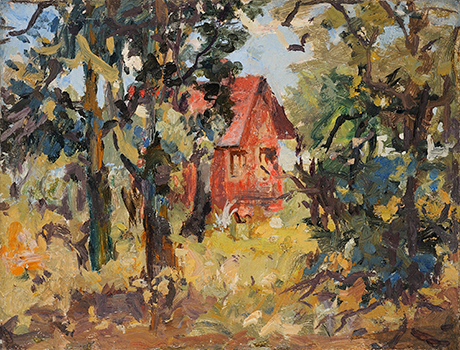 Image Credits (left to right): Miles Evergood (1871 - 1939), The Red House, c. 1935 – 1938, oil on canvas, 30.5 x 40.5 cm