Past Exhibitions
Aboriginal Art Across Australia
An exhibition of key works from the McLeod Gift Collection
January 2009
Aboriginal art has its roots in a very ancient culture, but artists today are also expressing issues of social justice, cultural practices and spirituality born from the last two hundred years of colonisation. Curated by Tiriki Onus, son of local artist and activist Lin Onus, this exhibition highlighted the vast diversity in Aboriginal cultural and artistic practice across Australia.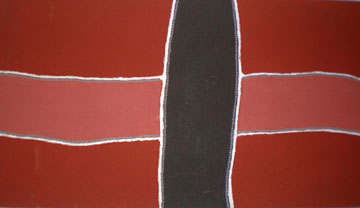 This feature exhibition included many significant collection works and additional significant paintings on loan from private collections, giving the viewer an overview of Aboriginal art from five major regions of Australia: The Kimberley, Western Arnhem Land, South Eastern Australia, Central Desert and South Australia.
Traditional and contemporary works from both established and emerging artists were chosen for the exhibition. The artists represented included some of Australia's most internationally recognised artists including Rover Thomas Joolama, Paddy Bedford, Lin Onus, Gloria Petyarre, Emily Kame Kngwarreye and Johnny Warangkula Tjupurrula.
The exhibition catalogue is available as PDF download here.
---
The Kimberley, Western Australia
Covering more than 400,000 square kilometres, the Kimberley is a land of dramatic mountain ranges, extensive plains, remarkable waterfalls and rivers. It is one of the most spectacular and beautiful regions of Australia and one of the oldest places on earth. Within the region there are four main communities producing art: Warmun, Balgo, Kalumburu and Fitzroy Crossing. Each region produces a different style of work.
The Warmun community was one of the first Aboriginal communities to produce art for sale when in the late 1970's boards painted with ochres and produced for ceremonies started to be collected. Today most works are painted on canvas using traditional ochres. A number of artists who were from the Warmun community are featured in the exhibition, including Rover Thomas Joolama, Queenie McKenzie and Paddy Bedford.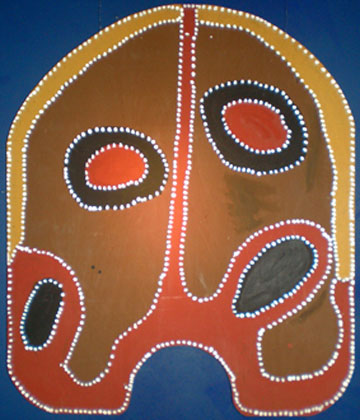 Rover Thomas Joolama (c1926-1998) had a profound effect on Aboriginal art. Chosen as one of Australia's two representatives at the Venice Biennale in 1990, his paintings moved Aboriginal art to the forefront of international contemporary art. Rover Thomas' work is renown for its minimal imagery and sense of space on highly textured ochre surfaces, while portraying the most complex of experiences, including recent history events such as the Bedford Downs Massacre in 1924 and Cyclone Tracy in 1974.
Queenie McKenzie Nakarra (c1920-2000), a relative of Rover Thomas, was also part of the Warmun art community. Her work stands out through her unusual use of pink and purple tones of ochres in contrast to the more usual browns, yellows and reds of many Kimberley artists of the time. Limestone Hills, Texas Downs is a beautiful example of her work. It depicts the hills of her birth place, Texas Downs cattle station in East Kimberley.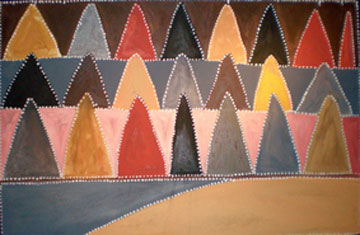 ---
Western Arnhem Land, Northern Territory
Situated in the Top End of Northern Australia, Arnhem Land covers an area of 150,000 square kilometres. It is home to some of the oldest rock art sites in Australia. There are seven major communities producing art in Arnhem Land today and many smaller centres. Featured in the exhibition are three works from the Gunbalanya (Oenpelli), Western Arnhem Land region.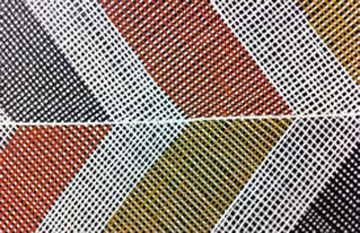 The art of this region is known for superb crosshatching or Rarrk work and the depiction of the internal organs of animals, birds and fish, often described as X-ray art. The three works are all by members of the Nganjmirra family. These works are part of a continuing art tradition handed down through the family for many generations.
Alex Nganjmirra's work follows in the proud tradition of his father, Nawakadj (Bobby) Nganjmirra, senior artist, storekeeper and one of the last rock painters in Arnhem Land. Alex was raised in the bush near the Goomadeer River in Western Arnhem Land and lives at Gunbalanya (Oenpelli). He is part of a continuing art tradition that has been handed down through his family for many generations.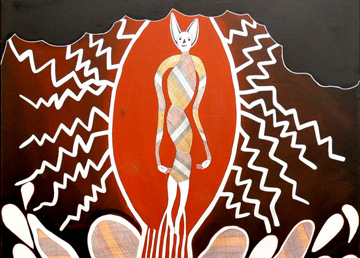 Namarrrkon, Lightning and Thunder Man by Eva Nganjmirra shows the story of an ancient spirit Namarrkon, rising from a waterhole, painted in a contemporary style. Namarrkon brings the dramatic electrical storms, which occur, in Arnhem Land. He produces thunder and lightning and can strike people down. He is often depicted with lightning around his body and axes on his arm joints and knee joints. He makes thunder by hitting the ground with these axes. The power of Namarrkon comes from his genitals. In the wet season, he lives in the clouds.
Today works at Gunbalanya (Oenpelli) are produced on traditional bark, paper and canvas. Unique to this area is the depiction of the internal organs of animals, birds and fish described as X-ray art. Differences between the art from Western and Central Arnhem Land and East Arnhem Land are mainly that artists from the Eastern areas usually fill the whole canvas with crosshatching, unlike Western artists who generally only fill in defined figures with crosshatching on plain backgrounds.
---
South Eastern Australia
Aboriginal artists from South Eastern Australia are often visionaries, activists, commentators and messengers. Experiences are expressed through their artwork, often dealing with issues of social justice, spirituality, and cultural practices and interpretation. Many other artists live in urban centres or regional towns.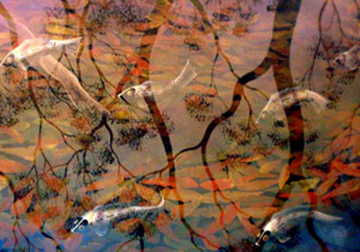 Widely acknowledged as a pioneer in the Aboriginal art movement in urban Australia is Lin Onus (1948-1996). Lin, son of a Yorta-Yorta father and an Irish mother was from a very early age instilled with a strong social conscience and desire to fight for the underdog. Lin had a long association with Aboriginal elders from Arnhem Land, which led to the development of his distinctive style, incorporating traditional rarrk work from Arnhem Land with his realist Western style landscapes.
Lin Onus's famous diptych "Fish and Leaves" is on permanent display in the Burrinja Gallery. This 5 x 2.5 m canvas is on loan from the Lin Onus Estate.
Aunty Zeta Thomson is a descendant of the Wurundjeri and Yorta-Yorta peoples in the Northern region of Victoria, along the Murray river. Her paintings are inspired by the Yorta-Yorta stories she was told as a child by her mother and grandmother.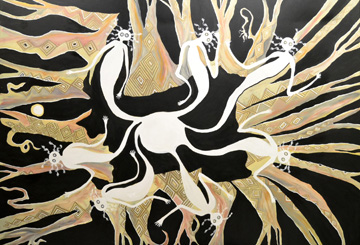 Aunty Zeta's large work Mookies Emerging from a Waterhole (290 x 197 cm), which was selected for the touring exhibition Footprint of the Spirits, is her interpretation of the Mookie, a spirit that appeared to people at various times, especially when there was a death in the family.
Mookies are the spirits of deceased persons. They appear to Aboriginal people, especially when there is a death in the family. Mookies protect families from being harmed by evil spirits trying to take revenge on the family. The Mookie cannot speak, it has no mouth or nose but has large yellow eyes that give off an eerie glow.
Central Desert
The vast Central and Western desert areas of Australia are home to the most widely represented form of Aboriginal art, the 'dot' style acrylic paintings and the Western Desert art movement
Emily Kame Kngwarreye (c1910-1996), acknowledged as one of the most significant contemporary artists is represented by her work Aralatyite Dreaming (Bush Potato dreaming). Emily came from Utopia, an area 275 km north of Alice Springs, Central Australia. In a career that spanned just 7 years, Emily painted over 3,000 works on canvas.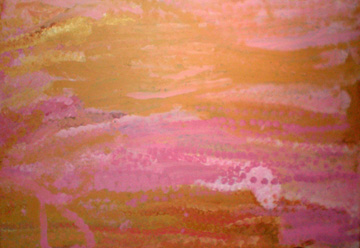 ---
South Australia
Born at Yalata, South Australia, Jonathan Kumintjara Brown (1960-1997) was a member of the Pitjantjatjarra tribe. He was separated from his parents at an early age and raised by a white family in NSW. In the early 1980s he returned to South Australia and rediscovered his true heritage, that of Oak Valley, Ooldea and Yalata.
He learned that his traditional country included Maralinga, north of Yalata, where nuclear testing by the British and Australian Governments took place between 1953 and 1957. Much of the traditional lands became inhabitable and access is restricted.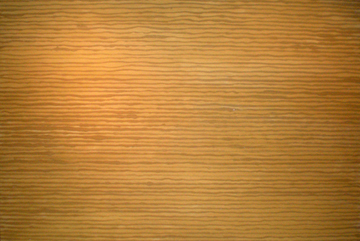 Jonathan Brown's work reflect his emotions about the overwhelming devastation of his country by these tests. He painted images of the land, with its red earth bare after the explosions. Gigantic portraits of lustred sand hills, in yellows, browns and whites, their haunting presence stating both their profundities and elegance in art became his hallmark.
---
References and recommended reading for this exhibition
Contemporary Aboriginal Art - A Guide to the Rebirth of an Ancient Culture (McCulloch S. Allen & Unwin, 1999)
Dreamtime Aboriginal Art - The Dark and the Light (Editors Sammlung Essl, 2001)
Kumwinjku Spirit - Creation Stories from Western Arnhem Land (Nganjmirra N. Melbourne University Press, 1997)
Papunya Tula - Art of the Western Desert (Bardon G. J.B. Books Australia, 1999)
Urban Dingo - The Art and Life of Lin Onus 1948- 1996 (Queensland Art Gallery/Craftsman House, 2000)