Past Exhibitions
Kudditji Kngwarreye
6 February – 3 May 2009
This retrospective exhibition presented significant works by Utopian artist Kudditji Kngwarreye from the Hank Ebes Collection.
Kudditji Kngwarreye was born circa 1928. For the majority of his life he worked as a stockman, like many other Aboriginal men, and resided on pastoral leases throughout Central Australia. Kudditji (pronounced Kubbitji) was one of the first established male artists in Utopia and is the younger brother of the late Emily Kame Kngwarreye.
Kudditji most frequently depicted his inherited ancestral totem, the Emu. The stylistic compositions of his paintings often incorporated either a checker-board background or brightly coloured dots. The concentric circles represent water holes where the Emu goes to drink. Several of these are situated around the Boundary Bore region.
Kudditji's style developed over the years of his creative practise. His sophisticated dot work that he employed in his early career transformed into a preference for a much looser brushstroke in large blocks of colour in later years. He produced bold and confident paintings, with stark or subtle contrasts depending on his choice of shades, executed in a painterly manner.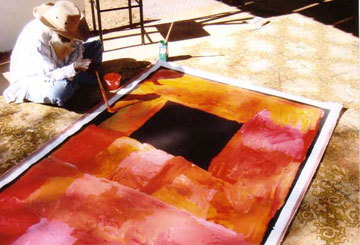 This series of later works are called 'My Country' and represents the entirety of the artist's country with the abundance of wildflowers that are ever present. These works are especially reminiscent of the last style of painting by his sister, the famous Emily Kame Kngwarreye, who is likewise famous for her remarkable sense of colour and unique brushstroke.