Past Exhibitions
The Melbourne Reef Exhibition
A satellite of the worldwide Hyperbolic Crochet Coral Reef Project, created by Margaret and Christine Wertheim of the Institute for Figuring in Los Angeles
9 October 2010 - 9 January 2011
The Melbourne Reef Exhibition was presented at Burrinja as a satellite of the worldwide Hyperbolic Crochet Coral Reef Project which was created in 2005 by Australian sisters Margaret and Christine Wertheim at The Institute For Figuring in Los Angeles.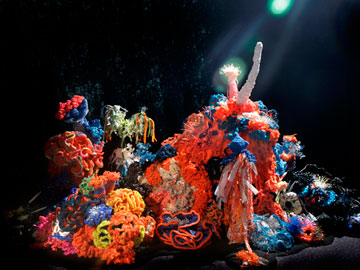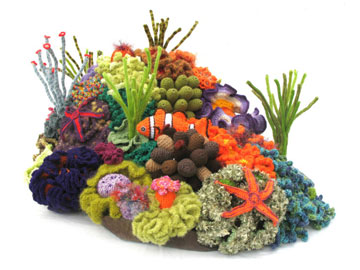 This unique global community art project fused higher mathematics, crochet, environmental awareness and marine biology. Capturing the imagination of people all over the world, 'Satellite Reefs' have now being made on almost every continent. The Melbourne Reef is one such satellite reef.
Aiming to draw attention to how pollution, ocean acidification and rising global temperatures are destroying one of the worlds largest natural wonders the project soon went viral, people all over the world were picking up their crochet hooks.
For the Melbourne Satellite 473 contributors from 68 locations, ranging in age from three- to 95-year olds, contributed. The Melbourne Reef incorporated three different reefs: a bleached reef highlighting the effects of global warming on the delicate ecology of coral reef systems, a toxic reef emphasising the damage plastic waste is doing to our water systems, and a gorgeous, colourful woollen reef celebrating the healthy reef in all its splendour.
The original reef, or parts of it, have been exhibited all over the globe in some of the most prestigious galleries in the world including: The Science Gallery, Dublin; The Hayward, London; Cooper Hewitt National Design Museum, NY, and the Smithsonian's National Museum of Natural History.