Date
4 Jun - 3 Jul

Venue
Burrinja Gallery
Opening Celebration 2pm Saturday 4 June

'Familiar, yet Fantastic,' Icon paintings, stained glass, lino cut prints, and photographic works; all inspired by the medieval era. Works by Betty Lawry, Kirsten Laken, Chris Lawry and Mark Noke.

The Icons painted by Betty Lawry are based on those images of Christian saints which are popular among Eastern Orthodox Churches. Betty's beautiful versions of this ages old art form are non traditional, in so much that they are painted on archival paper, and framed, rather than on blocks of wood as is more common.

Kirsten Laken's stained glassworks have a clear relationship to the stained glass and lead light church windows which amazed people of the medieval era. Her modern renditions of saints and monsters are created using traditional techniques that are centuries old, and yet with a splash of colour she has bought them into the future.

Printmaker Chris Lawry is fascinated by the gargoyles which were designed as waterspouts to protect medieval and gothic stone walls. Their often monstrous forms were thought to have an ability to ward off evil spirits. She has created a series of lino cuts based on them.

In 2002, Mark Noke walked the entirety of the 'Camino de Santiago', a pilgrimage of about 1,475 kilometres, or roughly 1,000 miles. This particular pilgrimage has been walked for over a 1,000 years. The pilgrimage began in Le Puy, France and finished in Santiago de Compostella, in Spain. These photographs reflect some of his favourite parts of his long walk.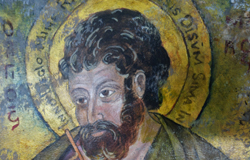 Image: Betty Lawry (detail)