Burrinja Collection Management
The Burrinja Collection was donated to the Shire of Yarra Ranges by collector Neil McLeod. In 2001 Burrinja contracted a conservation consultant to conduct a review of present storage and management practices. A number of recommendations were made and in 2002, with financial assistance of Arts Victoria and Yarra Ranges Council (then Shire of Yarra Ranges) a state of the art conservation system was created for the entire collection under the guidance of conservator Carol Campbell.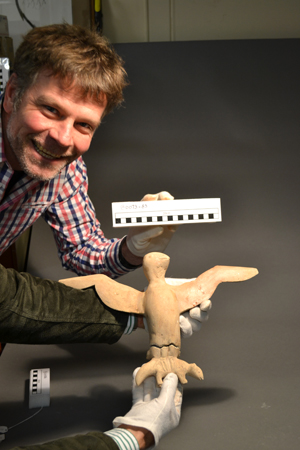 Burrinja Curator and Manager of Collections JD Mittmann
Discovering two separate collections objects fit together
2013
A team of staff and volunteers cleared and refurbished the storage area and catalogued the collection. Condition reports were prepared, and each item was examined in detail which gave all volunteers involved an exceptional opportunity to come close to cultural objects seemingly so foreign in their home in the Dandenong Ranges.

In 2010 the collection and its storage was assessed by staff of The Centre for Cultural Materials Conservation at the University of Melbourne. In the subsequent Conservation Management Plan a series of recommendations were made in regard to safe storage and management of the collection.

Burrinja works actively to ensure long term preservation, greater accessibility and improved management of the entire collection. Burrinja staff and volunteers are undergoing regular training in collection management and preservation practices.

In 2013 Burrinja was accepted into the Museums Australia (VIC) Museums Accreditation Program, a significant step toward operation within the guidelines of National Museum Standards and application state-of-the-art collection management practises.

In 2014 successfully applied to be included in the National Library of Australia's Community Heritage Program. As a first step of the program a Significance Assessment of the entire collection was undertaken by an independent assessor.

Burrinja is working actively to ensure the preservation of this unique and unusual collection while making it available as a dynamic education resource across all levels from primary to tertiary and academic research.
To support research and learning Burrinja is in the process of establishing an on-site Research & Reference Library.