Past Exhibitions
Mary Tonkin: Home 2000-2010
19 November 2011 - 26 February 2012
Australian Galleries and Burrinja Gallery were delighted to present the first survey exhibition of celebrated Victorian landscape painter Mary Tonkin.
Home 2000 – 2010 spans the last decade of Tonkin's career, focusing on the works depicting the Kalorama region of the Dandenongs where she grew up and continues to paint today. The exhibition features drawings and works on canvas ranging in scale from the intimate to the colossal.
Tonkin uses painterly application and saturated colour to convey the emotive qualities of the landscape she depicts. Her documentation of the landscape conveys the sensation of being in the Australian bush, enveloped by native trees, ferns and tangled undergrowth. Dr Maryanne Coutts writes in the accompanying catalogue essay that Tonkin's "trees and dams reflect the movement of her life in a way that is autobiographical. In her paintings they wear ecosystems of colour that convey human states and celebrate passages of time."
Victorian born Mary Tonkin completed a Bachelor of Fine Arts with Honours and later a Master of Fine Arts at Monash University. She was awarded the National Gallery of Victoria trustees award in 1994 and 1995, the Dobell Drawing Prize in 2002 and the Kedumba Prize for Drawing in 2010. Her work is held by the Art Gallery of New South Wales, the National Gallery of Victoria and several regional and university collections.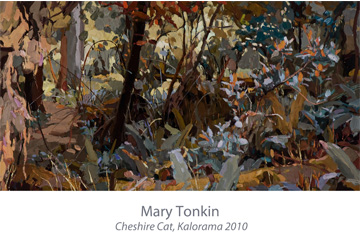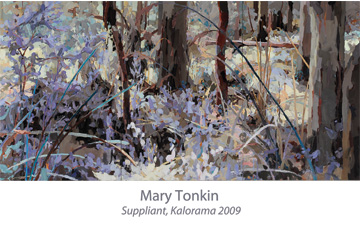 FROM THE MARY TONKIN CATALOGUE By Dr Maryanne Coutts (2011)
Dr. Maryanne Coutts is an artist and Subject Leader for Drawing at the National Art School in Sydney
Madre, Kalorama from 2008 is a painting of a very close big mamma of a tree. Indeed all Mary Tonkin's work is about closeness, about standing very near to life, embracing the world with an intense scrutiny. Technically, this closeness requires multiple points of view. Being physically close to a subject makes it impossible to see a whole without moving eyes, head or whole body. But unlike the disjunction often caused by looking from different places, she synthesises many perceptions into a convincing and immersive structure. Consequently, the large works, notably Witness, Kalorama, make us move our bodies in order to see the whole, engaging physically in the activity of viewing. We experience the proximity of the landscape; the immediacy of grass, leaves and twigs flickering with presence.
I first became aware of Tonkin's work when she was drawing and painting in the Werribee Gorge on the other side of Melbourne to her home in the Dandenongs. However, her subsequent focus as an artist has been almost entirely on the property where she grew up in Kalorama, building this significant oeuvre from the place she calls 'home'. While she had come to know Werribee Gorge with her eyes through thousands of hours of precise observation, Kalorama is bush that she already knows. It is a place which she inhabits fully and which occupies her. The trees and dams reflect the movement of her life in a way that is autobiographical. In her paintings they wear ecosystems of colour that convey human states and celebrate passages of time that are both specific and enduring. This is enhanced by the rigorous formal control as each body of work makes a distinctive statement.
Underlying everything is a profound dedication to drawing. For all the rich voluptuousness of Tonkin's colour, it is colour that, like drawing gnaws away at something underneath. It is not local colour but searching, burrowing colour. These are often fleshy works, but they have tough, tough bones.
This 'gnawing' is very clear in the impressive large drawings as well as the innumerable smaller drawings which serve both as studies for paintings and as special works in their own right. The smaller scale allows for a delicacy that leads to a different emotional range; their search has an intensity which is different to the denser physicality of the large works.
All these images invite touch: the physicality of the paint, charcoal or pencil and the texture that is represented coincide in an almost self-reflexive way, where the surface of the image and the world are parallel, activating a universe of place and person.