Past Exhibitions
Ronnie Sexton: Aisling Gheal (Bright Dream)
16 October 2008 - 11 January 2009
Award winning Irish born sculptor Veronica "Ronnie" Sexton trained at London College of Furniture, and obtained her Graduateship and Higher Diploma in Woodcarving and Gold Leaf Gilding at City and Guilds of London Art School. On completing art school, Ronnie worked for several years in restoration, including extensive work on Windsor Castle. She has also worked on commissions in the USA, Malaysia and Ireland. Ronnie's strict classical training in Gothic, Baroque and Rocco woodcarving has evolved into a more relaxed and freer flowing style event in her work in this exhibition.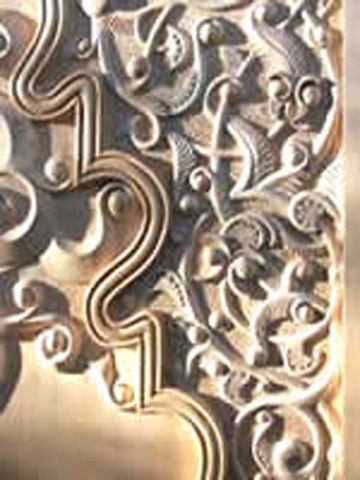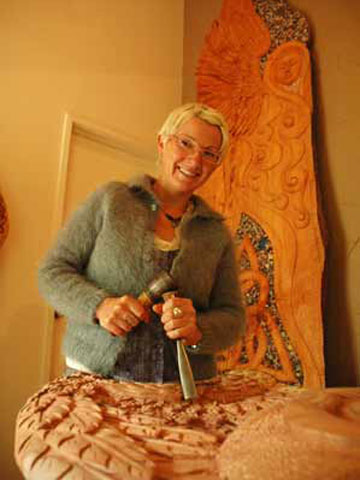 Ronnie always believed that there would come a time that "I would take what I had learned from traditional wood carving and allow it to evolve into sculpture". Her up and coming show, "Aisling Gheal" (meaning 'Bright Dream'), represents this change. Ronnie predominately works from salvaged timber from the Dandenong Ranges and her works vary in height to 3.5 metres.
'Faceless Angel', is the first of Ronnie's wood carved sculptures where the work has evolved through the natural characteristics of the timber. Unlike classical carving where it is important to have an unblemished piece of timber, here the individual characteristics of the timber such as knots and cracks become the fundamental features of the work itself. This works also signifies the incorporation of crystals into Ronnie's work for the first time.
Since the creation of 'Faceless Angel', many of Ronnie's recent works use slabs of wood that have imperfections. "I believe that we should work with Mother Nature, rather than making her work for us, that is why I leave the bark on and I work with knots, cracks and imperfections and incorporate them in my overall design". Ronnie says that while her work lends itself to various cultures it is not religious, she has evolved a distinctive style that is heavily influenced by her Celtic origins. Celtic crosses, spirals and knotwork meld with angels, wings, crystals, rocks and glass. Feminine energy and the fusion of cultures also play a significant role in Ronnie's work. "We must stop looking at our differences and see that we all come from the same source, that is why I'm interested in all religions and cultures and I feel comfortable to incorporate their imagery and symbolism in my work".