Past Exhibitions
Station Rats and other Scum Bags
Tiffaney Bishop and the SCUM PUPS
1 February - 14 March 2009
The Scum Pups project began in late 2008, when Burrinja offered a group of local young people the opportunity to take part in a one-off art project that supported them in expressing their opinions and experiences about daily life in their community.
Burrinja invited Tiffaney Bishop, a local photographic artist, to facilitate the project, which resulted in a photographic exhibition called We're Afraid of the Daylight. The exhibition attracted widespread praise and community support, inspiring the group to devise an ongoing interactive art program that embraces young people and adults and makes vital social, cultural and community connections between the two.
The initial project set out to challenge local perceptions about the level of safety within the community and was deliberately confrontational, without being counter-productive. Positive community engagement between young people, senior police, railway officials, local government, local traders and residents resulted. The project galvanised locals reignited community spirit and lead to a groundswell of interest in supporting further activities of this kind.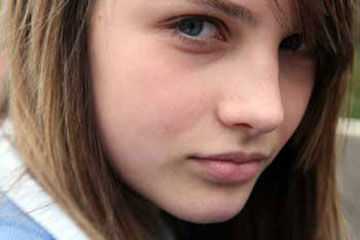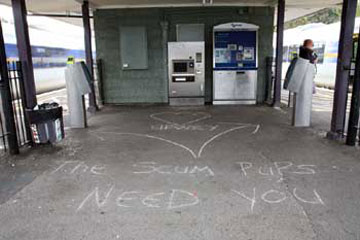 During the first exhibition, a large number of young people came forth to endorse the stories these young people were telling and congratulated them on speaking out. Whilst the SCUM PUPS are less concerned about this type of violence since completing the first project, believing they are now more confident, empowered and supported, they are still concerned about the way they are judged and valued in the community. The current project is more about young people's desire to be respected, better understood and supported within the broader community.
On closer inspection, young people face some serious pressures in this community. Boredom, lack of support, learning difficulties, feelings of isolation and loneliness, depression and family troubles are part of everyday life for many local young people. Some of these young people lead complex lives, lives that are impacted by experiences and concerns that other teenagers don't have to deal with. To gloss over these concerns often means young people have trouble moving on and developing in positive ways.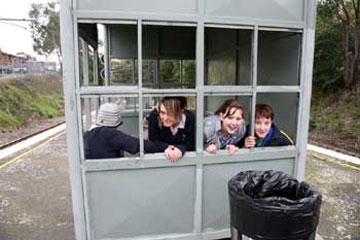 The long-standing reputation for youth violence and anti-social behaviour in Upwey lead to young locals being referred to as Upwey Scum, a negative tag that created a serious identity crisis for many young people in this community and lead to the stigmatisation of all young people of Upwey.
The group named themselves the Scum Pups in an attempt to reverse this stigma, to reclaim a sense of dignity and respect by using the word Scum in a positive, activist and empowering way.
For twelve months the SCUM PUPS were involved in weekly workshops held directly on the Upwey train station and in doing so they connected in more meaningful ways with their peers and adults within the community. The participants developed a sense that their opinions and concerns matter, that they were important.
The Exhibition Station Rates and other Scum Bags was an effort to have adults and young people work together and produce work collectively. The resulting works were deliberately unsigned as all the images are of a high standard and don't necessarily identify the author as adult or youth. Text was an important part of the group's methodology and when combined with the images, produces powerful narratives about youth issues and community life.
At times the work was unashamedly provocative, dark and confronting at times, but real. The provocative title meant to be read "tongue-in-cheek", in order draw attention and challenge perceptions of young people in the local community.
The project was proudly supported by: Victoria Police and Metro Trains, and sponsored by Burrinja, Shire of Yarra Ranges, Bendigo Bank, Bell Real Estate and Foodworks.