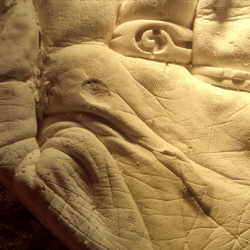 Date
MAY, JUN & JUL

Venue
Burrinja Foyer
Skin Side Out. Renate Crow
Burrinja Kids Stay and Play free family activity by local artist Renate Crow
You are invited to look at some shapes we make with our bodies. Where does that bit go in between when we connect with someone, when we thumb wrestle or Hi five. That bit in between, see inside this hidden place imprinted on silicone pieces, look closely at the textures.
What patterns do our bodies have, match up the pieces, where are they from. See if you can find the belly button!
Capture yourself, what impression will you leave in the sand?
Draw your hand shape on the community canvas and see how many we get in 3 months.
(Parents are encouraged to photograph the impressions in the sand and canvas to take home.)
More about
Burrinja Kids - Stay and Play
Tags: art,, stay and play,