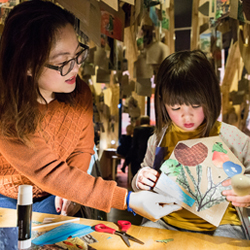 Date
8 - 28 JAN 2018

Venue
Burrinja Foyer
Burrinja Kids Stay and Play
NGV Kids on Tour 2018

Take part in a range of free activities at Burrinja and discover the fun of contemporary art and design.
This summer, here at Burrinja, enjoy our annual NGV Kids on Tour activities. Featured for all of January, new creative opportunities will be offered each week, including:
FIONA HALL: UNEASY SEASONS - COLLAGE ACTIVITY: WHO LIVES HERE? / SEND A MESSAGE!
FIONA HALL: UNEASY SEASONS - WHO LIVES HERE? FOR KIDS and FOR TEENS
NGV TRIENNIAL - MY CONTEMPORARY ART BOOK
NONSENSE - AN EXQUISITE CORPSE ACTIVITY FROM OLGA CHERNYSHEVA
EVERYBODY DRAW - PORTRAIT ACTIVITY
EVERYBODY PLAY - COLLABORATIVE BOARD GAME
Inspired by the current NGV Exhibitions: FIONA HALL: UNEASY SEASONS and NGV TRIENNIAL
More about
Burrinja Kids - Stay and Play
Tags: art,, stay and play,