Past Exhibitions
Apmer Mwerrangker: Beautiful Country...Ever Present Past
23 April – 5 July 2009
Apmer Mwerrangker (pronounced: 'ab mirrah' 'ma rung gara') was the premier exhibition of the complete collection of 23 etchings produced at Ampiliwatja Aboriginal community in 1999-2000. The etchings were produced under supervision of Basil Hall of Northern Editions at the Northern Territory.
The exhibition features iconic works by some of the most highly regarded Aboriginal artists of the Sandover region, 200 knm North-East of Alice Springs, the Urapuntja Artists of Utopia including: Roly Long Akemarr, Simon Sandover Akemarr, Lindsay Bird Ampetyarr, Greeny Purvis Apetyarr, Dave Ross Apwerl, Minnie Motorcar Apwerl, Abie Loy Awelye, Henry Dixon Jampintjimpa, Johnny Skinner Jungala, Freddy Jones Kngwarrey, Lennie Jones Kngwarrey, Lily Sandover Kngwarrey, Motor Bike Paddy Ngal and Don Young Ngal.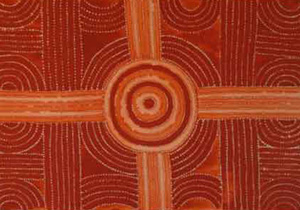 The exhibition was officially opened by Narayan Kozeluh (pictured below with Dave Ross Apwerl at the Preview Showing in Alice Springs, 2009). Narayan spent over ten years as the arts centre coordinator in the central desert Aboriginal community at Ampiliwatja where these etchings were made, and worked with Basil Hall to facilitate the process. He brought a unique depth of understanding and insight to this exhibition: to the artists, to the works and their making, and to the country that is their genesis.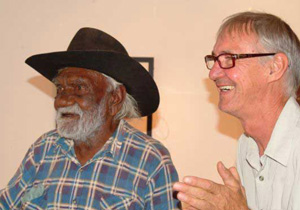 Dave Ross Apwerl with Narayan Kozeluh. Preview Showing – Alice Springs, 2009
Narayan spoke about the spiritual and cultural significance of these works: "Stories are food for an oral culture; they keep it alive and breathing. These images on paper are more than just stories, they are major pieces of the skeleton - the very glue that holds everything together. Perhaps these works also tell us what is missing from the landscape and what an inescapable tragedy that is. The metal plates were painted and etched on the red sand of the Sandover region. This simple act is keeping so many old traditions alive. …I hope in some way this exhibition connects people to the beautiful land we live in and to the first people to walk upon this land."