Belgrave Survival Day

Details
FRI 26 JAN

12.00 - 4.30pm

Borthwick Park, Benson Street, Belgrave

FREE FAMILY EVENT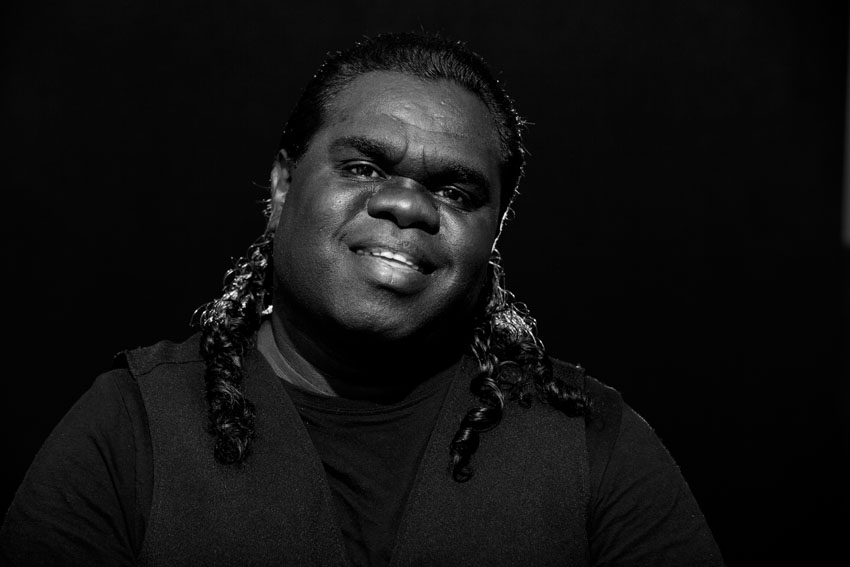 Belgrave Survival Day is an annual event on January 26th (Australia Day) and presents an opportunity for people in the area to celebrate the survival of Australian Indigenous people, their culture and heritage.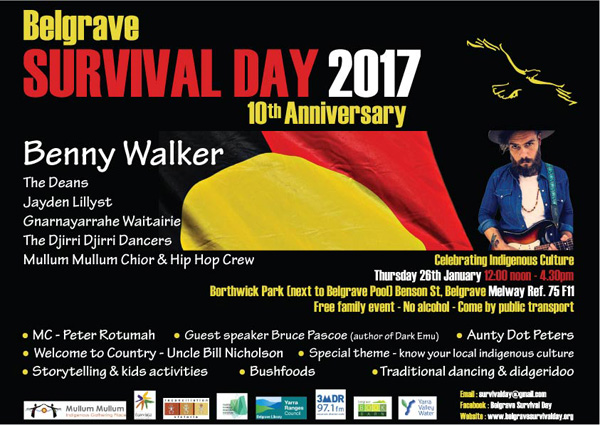 3MDR Meeghan Bell radio interview with Belgrave Survival Day's Bonnie Zuidland

Music:
1. A.B. Original - January 26
2. Dan Sultan - Dingo
3. Paul Kelly & The Messengers - From Little Things Big Things Grow
The event will be simulcasts on 3MDR 97.1FM
Belgrave Survival Day 2018
Join us for another day of celebrating the survival of Australia's First Nations people. Music, stalls, children's activities, food and fun.
We are excited to announce our headline act for 2018. Gawurra Gaykamangu. Gawurra is a Yolngu professional performing artist hailing from Milingimbi (Yurrwi), North East Arnhem Land. With an emotional and resonant voice, Gawurra's performances deliver a masterful musical sensitivity. http://www.gawurra.com.au/
In 2016, Gawurra won the NT Song of the Year in the Pop category, four NIMA Awards and received national recognition throughout the music industry and mainstream media, including ARIA nomination and 4.5-star review in Rolling Stone magazine.


Belgrave Survival Day Line Up
Gawurra Gaykamangu
The Deans of Soul
Eskatology
Mullum Mullum Choir
Gnarnaryarrahe - Didge Meditation
Djirri Djirri Dance Group
Welcome To Country
Mullum Mullum Hip Hop Dance Group
Aunty Dot Peters
SEED Indigenous Youth Climate Network



Belgrave Survival Day volunteer call out
Ever wanted to be apart of something great? Here's your chance.
Belgrave Survival Day is on again in 2018. Each year we try to make it better!! And each year we succeed with the assistance of some wonderful volunteers who are passionate about making this iconic event happen.

You could be one of these volunteers. You will be working alongside other people with an interest in promoting indigenous culture and celebrating the survival of one of the world's oldest living cultures.

Some of the tasks you can assist with are:
Being part of the crew on the day to bump in and bump out the equipment.
Artist liaison - mixing with and taking care of our line-up of amazing musicians and performers
Collecting donations from the friendly happy crowd who attend
Car Park attendant - - keeping people safe and orderly!
Marshalling during our new "Walk to Belgrave Survival Day",
Drive the minibus to and from the station
We only ask people to help for 1 hr on the day but most people enjoy themselves so much they like to do more. If you think you would like to be a part of the team, perhaps learn some new skills, or make some new friends, please reply to this email to be placed on the volunteers list. We will send you a more comprehensive list of tasks that you can nominate yourself for.
Why not enlist a friend and volunteer together!!

Express your interest to Alice Young Volunteer Coordinator for BSD at This email address is being protected from spambots. You need JavaScript enabled to view it.